The spirit has been willing, but the flesh is weak and the hours are never long enough, but here's some recent reads, offerings from authors
Jeff Pearlman
(yes, the Clemens book),
L. Jon Wertheim
and
David Harris
:
The Rocket That Fell To Earth: Roger Clemens And The Rage For Baseball Immortality


By Jeff Pearlman (348 pp.)
Amazon.ca: $22.04
The test of a book such as Pearlman's is whether there's enough there outside of what tends to stir up manufactured outrage.
Pearlman's books work on two levels. He'll always have a couple of fish to throw to the hungry seals tied to the 24-hour news cycle and make for some juicy excerpts on at
Yahoo! Sports
. Try as one might, there's no forgetting the passage in his last book,
Boys Will Be Boys
, that 1990s Dallas Cowboys star
Charles Haley
masturbated in front of teammates or that Pro Football Hall of Famer
Michael Irvin
stabbed a fellow player in the neck. Of course, recounting dirt isn't writing; it's typing.
Unless the author cares about the people he/she is writing about, you don't have a book worth plunking $20-30 on; you have
Richard Ben Cramer
's
Joe DiMaggio
biography from about 10 years ago.
Rocket
works by inviting the reader to re-imagine Roger Clemens as part tragic hero, part baseball geek.
The Clemens sports fans have come to know and loath, except when he was pitching for your favourite team, is more Ogre than nerd. Pearlman quotes author Pat Jordan describing the pitcher's much-hyperbolized workout regimen as "mindless activity for a mindless person."

The first couple hundred pages, though, explore how Clemens kind of matured backwards as a ballplayer and as a person. That mushroomed into everything which has made him seem like the American Idiot (steroids, retiring, unretiring and re-retiring, jumping from team to team, jumping into bed with a briefly famous country-music cutie, and so on).

Clemens, as most ball fans know, developed pinpoint control before developing a major-league fastball, which runs counter to the usual maturation for power pitchers. He was also, as Pearlman details, a wise beyond his years teen, which might surprise people who remember his 38-year-old self throwing part of a broken bat at

Mike Piazza

during the 2000 World Series.

Thanks to dogged reporting, Pearlman unearths details like how at age 16, Clemens attended a local high school championship game with his brother, Randy, with the understanding he would transfer to the school which won the game. He cast his lot with the team which had lost: "The players were crisp, disciplined and uncommonly professional."

It was the kind of informed decision that can be beyond people much older than 16. It explains how Clemens was "never the thinking man's athlete, there was some intelligence about him, along with this drive to become a once-in-a-generation pitcher.

Unfortunately, as the book relates, he had a funny way of showing his intelligence. Clemens prevailed against all odds (he didn't get a single NCAA Division I scholarship offer coming out of high school) by putting in the time and being smart, on some level. Once he received his due, becoming a big man on campus at the University of Texas, a first-round draft pick and winning his first Cy Young at age 24 with the Boston Red Sox, Clemens started to lapse into into adolescent behaviour and outright jackassery.

The addiction to

being Roger Clemens

took hold, especially as he outgrew a childhood of relative poverty. Pearlman, who knows what scandalizes but also knows people deserve some benefit of the doubt, is a perfect tour guide to two-decade-long train wreck. Clemens' fatal flaw seems to be that, like most geeks, he could never quite explain himself to the norms (here one remembers the "misremembered" comment). He was doomed in the court of public opinion all along, which all built up to him and his former trainer,

Brian McNamee

, more or less agreeing to a policy of mutually assured destruction.



Rocket

helps humanize Clemens. No one will be printing up "Free Roger" T-shirts if he ends up facing federal perjury charges in the U.S., but the Roger Clemens you come to know will keep you rapt for 300-plus pages.



Recommendation:

Twenty-two bucks is pretty reasonable and it certainly would work as an Easter or Father's Day gift. Pearlman's first three books each made it to paperback, so hopefully Rocket will too, although this is a much tougher market for sports titles.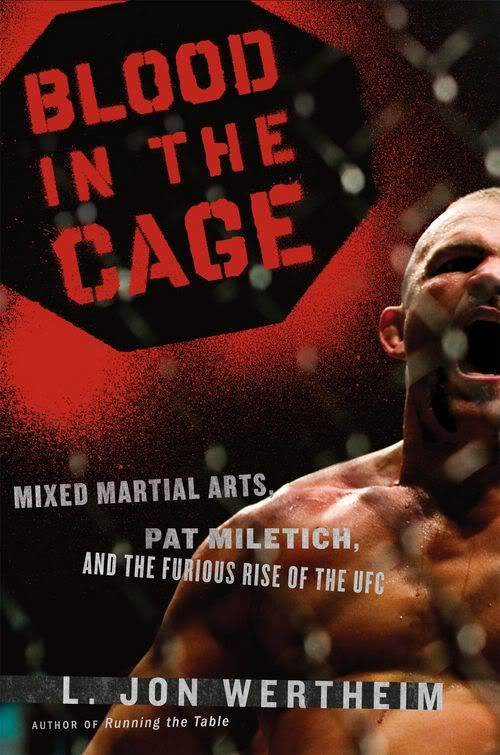 Blood In The Cage: Mixed Martial Arts, Pat Miletich, And The Furious Rise Of The UFC




by L. Jon Wertheim (251 pgs.)




Amazon.ca price: $21.39





Blood In The Cage

probably is one of the more important sports books of 2009, even if it was actually published in December.

It raises the question of who knows less about the UFC, the people who swear by it or those who swear it's a sure sign of the downfall of western civilization. Werthheim, who mostly covers tennis for

Sports Illustrated

(tennis is a blood sport disguised as a refined game; that's why they wear all-white attire at Wimbledon), is a convert to mixed martial arts. However, he's not preachy about it, like a lot of its fans. It's just that a sports fan in 2009 has to accept MMA as part of the sportsgeist. If anything, it's not growing as fast as it could.

The heart of the first half of the book is

Pat Miletich

-- whom you could say was an Ultimate Fighting champion before they became famous -- and is now a respected trainer, running a gym in his hometown in Iowa. UFC president

Dana White

is at the heart of the second half.

Miletich's story hints at why some people recoil from the UFC, although Wertheim wisely goes about telling a fast-moving story instead of taking side trips into sociology. It is worth wondering if some people recoil from UFC because there's no feeling of separation like there is when you're reading about an NBA or NFL player who overcame poverty. Most of its fighters are from a fairly middle-class upbringing and, as any fan of

The Ultimate Fighter

knows, had to fight to prove

something

they cannot define.

One common thread, though, seems to be a turbulent home life. It hits too close to home when the athletes simply grew up in a dysfunctional family like, well, everyone. Similarly, you could argue the sport has risen because, in a lot of smaller American towns, the loss of well-paying manufacturing jobs has left a lot of young white men at loose ends with how to define their roles.

Anyway, enough eggheading it up. The sections on Miletich, whose first 30 years of his life included the death of a sibling, his parents' divorce, a string of dead-end job and the occasional dumpster-dive, are very well-done, and you should come away with an appreciation of what makes a fighter tick. Wertheim also takes time to explain how various combat sports, including grappling and jiu-jitsu, were melded together to create what's now known as MMA, defeating the idea it's some designer sport.

Appropriately enough, for a book about a sport that is officially less than 20 years old, the book is pretty open-ended. Wertheim punches holes in the myth that Dana White's leadership saved the UFC from folding,, but he gives its controversial president plenty of credit. He does ultimately wonder if White will be good for the sport in the long run: "Can an organism continue to grow if it doesn't always expose itself to light?" That's a pretty prescient comment, considering White is currently having to apologize after a vlog where he says "fuck" 42 times in less than eight minutes and uses anti-gay slurs. That line pretty much predicted White's gaffe.

Wertheim has another book due out May 7 called

Strokes of Genius: Federer, Nadal and the Greatest Match Ever Played

.



Recommendation: Bug your neighbourhood librarian for it, or get it in paperback. It's written more for a general audience than a hardcore fan.




The Genius: How Bill Walsh Reinvented Football and Created An NFL Dynasty




by

David Harris

(384 pp.)




Amazon.ca: $18.90



Harris' 10th book is an adulatory look at the late Bill Walsh, who died in 2007 at the age of 75.

There's a bit of an

Outliers

vibe to Walsh's story.

Malcolm Gladwell

seized on the idea that if you spend 10,000 hours working to become good at something, it's practically an inevitability. Walsh, who coached the San Francisco 49ers to three Super Bowl championships in the 1980s (they won a fourth the year after he retired), waited much longer than he should have to become a NFL coach. Harris does a good job relating why that was, how Walsh looked critically at how people did things in a business and a sport where orthodoxy tends to rule the day. (One of the great quotes in the book:

"Bill changed the way NFL teams practiced."

)

Harris fills in the kind of details that show that Walsh seemed almost destined to re-design how offensive football was played in the NFL. Like many coaches, he was a frustrated quarterback; as a high school football player, he seldom got to play QB since his family moved a lot and coaches in those days seldom let left-handed people play the position. As a young high school coach, Walsh had his teams running the three wide receiver formations decades before it was commonplace in the NFL. His first jobs at the college and the pro level both came on the defensive side of the ball. That kind of football curriculum vitae no doubt helped Walsh.



The Genius

is not a warts-and-all portrait. Walsh's personal life is barely mentioned, which is a stark contrast to the definite NFL coach bio,

David Maraniss

'

Vince Lombardi

bio,

When Pride Mattered

. (A key difference there was Maraniss was writing about someone long after he was dead; Harris had access to Walsh during his final two years.) There's probably a little too much space given to play-by-play details of 20-year-old football games. Cripes, if you want to know how the 49ers beat the Dallas Cowboys in 1982, the entire winning drive is on

YouTube

.

Those are small misgivings. It's a pretty thorough bio of the greatest coach in NFL history, pure and simple.



Recommendation: Check the library or wait until it comes down in price, unless you're a total NFL nut.