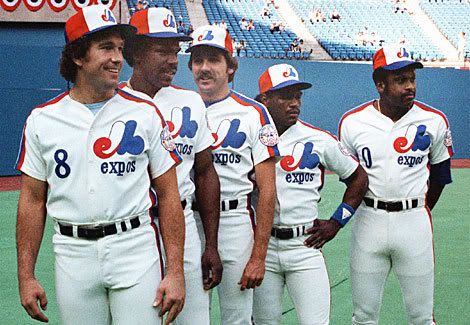 Out of Left Field is looking over the legitimate candidates for the Baseball Hall of Fame during the lead-up to the big vote on Jan. 12. Former Expos great Andre Dawson (second left in picture, beside the next manager of the Blue Jays) is getting closer to induction after receiving 65.9% support in 2008, his seventh try.
The biggest piece of context with
Andre Dawson
is that he was touched by the
Mickey Mantle
myth, which is a good thing.
Who knows, maybe sports talk radio has sucked the sympathy out of fans. The biggest piece of context with the great Expos outfielder is that he performed for a generation who had grown up on stories of athletes whose careers were cut short They knew the litany of legends whose careers had been cut short by bad knees -- Mantle,
Bobby Orr
in hockey,
Gale Sayers
and
Joe Namath
in football. It went double for him, since he was playing on the "concretelike turf of Montreal." (
Sports Illustrated
, June 15, 1987.) That should preface anything said below.
That was a very real phenomena that maybe isn't fully appreciated when you look through a stathead lens and see only the
just-okay numbers
-- 438 homers, 1,373 runs, 1,591 RBI, .323 on-base percentage. A gut feeling is that Dawson
might make in this time
. Getting past the 65% mark usually means it's inevitable a player will get the 75% needed for election.
Summing him up in three sentences: Eight-time Gold Glove winner. Won the MVP in 1987; was runner-up in 1981 and '83. One of only six players with 400 career home runs and 300 stolen bases.
Was he ever regarded as the best player in baseball? Did anybody, while he was active, ever suggest that he was the best player in baseball?



No, although he might have been one of the most

respected

men in the game.



Was he the best player on his team?



Dawson was a full-time player for 16 seasons and led his team in on-base plus slugging (OPS) only five times (1980, '81 and '83 with the Expos and '87-88 with the Cubs), which is low for someone who batted third or cleanup. Gary Carter was the runner-up for MVP in 1980 and Tim Raines had a monster season in 1983 -- 133 runs scored, 90 stolen bases, .393 on-base percentage.

That leaves Dawson with three seasons where he was his team's best player. One was strike-shortened.

Was he the best player in baseball at his position? Was he the best player in the league at his position?

He might been the best centrefielder in the majors in 1981. That was really the only season where he was the dominant player at his position. He was MVP runner-up to another centrefielder, Dale Murphy, in '83. In 1987, when Dawson was MVP (by that time, he had moved to rightfield), Darryl Strawberry was far more productive (.284/.398/.583) in Shea Stadium than Dawson (.287/.328/.568) did playing at Wrigley Field.

Did he have an impact on a number of pennant races?

He had an impact on four -- 1979, '80, '81 and '89. He had strong Septembers in '79-80 when the Expos were nosed out for the NL East pennant in the final days of the season (no one remembers it this way, but the team had strong finishes). He had a so-so final month in 1981, but on Sept. 21, homered in the 17th inning to give the Expos a 1-0 win over the Pirates; by the margin of that victory, they beat the Cardinals out by a half-game to win the second-half title.

Was he a good enough player that he could continue to play regularly after passing his prime?

Yes, he played until he was 41 years old and had his last season as a regular at age 39. The last six seasons of his career basically broke down to two average seasons with the Cubs, two seasons DHing about 80% of the time for the Red Sox and two seasons as a part-timer with the expansion Florida Marlins.

Is he the very best player in baseball history who is not in the Hall of Fame?

No. Raines,

Ron Santo

and

Alan Trammell

among others would rank ahead of him.

Are most players who have comparable career statistics in the Hall of Fame?

Five of Dawson's 10 comparables are in Cooperstown: Ernie Banks, Al Kaline, Dave Winfield, Billy Williams and Tony Pérez. Banks hit more than 500 homers, while Kaline and Winfield each made it to 3,000 hits, so they had no problems being inducted, plus they each played in big makrets. Williams needed six years to be elected and Pérez, who was a controversial, borderline case, got in on his ninth try in 2000.

Do the player's numbers meet Hall of Fame standards?

The magic 8-ball would say, "Outlook kind of hazy." His Triple Crown stats -- .279 average, 438 homers (only three seasons with more than 30), 1,591 RBI -- are such that you'd be looking for other stuff to put him over the top.

He's in a no-man's land when it comes to the HOF Standards test, scoring 44.1 -- not a lock, but more than a non-starter, and better than Jim Rice. He fares better on the HOF Monitor.

Is there any evidence to suggest that the player was significantly better or worse than is suggested by his statistics?

The testimonials to how he played through pain and had a throwing arm that was "legendary" (to quote Scott Miller, who's apparently a big Barney Stinson fan) suggest he was better than the numbers indicate. Contemporary evidence, namely that garden-variety .323 OBP, help make the case for "worse."


Joe Posnanski has debunked the myth that players of Dawson's vintage would have walked more if they had just appreciated the value of base on balls and a good on-base percentage. Poz found that walk rates have not budged in the past 30 years. The argument also falls apart when you compare Dawson's career OBP to other home run and RBI champions from the 1980s and early '90s. You could look it up.

Is he the best player at his position who is eligible for the Hall of Fame but not in?

No. Among centrefielders who played at the same time, there's Murphy, and there's Dwight Evans among rightfielders, to name just a couple. In the

New Historical Baseball Abstract

, James lists him as the 19th-best rightfielder, behind non-Hall of Famers Dave Parker, Bobby Bonds, Bobby Murcer and Ken Singleton.



How many MVP-type seasons did he have? Did he ever win an MVP award? If not, how many times was he close?



He had a MVP-like season in '81 (.302, 24 homers, 64 RBI, .553 slugging in the strike year) and again in '83 (.299-32-113, plus 104 runs scored and a Gold Glove). He won the award in the 1987, but in this day and age, he might not have won.

Nineteen eighty-seven was actually a watershed moment when it came to MVP voting: It was the last time that RBI champs were both MVPs. Neither Dawson of the Blue Jays' George Bell was the best player in their league.

Dawson had a ridiculous home/road split (1.041/.768). That was also the last full season of day baseball in Chicago, and he OPSed 1.016 by day and a .687 -- paltry -- by night. Sportswriters now would have made a much more informed choice.



How many All-Star-type seasons did he have? How many All-Star games did he play in?



He probably had about nine All-Star-type seasons. He was not picked in 1980 when he hit .308, scored 96 runs and had 41 doubles for a 90-win Expos team, but he was a near-automatic pick until he reached the other side of the hill.



Did most of the other players who played in this many go to the Hall of Fame?



Probably.

If this man were the best player on his team, would it be likely that the team could win the pennant?

A lot would have to go right for that to be the case -- like having Gary Carter and Tim Raines on your team.



What impact did the player have on baseball history? Was he responsible for any rule changes? Did he introduce any new equipment? Did he change the game in any way?



There was the matter of that blank contract he showed up at spring training with in 1987. It did prove to be a smoking gun in the players' collusion case against the owners.

Did the player uphold the standards of sportsmanship and character that the Hall of Fame, in its written guidelines, instructs us to consider?

He would not have got this close without it and there is not a thing wrong with that statement, other than the poor quality of the narration. Keep your fingers crossed he goes in at the same time as

Jim Rice

, to mitigate the Masshole love-in.

Post-script: Rob Neyer tackled Raines vs. Rice in an interview yesterday with Fire Brand of the American League.
"I can't support Jim Rice's Hall of Fame candidacy because I don't believe he's among the 20 best left fielders in major league history, or even among the five best corner outfielders who are today not in the Hall of Fame. Just to make the most obvious argument, Rice wasn't nearly the ballplayer that Tim Raines was. That's objectively true, and it's frustrating to me that so many Hall of Fame voters believe that Jim Rice was a great player, but Tim Raines was not."
Related:
Upon further review, Hawk belongs in Cooperstown (Scott Miller,

CBS Sportsline

)
My Hall of Fame Ballot -- Henderson, Blyleven, Raines, Morris (Dan Graziano, Newark

Star-Ledger

)
Hall of Fame ballot tests first-time voter (Joe Capozzi, Palm Beach

Post

)