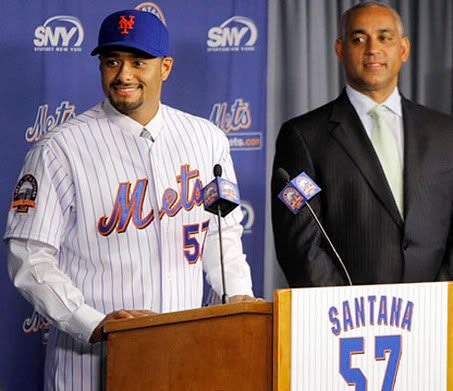 It's baseball season, that mystical, wonderful time of year where you commit to a team for six months, knowing full well they won't win. Here's a starting nine for the New York Mets.
Why they might win: The Mets have uber-lefty, Johan Santana, who as you know, is already a sure bet to win 30 of his 32 starts, strike out 275 batters and maybe even go all nine innings some night.

The gut feeling is that it's about 70/30 that Pedro Martinez can get it up for 160 innings.
Why they might not win: The Mets seem to like starting pitchers who can light it up for a half-season, including Pedro, Oliver Perez, John Maine and Orlando Hernández. All of them more of less have that pattern. It's not a big deal, though, in a game where every wins or loses 60 games in spite of themselves.
Remarkably accurate spitballing from last spring: "Teams with big-name offensive stars who play in major media markets are always overrated. The Mets, who had everything go right in '06 until the NLCS -- Pedro Martinez's elbow woes nothwithstanding -- are riding for a fall."

Blind pig; acorn: The Mets went 5-12 in the stretch run to blow a seven-game lead and hand the NL East to the Phillies, in one of the all-time, top-5 choke jobs.
Figure this one out: Leadoff man José Reyes the game's greatest basestealer, had a 79% success rate last season, which was lower than the rest of his team (83%).
The experts speak: "Unable or unwilling to undertake a needed rebuilding of their aging roster, the Mets will suffer more disappointment in 2008, only this year it will start on Opening Day." -- Baseball Prospectus 2008
The torch has passed: Before we got started on this project, Neil Acharya wrung out a promise that there would no references to VORP, with a penalty of buying the first round at Friday's Jays home opener. Well, it's worth pointing out that the Beep has David Wright down for a higher VORP than New York's other third baseman, Alex Rodriguez.

It still won't help Wright in the MVP voting if his team craps out short of the playoffs. He'll probably be fourth or fifth in the voting again. No Met has ever won MVP.
For no reason, here's Apu: That Simpsons episode where he's trying avoid detect as an illegal alien and refers to the "Nye Mets" as his "favourite squadron" does it every time.
Carlos in Cooperstown? Probably not. It's an outside shot at best for Carlos Delgado, the ex-Jay. Even Davidson found out eventually that you can't on outside shots.

Delgado has 431 homers entering his age-36 season. Five hundred homers is also not going to lock up a Hall of Fame plaque in the future, even for players who didn't have the slightest taint of the Steroid Era. Among his analogs, only one, Andres Galaragga, ever had 500 at-bats in a season from that age onward.
Need-to-know: The no-cojones pick is to say the Mets won't win the division, but will take the wild-card. Between the Mets, Braves and Phillies, though, the Mets are a safe pick.
That's all for now. Send your thoughts to neatesager@yahoo.ca.