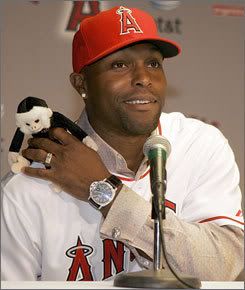 It's baseball season, that mystical, wonderful time of year where you commit to a team for six months, knowing full well they won't win. Here's a starting nine for the Los Angeles Angels.
Said it before and will say it again: They're winning the AL West. Explain why they won't.

It was true last season and it will be true of the Angelenos again. Mike (Awesome) Wilner of The FAN 590 is taking the Angels to have the best record in baseball.
The reasoning's a little Lackey: Let's get this straight -- Angels ace John Lackey's likely to miss five starts and L.A. is in deep water, because the Mariners have Erik Bedard, who misses five starts every season? Makes sense.
Can they get by? Lackey's out for five starts; Kelvim Escobar's done for the season; they were credited with 37 of the Angels' 90 wins last season. It says here that Dustin Moseley might tide them over in the first couple months. Nick Adenhart, who was in Double-A last season, might arrive for August and September.
Red Torii: Looking at centrefielder Torii Hunter (pictured) in an Angels uniform after all those years in Minnesota does induce a double-take. Maybe it stems from the fact that five years, $90-million US way just way too much to pay for him. The Angels had to go all in, though, since they goofed by signing Gary Matthews Jr.
Vlady being Vlady: There is no one like Vladimir Guerrero, the last of the great bad-ball hitters. He hits .300 with 25 homers pretty much every season, 10 years in row now. He's slowing down, a bit, just as people are starting to discover how good he really is.
Kendrick Kool-Aid: A few people got religion over Angels second baseman Howie Kendrick when he was putting up crazy batting averages in the minors.
Good enough to lose: The dirty little secret with the Angels is that they're a divisional dynasty in a group that has a team that are cash poor (A's), intelligence poor (Mariners) and interest poor (Rangers). Owner Arte Moreno, though, almost alone among MLB owners, does keep his beer prices down.
Creative spelling: Can't wait until the Angels' Chone Figgins (it's pronounced Shawn) goes to bat for the first time against Baltimore farmhand Chorye Spoone (it's pronounced Corey).
Need-to-know: The Angels are a good defensive team with a great closer in Francisco Rodriguez and they accentuate their just average hitting by being smaggressive -- smart and aggressive -- on the bases. That'll be enough to win the West again unless Seattle's pitchers really break out.
That's all for now. Send your thoughts to neatesager@yahoo.ca.