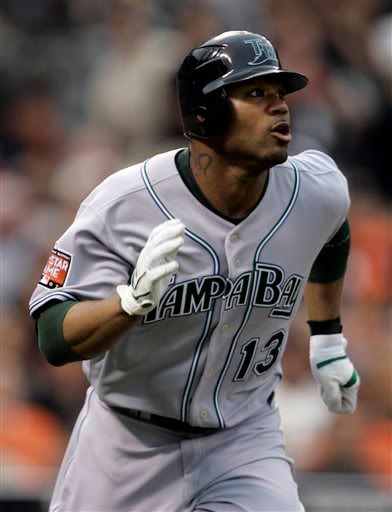 It's baseball season, that mystical, wonderful time of year where you commit to a team for six months, knowing full well they won't win. Here's a starting nine for the Tampa Bay Rays.
Summer of 82: Try to sound smart and say this will the first season that the Tampans finish with a winning record. Eighty-two wins and beyond. Dare to dream.

Will they have a champagne toast like the '87 Pirates did after they managed not to finish last? No, because they can probably win in the range of 87 games.

Now they have a real team: It was probably time to start taking the Rays seriously about a year and a half ago. However, the Rays, like a Judd Apatow movie, stubbornly remained awkward. They'd turn up to play the Jays and they'd be messing around with Jorge Cantu or Ty Wigginton or they'd be trotting out B.J. Upton as a second baseman.
Get it out of your system: Yeah, so the Rays' Evan Longoria has a name that's one letter off from an actress who's not that sexy and will ape Matt LeBlanc's career arc once her stupid show gets cancelled. What's your point?

Longoria will start the season in Triple-A, but not for long.

Third party candidate: The talented Rays will soon usurp the Jays' role and become the fly in the ointment. They'll never have the same amount of coin as the Evil Empires, but they'll challenge one of these years, perhaps even this season.

A modest suggestion is that the American League add two more teams -- expand or see if some NL teams are up for real baseball -- and go to 16 teams, four divisions, no wild card. This would include the AL Norris Division: Toronto, Detroit, Chicago and Tampa Bay (the Lightning were in the Snorris their first season, look it up). Now that would be a division.


Geek Love ain't just a cult novel: Alt.nerd.obsessives all want to figure out how to be Chaim Bloom, whom 99% of people who will be attending Opening Day games across North America wouldn't know from Abraham.

He's a 2004 Yale grad who wrote for Baseball Prospectus and on the basis of that, became the Rays assistant director of baseball operations. Tampa Bay has a young GM, Andrew Friedman. They're broad-minded, they're emphasizing player development — particularly in Latin America and among African-Americans, who are practically an untapped resource. There's also few external expectations, so they'll have time to do their thing.


Kazmir mafia: Lefty Scott Kazmir has arrived as an ace, plus the Rays will eventually have a good 2-3 punch with James Shields and David Price, last June's No. 1 overall pick. Wade Davis is also a solid right-hander who'll probably be in Double-A, for a couple weeks. It's just a question of when.


The truth about Carl -- he's great: Rays leftfielder Carl Crawford (pictured) has become a favourite player over the past couple seasons.

The Rays are kind of the flavour of the month for Seamheads, so Crawford is there to remind them that for the other 90 per cent of people who go to ballgames, it's supposed to be exciting. It's a lot more fun to watch players who swing the bat, run like hell and throw their body around like they're playing football, which Crawford was pretty good at in high school.

Crawford is a Jays killer, too. His .814 on-base-plus-slugging vs. the Jays is 44 points higher than his career .770. He's also hit more homers (14 in 90 games) and stolen more bases (41 in 47 tries) against them than any other opponent.


Wagering: Drunk Jays Fans and D-Rays Bay have a bet riding on the outcome of the Jays-Rays series in mid-May in Orlando. Winner takes over the loser's blog for a day, shenanigans ensue.
Need-to-know: There are parallels between the Rays and the 1980s Blue Jays and the late-'90s Ottawa Senators in hockey; that's part of their appeal. They've come along the way new teams should come along.

Time was, expansion teams were supposed to take their lumps and bide their time while slowly assembling a winner. This changed in the '90s. The ball-and-stick leagues had to start letting new teams enter on generous terms to justify the usurious expansion fees, unless they could find some real rubes who wanted into the club in the worst way (see the NHL's courtship of Ottawa and the NBA's expansion to Canada).

The Rays missed out on that since their original owners spent a few seasons farting around with the Jose Cansecos of the world. Friedman, et al., basically had to start over.