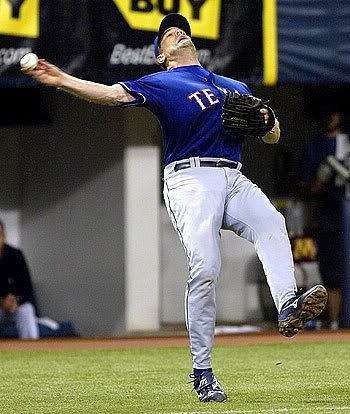 It's baseball season, that mystical, wonderful time of year where you commit to a team for six months, knowing full well they won't win. Here's a starting nine for the Texas Rangers.
I got nothin': The only Rangers-related item that rates a mention is that Mike Shropshire is due to come out with a second book about his days as a beat writer covering the team in the mid-'70s. (Link via Slate.)

It's titled, The Last Real Season: A Hilarious Look Back at 1975 -- When Major Leaguers Made Peanuts, the Umpires Wore Red, and Billy Martin Terrorized Everyone.

Shropshire's previous tome was called Seasons In Hell; I literally read it until my paperback copy fell apart. Imagine what Almost Famous would have been like with if it had involved jocks instead of rockstars and had Terry Gilliam as a director instead of Cameron Crowe and you pretty much have Seasons In Hell.
Everything to everyone is nothing to anyone: The Bill James Gold Mine 2008 points out the Rangers suffer from a lack of variety in their offensive diet. They whacked 179 homers in '07, but their team leader hit only 21. They had 100-plus strikeouts from eight of nine spots. In short, they have no table-setters, no contact hitters and no big bat.
The Hammer: There's not much new to saw about centrefielder Josh Hamilton, who had his inspiring comeback with the Reds last season before they opted to sell high and snooker the clueless Rangers out of pitcher Edinson Vosquez. He might be the one redeeming quality of the Rangers for the next little while.
Real estate: The most relevant part of Seasons In Hell is probably a scene when Shropshire related his dealings with an editor who constantly told him he lacked the dedication for the "newspaper business." Shropshire's riposte was that as a sportswriter, he wasn't involved in the newspaper business: "And you ain't either. Some heir to the Scripps-Howard fortune is down on his private island with 300 cases of champagne and Miss Teenage Sweden. He's in the newspaper business. You and I are not."

That sums up what it's like to be coach, play or scout for the Rangers, although every franchise is like this to an extent nowadays. BP 2008's chapter on the team lays out how the Rangers have never been anything more than "a vehicle for big profits" for its owners. There's no point to this franchise, it's peaked as a business, but it won't be moved any time soon.
Mo-tive? Have the Rangers become what the L.A. Kings were to hockey in the days when they were the only Sun Belt team? It sure seems that way. Why beat your head against the wall for a team that's going nowhere? The paycheques still come in and it's 75 degrees every day, perfect golf weather. Right, Kevin Millwood?

Worth noting: Former Jays slugger John Mayberry's son, rightfielder John Mayberry Jr., is repeating at Double-A. That's not a positive sign.
Owning the basement: This is a last-place team. (Well, duh.)
Celebrity couple for 2012: Rangers catching prospect Taylor Teagarden and Friday Night Lights ingenue Aimee Teegarden. This was just an excuse to remind you that the show got renewed.
Need-to-know: Texas has plenty of baseball fans. Fortunately, they have plenty of options for seeing good, spirited baseball -- the college programs at Rice and the University of Texas.

The Rangers also have some talent on their Double-A team, the Frisco Roughriders, who as one wag put it, "unlike the Rangers, openly admit that they are fielding a minor-league team!"
That's all for now. Send your thoughts to neatesager@yahoo.ca.