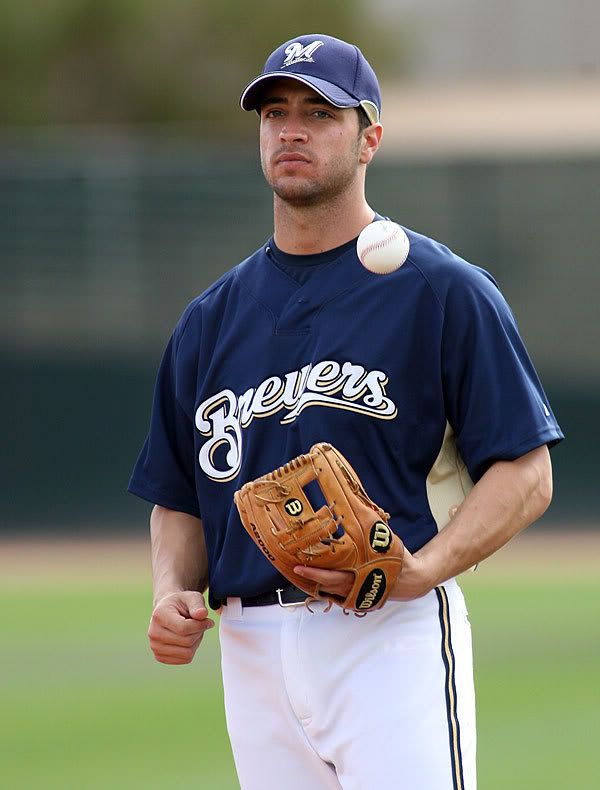 It's baseball season, that mystical, wonderful time of year where you commit to a team for six months, knowing full well they won't win. Here's a starting nine for the Milwaukee Brewers.
This is their year: There's three reasons to side with the Brewers in the NL Central; they're a pretty decent team and most importantly, they're not the Cubs, so they can spoil all the paint-by-numbers stories that will accompany playoff baseball at Wrigley Field. Reason No. 3 is at the end of the post.

The factinistas at Baseball Digest Daily like the Brewers, too.
Whatever you do, don't look at his gut: The killjoys are figuring that Prince Fielder, the youngest 50-homer man in baseball history, won't have a long career, on account of being a one-dimensional slugger with, not that you would ever be so rude to point it out, a slight weight problem.
It's a good group: It's lazy to do it this way, but the season starts tomorrow, so here's Baseball Prospectus' PECOTA projections for the Brewers' Big Six hitters:



Ryan Braun, LF: .300/.367/.575, 39 HR, 117 RBI
Prince Fielder, 1B: .287/.384/.560, 38 HR, 111 RBI
Bill Hall, 3B: .267/.335/.482, 19 HR, 66 RBI
J.J. Hardy, SS: .273/.329/.441, 17 HR, 66 RBI
Corey Hart, RF: .288/.358/.528, 24 HR, 86 runs
Rickie Weeks, 2B: .265/.368/.454, 16 HR, 79 runs

That old glove logo is rather ironic: The Brewers are among the worst fielding teams in the game; expect all the sportswriters and TV broadcaster who are forever rhapsodizing about being good with the leather to beat that into the ground all season. Mike Cameron being in centrefield and Ryan Braun not being at third should shore up the D.
Mussed Sheets: Election years are typically good to the Brewers' fragile ace, Ben Sheets. In '04 he was the second-best pitcher in the NL and in 2000 he led the U.S. to a gold medal at the Sydney Olympics. The Brewers have the Nomar Garciaparra scenario -- trade him in July even if they're in the race, since he's a free agent after the season.

Milwaukee's bullpen is bound to improve since it's hard to keep sucking; ex-Devil Ray Seth McClung is the easy-to-root-for reliever out for redemption. The starters are a solid enough group.
Who needs fiction: No writer worth her/his therapy tab would ever try to concoct the absolutely true, if maudlin story of what led up to Tony Gwynn Jr., on the last Saturday of the season, hit that two-out, ninth-inning triple off his dad's old team and his friend Trevor Hoffman that put the Padres in a downward spiral.

Didn't know this: The year the Brewers drafted Gwynn Jr., the Padres wer planning to take him two selections later, the rat bastards.
Any preferred destination? Not that you'd ever call shenanigans on a god, but it's curious The Bill James Gold Mine 2008 builds a case that the Brewers will eventually have to trade either Ryan Braun or Prince Fielder. Both sluggers are defensive liabilities and there's no DH spot in the junior varsity league.

Hmmmm. James works for the Red Sox. Think they'd have use for Fielder, a big, rotund DH-type who hits for average and has power to all fields? Have the Bosox ever had a player like that?
Amateur numeroligists, rejoice: Hardy, the shortstop, was born on Aug. 19, 1982, matching up with Robin Yount's old number and the year he led the Brewers to their only pennant.
Need-to-know: The Brewers are making the playoffs, not this year but probably a couple times in the years to come. Their farm system is pretty good; their Triple-A team in Nashville won 89 games last season, and that's with a season that's 18 games shorter than in the majors.

It's good to have another National League team to snark off about in October, sneer at the back end of their starting pitching, chortle at the JV league's insistence that pitchers should hit. It's a slice.
That's all for now. Send your thoughts to neatesager@yahoo.ca.