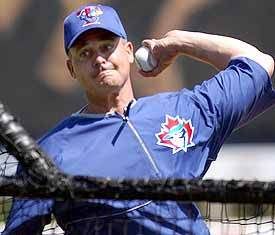 One of us is owner of the the all-time Toronto Blue Jays team — the ATJs — in the Seamheads.com Historical Sim League (SHL). Other owners include HDNet's

Roy Firestone

(Orioles), ESPN.com's

Jonah Keri

(Expos), Kansas City Star writer and blogging god

Joe Posnanski

(Indians), godfather of Sabermetrics,

Bill James

(Red Sox) and

Curt Schilling

(Pirates), who has struck out 3,116 more major-league batters than any of us will. So how about those Blue Jays
?
The secret handshake with Jays fans is realizing the 1980s generation of players were the team, not the 1992-93 back-to-back World Series teams.
The Jays in those days,
Jesse
and
Lloyd
and
Rance
and
Garth
and
Er-nie, Er-nie!
toiled down at the
Mistake by the Lake
, with its rock-hard artificial turf, cramped clubhouses and the aluminum bleachers which did not face home plate. They wore funny blue-and-white hats and powder blue pyjamas with all the dignity, as was the style at the time, with all the dignity one could muster. It is a good nostalgia wallow to see some of the 1980s players fuelling the ATJs' early-season
rise to first place
in its division, with a 12-6 record after 18 games. That is only one game off the best record in all sim baseball, held by Schilling's Pirates.
The ATJs manager, to quote

Casey Stengel

, wants it known he couldna done it without the players. The formula which only gets the real-life Jays so far in the current AL East, pitching, solid fielding and sporadic run production, is working in the Expansion 3 group. They actually have a different leader in each of the six Triple Crown categories, which speaks to their balance.

The division consists of Arizona/Colorado D-Rox, the Marlin/Rays (an amalgam of the two Florida teams) and Toronto's 1977 expansion cousins, the Seattle Mariners (dead last at 5-13). The D-Rox are 10-8, good for second.



Jimmy Key

(3-1, 3.19, 1.16 WHIP) has emerged as a solid No. 3 starter after Dumb and Doctor, the 1-2 punch of

Roger Clemens

and

Roy Halladay

, . In his most recent start, Key went the route on a seven-hitter, striking out 10, to beat Florida/Tampa Bay and, wait for it, Marlins/Rays starter

A.J. Burnett

. (The big blow in that one was a three-run homer by leadoff man

Lloyd Moseby

.)

Fourth starter

Dave Stieb

, has been slower to come around, but did win his last start.

Tom Henke

is tied with the league lead with six saves.

Hitting-wise, Moseby is leading the club with a .917 on-base-plus-slugging and team-high 14 runs scored.

Tony Fernandez

, batting .288/.377/.407 out of the No. 9 spot, has also proven to be a good table-setter.

The seven spots in between them are, uh, problematic.

Roberto Alomar

has cooled off, which might be the effect of being one of the only players on four different SHL teams (he's also on Firestone's Orioles, Poz's Indians and the Padres, owned by

Geoff Young

of

Ducksnorts

.) The ballcubs is is 20th or worse in the SHL in almost every offensive stat, except stolen bases (with 35 base swipes, they're third).

Carlos Delgado has been a big bat out of the 3-hole, slugging .554, while

George Bell

is cleaning up with 18 RBI after 18 games despite some execrable rate stats (.225/.230/.422.) At least this group is opportunistic. A good case-in-point came April 19 in Chicago, when Delgado ended in an eight-pitch battle with

Mordecai "Three Finger" Brown

by hitting a two-out, two-strike, walkoff homer in the bottom of the ninth for a 2-1 win over the all-time Chicago Cubs.

That isn't going to happen every day, so the skipper has find some winning combination in right field and third base, which make up the 5-6 spots in the order. A
n

Alex Rios

/

Joe Carter

quasi-platoon has been installed in right while

Jesse Barfield

gets some swings in down at Triple-A Las Vegas. Over at third, the original professional hitter,
Rance Mulliniks

, might yet push

Troy Glaus

into a platoon role.

It has been a lot of fun following this. All of this is couched in the acknowledgement that it is a dork-o-rama, but for a Jays diehard, this been a joy. Thanks for listening.



Schilling's masterstroke



Curt Schilling gets a slow clap for choosing to be owner of the Pirates, even though he never played for the franchise.

It's a downtrodden franchise on account of those 16 consecutive losing seasons, but it dates back to the 19th century and it has employed some all-time great players. Their regular lineup has six Hall of Famers, seven if you count

Bill Mazeroski

, who's in there somewhat dubiously:

Honus Wagner, shortstop
Paul Waner, rightfield
Barry Bonds, centrefield

Willie Stargell, first base
Ralph Kiner, right field
Jason Kendall, catcher
Pie Traynor, third base
Bill Mazeroski, second base

Some would say that it was disloyal on Schilling's part. The word "shrewd" seems fairer.