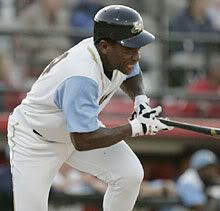 Out of Left Field is looking over the legitimate candidates for the Baseball Hall of Fame -- no disrespect to Dan Plesac -- over the next few weeks. Now batting, Rickey Henderson.
The Golden Baseball League is campaigning to have
Rickey Henderson
go into Cooperstown as a San Diego Surf Dawg
.
Of course, they're kidding, especially seeing as the Hall of Fame no longer lets players pick which cap they're depicted wearing on their plaque. It just figures you would get something like that, since Rickey Henderson seemed to attract zaniness. He has become this larger-than-life character whose baseball legend probably exceeds the full gamut of his personality, only because the stories about him not knowing teammates' names and refusing to cash million-dollar cheques have been repeated ad nauseam, to the point where fact and fiction blur.
The real question is whether Henderson is going to get 98% of the vote. A gut feeling is it might not be that high, but it should top 90%, easily.
Was he ever regarded as the best player in baseball? Did anybody, while he was active, ever suggest that he was the best player in baseball?



That was the case in 1990, when Henderson won his MVP award after putting up a sick 1.016 on-base-plus-slugging and leading the Oakland A's to a 100-win season. He was also second in MVP balloting in 1981, a strike-shortened season.



Was he the best player on his team?



He was the A's best player, certainly from 1980-84, and again in 1990. He was the Yankees' best probably in 1985 --when he became the first player since Lou Gehrig almost a half-century earlier to average more than a run scored per game -- and likely again in 1986, when he scored 130 runs.

Was he the best player in baseball at his position? Was he the best player in the league at his position?

By mid-1986, Sports Illustrated had proclaimed Henderson and Tim Raines as "simply the best leadoff men ever." (John Brattain, who knows his stuff cold, notes that from 1983-89, Raines was the more productive of the two.)

Henderson and Raines as the game's best left fielder was a toss-up throughout much of the decade, save for 1987, when Rickey was limited to 95 games by a hamstring injury. Henderson was also the game's best in '90, and remember, that was the season Barry Bonds won his first MVP award.

Did he have an impact on a number of pennant races?

No Jays fan needs any reminder of 1989, when he dismantled the Jays in the ALCS by OPSing 1.609 and going 8-for-8 stealing bases in Oakland's five-game win. This question can probably be spun around to post-season performance. He was on eight playoff teams and hit .284/.389/.441 in the post-season, with 47 runs and 33 steals in 60 games -- and remember, that's when you're only seeing the best of the best pitching staffs.

Jays fans might not remember this. During the Jays' Drive of '85, Henderson scored 39 runs from Sept. 1 through the end of the season.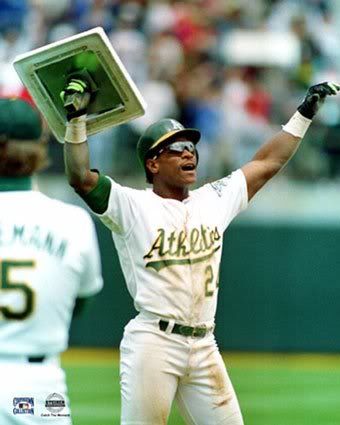 Was he a good enough player that he could continue to play regularly after passing his prime?

Rickey hasn't passed his prime, just ask him. Rickey is still going strong. Rickey -- who turns 51 on Christmas Day -- is working on his comeback.

Henderson hung on for way too long -- he actually played his final pro season in a stadium named after Tony Gwynn, one of his contemporaries. However, from age 37 to 39, he could still get on base at close to a .400 clip and steal a lot of bases. In 1996, when he helped the Padres win the NL West, he very nearly had more runs scored (110) than hits (112), which is nearly unheard of. (He walked 125 times.)

Is he the very best player in baseball history who is not in the Hall of Fame?

Pretty much, outside of Barry Bonds, who isn't yet eligible.

Are most players who have comparable career statistics in the Hall of Fame?

No one really compares to Rickey Henderson. The way the similarity scores on baseball-reference.com work is that a score in the 900s says two players were very similar. Once you get below 900, they really weren't that similar.

The most similar player to Rickey Henderson is Craig Biggio with a score of 721, which means he wasn't anything like Rickey.

Do the player's numbers meet Hall of Fame standards?

This will be a slam dunk. He scored a record 2,295 runs, stole 1,406 bases, is in the 3,000-hit club.

Is there any evidence to suggest that the player was significantly better or worse than is suggested by his statistics?

If anything, he was better. Henderson's lifetime batting average was .279, but his secondary average was .416 when you factor in all the walks, stolen bases and extra-base hits. According to baseball-reference.com's stats neutralizer, his career OPS of .820 would have been in the .900 range if he had played in a "historically neutral environment."

He only won one Gold Glove, since it's tough to win it playing left field, but many have written that his fielding was excellent. He was good enough to play almost 450 games in centrefield.

Is he the best player at his position who is eligible for the Hall of Fame but not in?

Yes, he is. Bill James rated him as the No. 4 leftfielder of all time in his New Historical Baseball Abstract, with Tim Raines eighth.



How many MVP-type seasons did he have? Did he ever win an MVP award? If not, how many times was he close?



He had at least three -- 1981, the strike year, when he hit .319/.408/.437, won a Gold Glove and scored 89 runs for an A's team that played just 109 games. He finished second behind the Milwaukee Brewers reliever, Rollie Fingers.

Four years later, after being traded to the Yankees due to some fiduciary troubles the A's were having, he had a MVP-like season in the Bronx -- only the award ended up going to Don Mattingly, who was the only driving him in more often than not. (Actually, it could have gone to George Brett.)

It's curious, all these years later, to note that Mattingly's OPS, .939, was just a smidge better than Henderson's .934. The big difference is that Yankee Stadium was tailored to lefty hitters, and Mattingly hit 22 of his 35 homers at home. Henderson hit 16 of his 24 on the road, where they probably had more impact, since the Yankees were sub.-500 away from the Bronx, which cost them the AL East pennant. Mattingly was not a bad pick, but Henderson or Brett might have been better.

Finally, in 1990, Henderson won the MVP going away, but it took a massive season.



How many All-Star-type seasons did he have? How many All-Star games did he play in?



He was a 10-time all-star, starting eight games. He wasn't selected in 1981, the strike year, when he was MVP runner-up. He was also left off the AL team in 1993, when he had a .462 on-base percentage at the break. Cito Gaston, and you probably had to be there, took catcher Terry Steinbach to fill out his Oakland quotient.



Did most of the other players who played in this many go to the Hall of Fame?



It's not really relevant, so the answer is yes.

If this man were the best player on his team, would it be likely that the team could win the pennant?

He was the A's best player in 1989 and '90, and they won the pennant. He was the best player on the 1985 Yankees, whose 97-64 record was second-best in the AL in that pre-wild card era.



What impact did the player have on baseball history? Was he responsible for any rule changes? Did he introduce any new equipment? Did he change the game in any way?



People have said that in the NFL, the rise of the shotgun formation, the two tight end offence and the emphasis on left tackles was a reaction to pass rushers such as Lawrence Taylor in the 1980s. Henderson was so quick and so smart; as the scout Charlie Metro said it was basically impossible to throw him out. Over the course of his career, pitchers began shortening their motions and putting more emphasis on their pickoff move; that was certainly a counter-move to Henderson, Raines and other basestealers of the 1970s and '80s. The speed revolution was not enduring, but it did make for a fundamentally different type of ball, for a time.

Did the player uphold the standards of sportsmanship and character that the Hall of Fame, in its written guidelines, instructs us to consider?

For all the colourful history, and the contract holdouts, there really is no major baggage. That, "today, I am the greatest of all time" speech should be forgotten.