The spirit has been there to add sports books reviews to
Out of Left Field
for quite some time -- and that day is finally here.
Promise you this: The reviews will neither be timely nor professionally written, but will be helpful if you're looking for some new reading material or for a gift for the sports-loving bookworm or book-loving sportsworm in your life. This is open to commentators – if you want to write a review, or merely have a recommendation, fire off an e-mail to
neatesager@yahoo.ca
.
That's probably enough of an introduction. This edition of "Cooking the Books" (the title was
Keith Borkowsky
's idea) includes titles by
Pat Jordan
,
Will Leitch
,
Kenny Mayne
,
Ralph Mellanby
and
Deadspin
editor
Clay Travis
, after the jump.
The Best Sports Writing of Pat Jordan
By Pat Jordan with Alex Belth (editor)
Amazon.ca price: $17.61

Gay Talese is said to have popularized fly-on-the-wall literary sportswriting with the Joe DiMaggio profile back in 1966. Jordan has perfected the craft. It's made him the sportswriter's sportswriter and enabled him to keep his own hours, but it's worked against achieving the fame and fortune of Rick Reilly, say.

Jordan just disappears so thoroughly into his subject and is such a straightforward writer that it's easy to forget how many major pieces flowed out of his fingertips. That piece where the famously reticient Hall of Fame pitcher Steve Carlton talked about the "12 Jewish bankers" who control the world? That was Jordan. That article when Deion Sanders' mother called her famous son's future wife "trash"? Jordan. Three guesses who got sued in the early 1980s by Steve and Cyndi Garvey for a profile that basically left readers to infer that baseball's poster couple were on the verge of splitting up – which they did, inside of a year later.

There's a lot the wound-and-the-bow to Jordan's choice of topics. Since he pitched in baseball's minor leagues, pitchers are a favourite subject, so along with Carlton, there's in-depth looks at Roger Clemens, Rick Ankiel (when he had his control problems) and the author's friend, Tom Seaver.

The scenes with Seaver provides insight into the mind of an elite ballplayer. It put Blue Jays ace Roy Halladay's recent uncharacteristic "Groundhog Day" comments into some perspective. Jordan and Belth, the editor, subdivided the book into two sections, Fame and Obscurity, so there's plenty of variety if you prefer to read the book piecemeal, one chapter at a time. Another masterstroke was a Q-and-A between Belth and Jordan that explains interviewing and journalism better than a reporter with 20 years' experience ever could.

Recommendation: If you only buy one book about sports this year, make it this one. It's perfect for a true sports connoisseur or anyone who is interested in writing, period.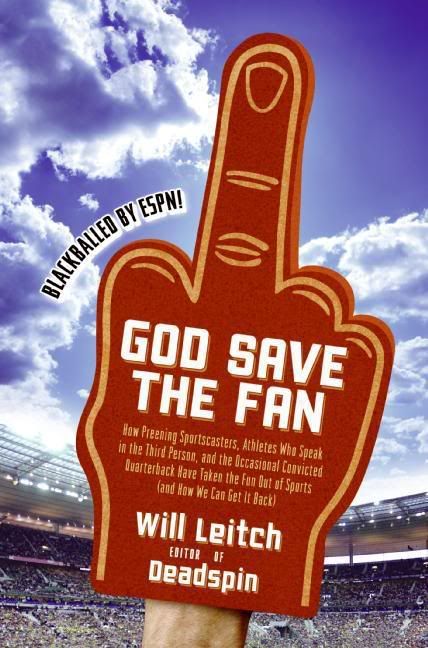 God Save The Fan: How Preening Sportscasters, Athletes Who Speak in the Third Person, and the Occasional Convicted Quarterback Have Taken The Fun Out of Sports (And How We Can Get It Back)
By Will Leitch (founding editor, Deadspin)
Amazon.ca price: $16.35

Some would say that title tail ended up wagging the content dog in God Save The Fan. Leitch was rapped because many reviewers believed that his criticism of the American sportscape came up short with the pars construens, where one makes constructive suggestions about how to change a singularly rotten system.

That overlooks the reality that any good Gen-Xer writer born after 1975 knows the most you can hope to do is change attitudes. Whatever God Save The Fan lacked in remedies is made up for the fact that it rides along on a wave of indignation that sustains it across 200-odd pages -- no mean feat. It's the same vibe that makes offerings from comedians such as Bill Maher or the late George Carlin readable, not to mention, re-readable. Including a glossary that tweaks each major pro team's fanbase? ("Raptors, Toronto: Quite pleased, actually, that Vince Carter pulled that stunt because it opened up an outlet to release anger, in a polite Canadian way, of course." It's nice to think this had something to do that item.) That's what Carlin might do to avoid getting too preachy and keep making with The Funny.

The energy is enough. The thrust of Leitch's rally-the-troops argument to sports fans – "It's about embracing the matters you do have control over" – shines through loud and clear. ESPN, or TSN, isn't going to change. But we can.

Recommendation: God Save The Fan is apparently due out in paperback early next year. You could wait a few months and save a few bucks. It would make a good gift for someone who likes sports, but not to the point where they would read a book about it. It also should be required reading for anyone who's contemplating working in the sports industry.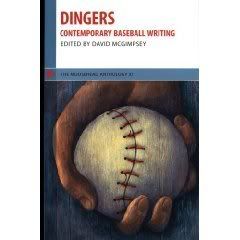 Dingers: Contemporary Baseball Writing
The Moosehead Anthology 11
Edited by David McGimpsey
Amazon.ca price: $13.83

Books directed to those oddball Canadians whose favourite sport isn't played on ice are few and far between, so on that alone, Dingers is worth having on your radar screen.

Short-story collections can be hit-and-miss. This offering from DC Books, has a few misses, but hey, that's inevitable for a book dedicated to sport where a hitter who fails six times out of 10 is a superstar.

The one story that I kept coming back to was Ian McGillis' "Who Needs Your Stinking Pennant?" An Expos fan, McGillis explores the phenomenon of how, as a fan of a team, "the position of the one being stomped upon is a place that can grow comfy; even reassuring."

That might be the most honest sentence ever written about being a diehard sports fan. It's bound to end poorly -- especially in the case of the late and lamented Expos -- but there's a security in knowing ahead of time. It's something that's appreciated more and more over time, as you get farther and farther away from the adolescent who expects championships to just fall out of the sky (i.e., like 90% of Toronto sports fans).

Dingers also includes selections from Dave Bidini, George Bowering and the Governor General's Award-nominated Kevin Connolly.

Recommendation: It's probably too scattershot a collection for some tastes, but there's enough good stuff there to look for it at a library or a second-hand store.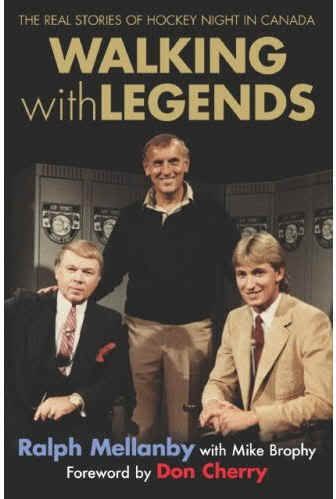 Walking With Legends: The Real Stories of Hockey Night in Canada
By Ralph Mellanby with Mike Brophy
Amazon.ca price: $16.48 hardcover, $14.56 paperback (due Sept. 1)

Mellanby's memoir was a timely read. It was picked up shortly after CBC Sports'

Hockey Night in Canada

wrapped up its coast-to-coast cornfest for the summer.

It's part memoir, part insider account, but a big takeaway – intended or not – is the rebuke of Canada's longest-running sports series. Mellanby and Brophy use the behind-the-scenes stories of the show's stars from the '60s,'70s and '80s to illustrate the vision he had for Hockey Night in Canada – a truly national broadcast, that was educated and opinionated (in that order), which prided itself on being ahead of the curve in producing good sports television and wasn't afraid to take a stand.

Considering the current state of HNIC, it's almost like unearthing a secret history to read that Mellanby hired Helen Hutchinson as the show's first woman host some three decades before Cassie Campbell working as a colour commentator practically provoked a national outcry. He also introduced a World Hockey Report as an intermission feature. Mellanby also tells of how he tried to convince NHL owners to adopt rules intended to make the game faster and more exciting – such as allowing coaches to only change players on the fly, not during stoppages in play. (One warning is that Mellanby is a bit of a figjammer, but it takes one to know one.)

It's fair to say he never would have stood for HNIC obsessing over the Leafs, hired P.J. Stock as a so-called studio analyst or let the talent's egos get bigger than the show. If you don't need that, though, Mellanby – who was part of the TV production of both the 1972 Canada-USSR Summit Series and the 1980 Miracle on the Ice – has more than enough anecdotes about the famous games and names – broadcasters and players – to be entertaining.

Recommendation: At $29.95 in hardcover at Chapters, Walking With Legends was veering way too close to the typical overpriced bit of tripe from the Canadian hockey mafia. It's best to wait for the paperback edition or visit a library. It's an essential read for any long-time hockey fan who is interested in TV production.

An Incomplete and Inaccurate History of Sport: … and other Random Thoughts from Childhood to Fatherhood
By Kenny Mayne
Amazon.ca price: $17.61

This came out just in time for Father's Day and well, no one ever went broke by preying on the average white guy's strained relationship with his Pops. "What to get Dad? Hey, look, that guy from ESPN who always does those off-beat segments that are cute-funny but not actually laugh-out-loud funny has a book out? Maybe he'll like that instead of some Old Spice."

The hell of it is that on some level, it works, somewhat.

Recommendation: Stick with the Old Spice on Father's Day next year.


Dixieland Delight: A Football Season On The Road In The Southeastern Conference
By Clay Travis (co-editor of

Deadspin

)
Amazon.ca price: $12.05

Canadians always view big-time college football in the U.S. the same way a shopaholic looks at Saks Fifth Avenue – nose pressed up against the glass, looking at something extravagant that you'll never know for yourself.

Whatever the reasons, we're not the type to abandon ourselves to tailgating, filling an 80,000-seat stadium, figuring out which school has the most beautiful women and placing the origin of Bama 'Bangs. That might be a good thing. Travis, with his irreverent style, is an ideal writer to take readers through a tour of all 12 SEC stadiums in the fall of 2006 -- the premise for the book was that he would travel without tickets, hotel reservations or even a map. As a graduate from the law school at Vanderbilt, the SEC's perennial doormat, Travis was aided by a plethora of former classmates who cheer for teams across the conference. (It's bit of an inside joke that, like most college football fans, Tennessee Volunteer-loving Travis cheers for a team from a school he didn't actually attend.)

This isn't a book for peeling back the onion on the South's obsession with college football, which is fine, since sports are supposed to be a respite from daily drudgery. Even at 384 pages, this goes down superbly -- you can get through it in a day and a half.

Recommendation: Dixieland Delight was a $6.99 find at a second-hand bookstore on Front St. E. in Toronto, so that might be the best way to seek it out. It's more accessible to a non-football fan than you would think.

Notes



Jeff Pearlman

, the author of (among other works) of the Barry Bonds bio Love Me, Hate Me, has a blog on his eponymous website. Without it, I wouldn't have found it until much later that his Boys Will Be Boys: The Glory Days and Party Nights of the Dallas Cowboys Dynasty, will be published by HarperCollins on Sept. 1 … the Washington Post has reviewed Stefan Fatsis' much-anticipated A Few Seconds of Panic: A 5-foot-8, 170-pound, 43-year-old Sportswriter Plays In The NFL ... Joe Pelletier has a site called hockeybookreviews.com.