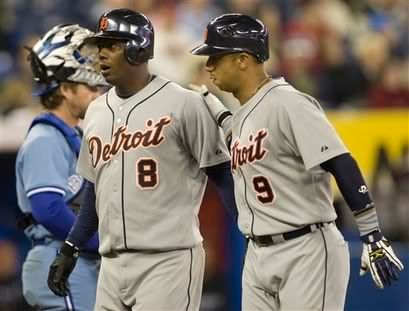 Tigers 8, Blue Jays 4 ... and then, depression set in.
Seventeen games into the season is early to get desperate.

The Jays have slipped below .500. The biorhythms have also been thrown off by daylight savings starting earlier, a 75-degree day in Ottawa in April and last but not least, all of the drinking alone before noon. What the hell, then? It's never too early to come up with a scheme where the Jays might actually see the playoffs again between now and the next appearance of Halley's Comet.*

Someone out in baseball geek land suggested that the game would be better for it if teams were put into divisions according to market size. (Granted, how would you quantify that when the Red Sox play an interleague game in Miami and have more fans than the Marlins?) Meantime, Forbes published its annual Business of Baseball Report. You probably heard the Yankees are worth $1.3 billion US. The Jays are the 22nd-most valuable team in the majors, 10th of 14 in the American League.

That would make the Jays a lower middle-class team in a division with Cleveland, Texas, Detroit and Baltimore. Or they would be the richest lower-class team with Minnesota, Oakland, Kansas City and Tampa Bay, depending on which division has four teams. They could win either of those divisions instead playing Sisyphus and rolling their boulder up the side of the Evil Empires.

It's a nice fantasy, eh. Too bad it's about as likely as a guy who looks like Seth Rogen even getting into the same club as someone who looks like Katherine Heigl, let alone getting in her pants.
Nothing beats a good swear-off.
For what it's worth, the Jays are hitting .230/.346/.311 when leading off an inning. They've had exactly one hit from their first batter of the game. A huge evenout should come within the next week, probably (gut feeling) after the Tigers leave town.

It's not you, Jamie Campbell, it's The Geek, who lives to pick the most picayune nits. The voice of the Blue Jays is sometimes the king of non-sequitur stats. That's where he'll cite something it will sound like he read it verbatim from the press notes without considering its relevance or context. (Hey, as long as you say it clearly, right?)

For instance, last night Detroit's Todd Jones, a garden-variety closer if there ever was one, was warming up. Campbell pointed out that he has 304 saves, "just six away from tying Goose Gossage who's going into the Hall of Fame this year for 18th on the all-time list."

Todd Jones being close to Goose Gossage in any career stat is more of a comment on how relief pitchers' roles have changed, not ability; he doesn't belong in a sentence with the Goose.

Gossage -- you could look it up -- went two innings or more in 121 of his 310 saves. How many times in his career has Todd Jones gone two innings or more for a save? Seven -- and the last time was 11 years ago. The Geek cannot abide this, Jamie Campbell.

Hardball Times has some analysis of Erik Bedard's hip inflammation that's a little troubling: "The chance that he might have an early onset of degenerative changes of the left hip is likely."
(* Which is in 2062 -- the things you remember from the Bath Public School public speaking finals from Grade 3, 22 years ago.)
That's all for now. Send your thoughts to neatesager@yahoo.ca.