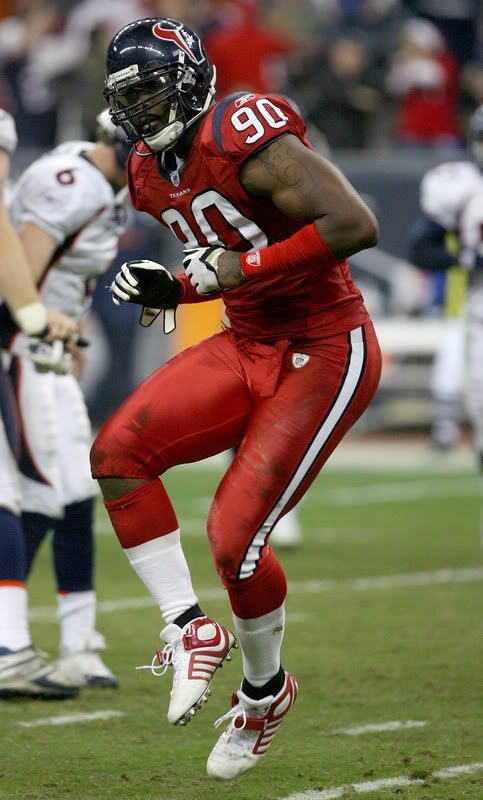 As you were making reservations for Mike's Cereal Shack...
The jury is out on the Houston Texans' Santa pyjamas, but yeah, Mario Williams (3 1/2 sacks last night in what's becoming a Pro Bowl season) with the No. 1 pick in 2006 might not have been such a bad idea.

Who didn't rip the Texans for not taking Reggie Bush or hometown hero Vince Young back in 2006? They were offensive stars, after all. Williams was just a pass rusher.
Mike (Awesome) Wilner has a good argument that whatever the Jays gained offensively signing David Eckstein and relegating John McDonald to backup status, they'll give back on defence. Last summer's McGlovin Love-In was a bit much, but at least Wilner backs it up with numbers. He doesn't touch on the fact McGlovin played behind a ground-ball pitching staff on a team that plays home games on an artificial surface.

Eckstein hit .309 with a Secondary Average of .150 last season; McDonald hit .251 with a SA of .131. Defence might close the gap somewhat, if not all the way.

(Whoever this David Alter character that Wilner lets post to his blog is, apparently his profs at Western forgot to teach him basic grammar. Who doesn't know that period goes inside the quotation mark?)
It figures the Calgary Flames would play 1980s-vintage 9-6 hockey the same week this video was making the rounds:



Sometimes, words just fail.
That's all for now. Send your thoughts to
neatesager@yahoo.ca
.