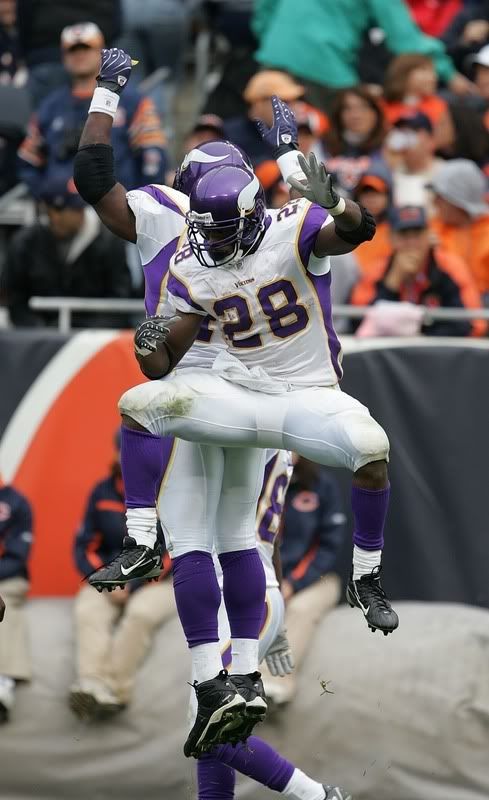 Remember, it's all for a giggle...
It's almost intellectually dishonest for a Vikings fan to enjoy the 34-31 win over the Chicago Bears.

Seriously, this game was a total afterthought on the sports weekend, approached with resignation, which says something about the state of the Vikings, even in comparison to the bumbling Bears. So there was no basis for how to absorb the news the Vikings won, thanks largely to Purple Jesus, AKA Adrian Peterson, totalling a ridiculous 361 all-purpose yards.

The only other NFL rookie to rush for more than 200 yards in a game on 20 carries or less was Bo Jackson in 1987, that Monday nighter when he flattened Brian Bosworth. Bo was much more physically mature at that point, a few weeks shy of 25. Purple Jesus is 22. He's just an excitable boy.

Speaking of linebackers named Brian, let the record show that there isn't a single one in the NFL who could run himself out of the play faster than Brian Urlacher did on Purple Jesus' second touchdown run (the 73-yarder).

Chicago's defence was so leaky that the Vikings didn't even run a play inside the 20-yard line once all day; their touchdowns all came from 35 yards out or more. That was huge, given what we know about Brad Childress' red-zone playcalling.

Since Chicago-based WGN now carries Corner Gas reruns, it's fitting to close with a quote from the episode where Brent Leroy led the Dog River hockey team to an unlikely tie: "You suck just as bad as us!"

(Or as the Chicago Tribune's Steve Rosenbloom put it: "Till further notice, there's no reason to take the Bears seriously." That will have to wait until they have some defensive backs again.)
Green Bay's 17-14 win over Washington was also very enjoyable from a player-hating POV. Brett Favre set the career interception record -- he's just having fun, you know -- but got bailed out since the defence returned a fumble for a touchdown.