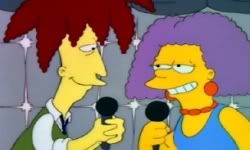 Wednesday, Jays 6, Sox 4:
Any temporary glow raised by
Troy Glaus
and
Vernon Wells
smacking the tying and game-winning homers (good thing the Massholes picked up
Eric Gagné
!) lasted only long enough for
Sportsnet Connected
to come on the air.
It's embarrassing enough to be 30 years old, home alone and watching a ballgame when your team is dead to rights in the playoff race. About 10 minutes after the final out,
Connected
played up the fact that the
Buffalo News
said
John Gibbons
"deserves consideration for manager of the year honors." No offence to that broadsheet, the city or its pro sports teams -- say, how is it possible that the Bills are already mathematically eliminated from playoff contention? -- but for most people, the reaction is "big woop what the Buffalo
News
says about anything other than the three major fires per day in North Tonawanda."
Instead,
Sportsnet Connected
practically treated this as the baseball equivalent of an author having her book praised by
Oprah Winfrey
. It must have been some convincing argument, yes?
"Gibbons has kept the Jays in shouting distance of the Yankees despite a rash of injuries. He lost closer B.J. Ryan for the year. Gustavo Chacin hasn't pitched since April. A.J. Burnett has been on and off the DL. Roy Halladay missed three weeks. Reed Johnson and Gregg Zaun missed most of the season."
In fairness to the News, the Jays aren't a team of interest and no one knows if the guy who wrote that is even a fan (most people in Western New York tend to go for the Yankees).
But...
Jeremy Accardo has filled in for Ryan to the extent B.J.'s shoulder surgery barely gets asked about on the post-game shows and besides, the value of closers is overrated;
Opie Litsch has an ERA a full run lower (4.03 to 5.05) than Chacin did in 2006 in about the same number of innings;
Burnett will end up throwing more innings than he did in '06, when the Jays won 87 games, which they won't this season;
Doc will likely make five more starts, which would be 32 for the season -- the exact number he made last last season when the Jays won 87 games, which they won't this season (what, heard that one?);
Reed Johnson? Three words: Matt effing Stairs. Oh, and get this: Zaun has already batted more times and caught more games than he did in '06. His broken thumb has clearly killed his stats, but how does that help exonerate Gibbons, who's written Zaun into the lineup card for 27 of the Jays' last 33 games? (Jason Phillips, who was signed on Gibbons' recommendation, didn't work out.)
A general-interest sports column's bullet points will be off the mark occasionally. It happens. The onus here is on Your Home For The Jays for taking a throwaway observation and running with it, apparently without checking whether the rationale could even stand up in a faint breeze.
Besides, what does it say that Canadians in North America's fourth-largest media market can't form its own baseball opinion, but needs one from a U.S.-based writer in, what, the 50th-largest market? It's not participle physics or even the Bowl Championship Series, it's frigging baseball. We can figure out for ourselves, although this is the same network that had Gibbons playing on the "1986 Miracle Mets" (he did do that, but the nickname applies to the 1969 Mets) a while back.
(In fairness,
Connected
and
sportsnet.ca
sometimes comes in for criticism that would not be levelled at TSN and
tsn.ca
, since yours truly hasn't relied on either since the end of hockey season. By the way, check out
The Tao
's post on small ball.)
Tuesday -- Sox 5, Jays 3:
Manager Boomhauer wasn't totally out of it for letting
Roy Halladay
pitch the bottom of the eighth. Aren't all y'all the same ones who complain about the overemphasis on pitch counts? Besides, Doc's
splits
suggest he's OK from the 101st pitch onward. Still, blind pig, meet acorn; acorn, meet the blind pig.
UPDATE:
Chuck Swirsky
opened his 1-4 show on The Fan 590 on Wednesday by inviting callers to weigh in with what changes they would recommend to Toronto's sports solons. His suggestion for what people should implore Jays president
Paul Godfrey
to do was, "Change the uniforms and the manager." Effin' A, Swirsk.
Monday -- Sox 13, Jays 10:
In honour of the first day of school, write out, "I will not second-guess John Gibbons' handling of the bullpen," 100 times.
Doing so would presumes (a) there's still a debate over whether Gibby should be back next season; (b) that there's still a chance at the wild card and (c) it really matters whether the Jays finish 83-79 or 84-78. That's just mental masturbation, even though they probably will finish with a better record than one of the division champs in the National League...
again
.
That said...
Josh Towers
, who'd come in to mop up, should not have come out for a second inning of work after that eight-run rally in the Jays sixth cut the lead to 10-9. (The Red Sox got three -- a field goal -- to put the game away.) At that point it had gone from whatever gets you through the night to actually being in a close ballgame, so using a starting pitcher who hadn't worked in two weeks didn't make a whole lot of sense. Neither
Scott Downs
and
Brian Wolfe
-- isn't he supposed to be trustworthy now? -- each threw less than 10 pitches to live batters in Sunday's win over Seattle and didn't have a lot of ups, so they were ready.
That's all for now. Send your thoughts to
neatesager@yahoo.ca
.