Brett Favre
's
signing
with the Minnesota Vikings is supposed to go down on Friday, July 3, according to the unimpeachable
Mike Florio
of
Pro Football Talk
.
Other oracles are chiming in
. The production of No. 4 jerseys has already been green-lit (how unfortunate that phrase evokes the colours of a certain rival in Wisconsin). Some
even wonder
if this is the canary in the coal mine, that owner
Zygi Wilf
has resorted to a desperation play because he wants to unload the team since it has zero chance of getting a modern stadium.
The indispensable
Daily Norseman
has tried to counsel Minnesota Vikings fan through this. As it put it in a piece titled
The Favre Stages Of Grief
.
"As a group, we've been through way more than this, and we've been through way worse than this ... and we've managed to persevere for this long. To be honest, I'm not even sure if 'signing Brett Favre' would crack a list of the Top 20 most disappointing things to ever happen to the Minnesota Vikings."
Twenty most disappointing things to ever happen to the Vikings, eh? Consider that gauntlet picked up, even if the author is unaware it was even thrown down. If nothing else, it's way to build a a forcefield for Favregeddon, starting right after the jump.
First off, there need to be ground rules, which the author reserves the right to make up off the top of his head.



Randy Moss

' mock-mooning at Lambeau Field during the 2004 playoffs does not count. It came in a game where the Vikings beat the Green Bay Packers at Lambeau Field. Moss came off better in that fiasco than FOX Sports' Joe Buck did. Scratch perennial 1,000-yard running back

Robert Smith

retiring from football in 2001 when he still had a few good seasons left, since that was his personal decision. Mocking former running back

Onterrio Smith

for getting busted at the airport with something called an Original Whizzinator is also out since that incident was symptomatic with his problems with addiction (read this post by one of Smith's one-time teammates, NFL tight end

George Wrighster

, and then say Onterrio Smith is fair game).

The rest is in play, as far as anyone knows.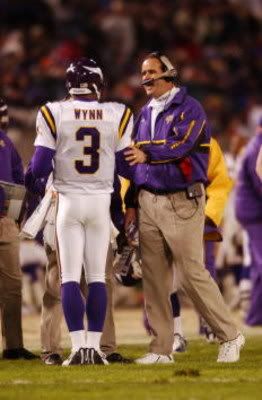 20. Starting quarterback, Spergon Wynn



Spergon Wynn III was hardly cut out to be a CFL quarterback, let alone a NFL quarterback. The epitaph for his career in Canada came courtesy of one-time B.C. Lions teammate,

Carl Kidd

, who once said, "Spergon can be a good quarterback at times." The rub is none of those times involved the two starts he made for the Vikings late in 2001. He went 48-for-98 for passing with one touchdown and six interceptions and never started another game. He is the answer to a great trivia question: Who started at QB in the Vikings' last game under Dennis Green and the first under Mike Tice?



19. Drafting Troy Williamson





He's open deep and ... oh, he can't hang on!

There is another NFC North team which is synonymous with spending first-round draft choices on wide receivers whose 40-yard dash times turn out to be fool's gold, but Williamson's ignominy ranks with any of the approximately 72 receivers

Matt Millen

drafted when he was doing to the Lions what a bunch of dopes in suits did to the U.S. auto industry.

Williamson, the No. 7 pick in 2006, was expected to give the Vikings the deep threat they had lacked since Moss left. Three years later, his name is mostly a punchline and he's an entry in Worst Man Drafted tournaments. Some of his drops were so bad that the director of a cheesy football comedy wouldn't have even included them, for lack of believability.





18. Paul Ferraro's special teams unit (2008)





Seven

return touchdowns allowed in one season, a NFL record. The crazy part is Ferraro moved up the coaching ladder after that showing, since he was hired by the St. Louis Rams to coach their linebackers. Granted, that means worrying about three players, not all 11 on the field at one time.



17. Tony Dorsett runs 99½ yards (Jan. 3, 1983)



Perhaps it was not disappointing in the classic sense. It's just that the NFL Network seems bound by policy to have to air the clip of Dorsett's dash at least once every 24 hours. No one remembers that the Vikings actually won that 1982 Monday nighter, no mean feat when you allow a running back to go 99 yards on a play when his team lined up with only 10 guys. True story.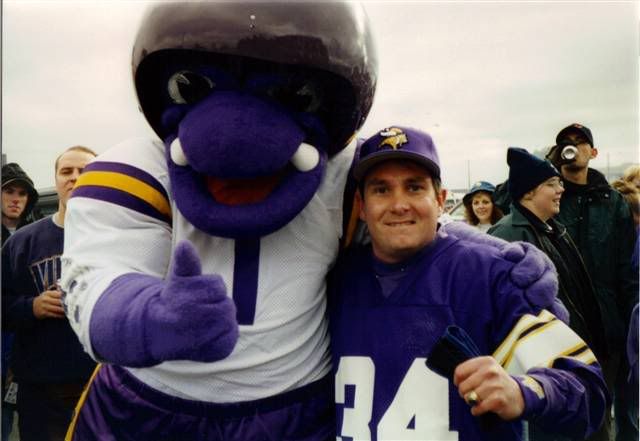 16. Vikadontis Rex (1995-2000)



There is only room for one lame dinosaur mascot in the four major sports. The Toronto Raptors totally called this one. Vikadontis was introduced in the wake of the

Jurassic Park

phenomenon in the early '90s, probably as a way to appeal to the kids. Of course, the Vikings already had a mascot, Ragnar, played by a guy who holds the world record for shaving with an ax, so it just ended up muddying the brand.



15. Antonio Freeman's catch (Nov. 6, 2000)



A semi-legitimate sports journalist is conditioned to eschew using the word fluke. However, what happened on the night of Nov. 6, 2000 was nothing but a damn fluke. The Vikings and Packers never should have been in overtime in the first place, but in a driving rainstorm, the Vikings botched the hold on a last-second field goal try.

In OT, Freeman slipped on the wet field while running a deep route and Dishman appeared to bat it to turf. However, it hit Freeman, who managed to complete the catch, get to his feet without being tackled and cut inside a defender to score and give Green Bay an ill-gotten 26-20 win. It also cost the Vikings home-field advantage throughout the playoffs.





14. Dennis Green tries to sue the team (1997)



To be fair, you might call a lawyer too if you had coached a perennial playoff team and found out the highers-up tried to replace you with a rah-rah college coach like

Lou Holtz

who was a failure in his one shot in the NFL.



13. Randy Moss' long goodbye (about 2002 to '04)



There are reasons Randy Moss is great and wonderful beyond him being in the picture when people talk about the greatest pass receivers in NFL history (after Jerry Rice and somewhere in there with Marvin Harrison and Lance Alworth from the AFL and if you include

Terrell Owens

in there, you're asking to get punched in the balls).

Moss showed an outcast could make it in an American team sport. That point was generally lost amid the "I play when I want to play," the meter-maid bumping and leaving the field before the game was over. No one really got that at the time, except perhaps for

Karl Taro Greenfeld

, but he didn't profile Moss until after he been traded to the Oakland Raiders for next to nothing. Meantime, there was so much lost potential left back in Minnesota, even though it's hard to begrudge Moss on NFL Sundays when he's catching touchdown passes from Tom Brady and polishing his application to the Pro Football Hall of Fame.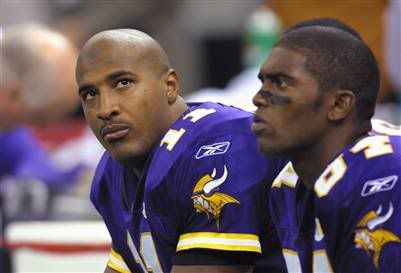 12. Daunte Culpepper's knee injury (2005)



When pro football historians (how do you get that job? Is there a test, like the foreign service exam?) talk about the great passing combos whose first names need not be mentioned, they'll talk about Montana-to-Rice, Manning-to-Harrison, Unitas-to-Berry, and Brady-to-Moss. It will ignore Culpepper, who threw to Moss during his prime years, from the time he was 23 until he was 27.

It went so well for long, then one day it did not anymore. Since '05, Culpepper has played for the Dolphins, Raiders and the Detroit Lions, so you could say the injury was career-ending.



11. Pass not intended for Darrin Nelson (Jan. 17, 1988)



Plenty of teams have seen their Super Bowl dreams dashed in the final minute of the conference championship game, just yards from a tying or winning touchdown. The killer is that the final play of the 1987 NFC championship vs. Washington, the underdog Vikings ended up with Anthony Carter and running back Darrin Nelson in the same area of the field. That made it easier for Hall of Famer Darrell Green, who was covering Carter, to break up the pass. It was intended for Nelson, but considering that Carter had set a playoff receiving record the week before, it's hard to perish the thought Wade Wilson was throwing for him.



In hindsight, the other kicker two decades later is the Vikings, as a blue state team, could have won on the field and on principle. That was the season when the NFL used scab players for three games during a players' strike. The fake Vikings went 0-3, but they still made the playoffs and were six yards from victory.



10. Super Bowl IV (January 11, 1970)



The first of the Vikings' four Super Bowl losses might not be well-remembered. The fact remains is they were 12-point favourites going in against the Kansas City Chiefs and lost by 16. No team ever favoured by such a large spread ever lost again until 1998, when a certain bunch of Cheeseheads, thanks to a couple key turnovers by a quarterback wearing No. 4, lost to Denver after being favoured by 13.





9. Smoot boat scandal (Oct. 6, 2005)



Easy enough to laugh this off now, but the general mood was less tolerant in 2005. Between Moss leaving and Culpepper suffering a thermonuclear knee injury, it was a rough few months.



8. Jim Marshall's wrong-way run (1964)



Marshall's record of playing in 282 consecutive games across 20 seasons basically makes him the NFL's answer to

Cal Ripken Jr.

, except Ripken did not have to get cut-blocked or leg-whipped on a semi-regular basis. However, there's a belief the member of the Purple People Eaters is not in the Pro Football Hall of Fame all because of one boner he pulled in 1964.





7. Nooooo! Nooooooo! (Dec. 28, 2003)



Six years later, the question

how?

remains unanswered. An 11-point fourth-quarter lead against the worst team in the NFL should have been safe. Somehow, the Arizona Cardinals, led by depth-chart fillers such as Josh McCown and Nathan Poole, scored two touchdowns inside of the two-minute warning, helping Favre and the Green Bay Packers get into the playoffs, keeping the Vikings out after they had started the season 6-0. It also inspired an epic rant. Of course, since the best a Vikings fan can usually hope for is justice delayed, several years later the NFL changed the so-called force-out rule, so Nathan Poole's end-zone catch would not count if they were playing the game today. Of course, they're not playing the game today, even if some of us are just replaying it over and over.



6. Metrodome opens (April 3, 1982)



Let's get this straight: You gave up the best home-field advantage in the NFL? How did that work out? Baseball's Twins, the NBA's Timberwolves and the University of Minnesota football team have each scored swankier digs, but only the Vikings remain unable to score a modern stadium.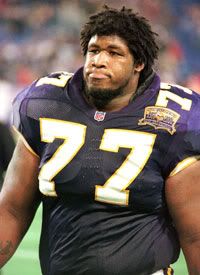 5. Korey Stringer's death (Aug. 1, 2001)



As a fan, there is a lot you-don't-wanna-know when it comes to the sacrifices pro athletes have to make. Springer's death due to complications from heat stroke uncovered the dark side of the sport. Pushing someone that far was so needless, so unnecessary that it hardly seemed like a game.



4. 41-doughnut (Jan. 14, 2001)



Have you ever sat there as a sports fan after your team lost by a slim margin and wondered if it would have been easier to take if they had never been in the game? Losing 41-0 in the NFC championship game to the New York Giants, getting shut out by a defence which had Jason Sehorn on it, well, there's your answer.



3. Drew Pearson pushes off (Dec. 28, 1975)



Pass interference is like obscenity. There is no definition of it, but everyone knows it when they see it. Pearson's look of restrained jubilation after catching the Hail Mary pass from

Roger Staubach

to beat the Vikings in the '75 playoffs is all the proof one needs to know he pushed off on Hall of Fame defensive back Paul Krause, even if the replays are actually inconclusive.





2. Herschel Walker trade (Oct. 12, 1989)



The trade was so bad the temptation is to believe it was a conspiracy to restore the Dallas Cowboys to NFL prominence and help the league's TV ratings recover in the wake of the 1987 strike. It's easier to accept that



1. Almost perfect (Jan. 17, 1999)



All together now:

Damn!

One can finally laugh a little about it now that has been spoofed by an Emmy-nominated sitcom. It's a burn, not a serious one mind you since this is just football, to never know how

Randall Cunningham

and Cris Carter might have done in a Super Bowl. It is clear the Vikings might have been headed for a fall, having flown to close to the sun on the wings of bad song parodies.



(It was the end of the 20th century. You try to forget, but booze only helps so much.)

Of course, there was more to it than

Gary Anderson

(who, as Marshall Eriksen/

Jason Segel

has noted, is now retired and owns a fly-fishing business ... in Canada), missing a 38-yard field goal that would have wrapped up the NFC title when he had not missed all season. There was more to it than the irony that the Atlanta Falcons' winning field goal was also from 38 yards and it was kicked by

Morten Andersen

, a Dane, meaning the Vikings' fate was sealed by an actual Viking.

It was the aftermath. In this case, it meant having to go out afterward to cover a hockey game for The Queen's Journal while wearing a Moss jersey (going home to change was not an option) and being asked, "So, who won? Last I checked Minnesota was way ahead."

The point is the obvious. Vikings fans have been through much. After reading the magic words, "Top 20 most disappointing things," it took maybe forty-five seconds to come up with about 18 of the items on this list. Put all of it together and we're Brett-proofed. Bring him in, already.