Bobby Petrino
isn't the first college football coach to pull a Rodney Dangerfield.
The cute part about Petrino quitting on the Atlanta Falcons
to go back to school
with the Arkansas Razorbacks is that he told former boss to be, Atlanta Falcons owner
Arthur Blank
, the co-founder of Home Depot, that he was quitting
over the phone
. Yes, he phoned it in -- just like the Falcons have done this season.
I like to picture Petrino, when he called Blank, saying, "I'm quitting... sick of the NFL," then doing the worst fake cough into the phone, like Karen Smith in
Mean Girls
after the Plastics decided to freeze out Regina George.
Like Rodney, though, bringing a college coach to the NFL gets no respect, since typically they find it more mind-boggling than, well, a typical trip to Home Depot. It's worked exactly once in the past 25 years --
Jimmy Johnson
with the Dallas Cowboys. There have been some modest successes, such as
John Robinson
and
Bobby Ross
.
More often than not, as you'll see, you get a coach who soon runs back to college to boss around the 19-year-old unpaid serfs of the turf:
STEVE SPURRIERWashington Redskins, 2002-03
The best tone to take with the Ol' Ball Coach's two-year NFL sojourn would be akin to the opening voiceover in
Fahrenheit 9/11
, when
Michael Moore
harkens back on U.S. Election Night in 2000 and intones, "Was it all a dream?"
The Redskins' two-year Spurrier experiment was a Florida Fiasco in itself. But at the time, the five-year, $25-million contract Spurrier got to bring his Florida Gators Fun 'n' Gun passing game to the pros was perhaps the biggest story in the NFL in the lead-up to the '02 season.
Everyone who followed football had a take. Nowadays, you'd be hard pressed to find anyone who would cop to thinking it could have worked. Spurrier bagged it after going 12-20 and finding out that NFL coaches can't bugger off to play 18 holes of golf every day.
To add insult to incompetence, during Spurrier's first season, the 'Skins broke out throwback uniforms that were near replicas of those worn by Florida State -- Florida's rival.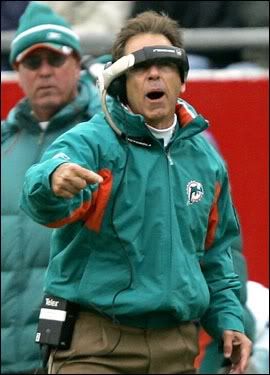 NICK SABANMiami Dolphins, 2005-06
Saban's calling card is that he's usually leveraged and lied his way into a better gig by the time the roof caves in on one of his teams. That way, it ends up on some other poor bastard's permanent record.
Saban's successor in South Florida,
Cam Cameron
, will soon go down as the coach of the NFL's first 0-16 team. The Dolphins disaster belongs just as much to Saban, who deserted a team that regressed badly during his two-year pitstop in the pros to go the University of Alabama. He did guide his team to a 9-7 season in 2005, but then again, so did
Mike Tice
.
Chances are, Saban will probably have a winner at 'Bama eventually, but his first shaky year has offered all sorts of sadistic pleasures. His Crimson Tide are only going to a bowl since the NCAA greedheads changed the rules a while back to help out underachieving big-money teams. They get to count wins over slack teams from Division 1-AA toward being bowl-eligible. That means the Crimson Tide, at 6-6, are playing in a bowl since they recorded a 52-6 win over Western Carolina (no, never heard of them either).
Along with his abrupt departure from the Dolphins, Saban has been in one controversy over using ethnic slur to describe Cajuns. He's since been in another after referencing Pearl Harbor and the Sept. 11, 2001 terrorist attacks while discussing a loss to Louisiana-Monroe. One need not be a Dolphins fan or a history teacher to root against Nick Saban.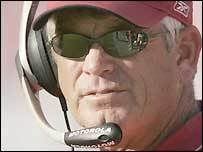 DENNIS ERICKSON
San Francisco 49ers, 2003-04
Erickson was so-so in Seattle during his first NFL stint from 1995-98, but a college coach he was and a college coach he should have remained after getting fired by the Seahawks. Nevertheless, the 49ers gave him another shot at the NFL. To this day, no one knows why.
During his time with the 49ers, what had been a model franchise went backwards from being in the NFC title game the year before he arrived all the way to a 2-14 record in '04. There's plenty of reasons for the 49ers' decline, of course, but this is Erickson, the guy who once signalled he was leaving a coaching job
by leaving town without telling anyone
. Why bother being charitable?
Erickson has changed jobs
eight
times since 1986, which is standard for career assistants, not a coach who won two national championships at Miami. By this point,
Marilyn Erickson
probably doesn't even ask where she's moving to when her husband changes teams, but just mumbles, "What colour sweatshirt?"
JOHN MACKOVICKansas City Chiefs, 1983-86
To understand how in hell a coach whose winning percentage in college was a weak-assed .533 ever got to run a NFL team, you have to know that late Chiefs owner
Lamar Hunt
had a Texas-sized resentment of the Dallas Cowboys. His team had begun life in Dallas, after all.
So when Hunt's Chiefs fired their coach -- a guy named
Marv Levy
-- after the '82 strike season, it figured they would hire Mackovic, who had been
Tom Landry
's quarterbacks coach in Dallas for two years after coaching at Wake Forest. As the saying goes, though, you have to be lucky to be good. Mackovic was evidently neither.
Within a few weeks in '83, the Chiefs passed on
Jim Kelly
and
Dan Marino
in the famous Quarterback Draft to take
Todd Blackledge
(career high in touchdown passes: 10) and star running back
Joe Delaney
tragically drowned while trying to rescue three children from a pond.
Maybe it could have been different. We'll never know. What is known is that Mackovic got fired after the '86 season, even though he had actually guided the Chiefs to the playoffs for the first time in 15 years. That probably spoke volumes about how well-suited he was to the NFL game.
There are plenty of fans of the Texas Longhorns and Arizona Wildcats who would say he wasn't cut out for the college game either. Mackovic's last gig at Arizona ended when he was fired after a player revolt.
LOU HOLTZ
New York Jets, 1976

Holtz could be forgiven if the song he wrote for the Jets to perform after wins -- he really did this -- wasn't as catchy as the
Gilligan's Island
theme. What can't be forgiven is that his only NFL season was a three-victory tour ...
a three-victory tour
. (Hey, remember, you're reading this for free.)
That's about all you need to know about Holtz as a NFL coach. OK, so he also tried to put in the college-style veer offence that relies on a running quarterback, even though the Jets had an aging Joe Namath, who had knees like an old camel.
Holtz is a major thread in this rich tapestry. One of his wins came over a Tampa Bay Buccaneers team that went 0-14. The Bucs quarterback? Steve Spurrier.
His other two wins in the NFL were over the Buffalo Bills, whose coach was
Lou Saban
-- Nick Saban's father.
Much later, at Notre Dame, Holtz lost a chance at a repeat national title in 1989 when his No. 1 Irish were beaten in their final game by the Miami Hurricanes. Miami's coach was Dennis Erickson.
In his final season at Notre Dame, 1996, Holtz's team was squeezed out of a bowl bid, despite an 8-3 record. The Orange Bowl had to take Texas, who probably wouldn't have been in a major bowl if they hadn't managed to upset Nebraska to win their conference. The Texas coach was John Mackovic.
Holtz was also 3-10 in the NFL when he quit to go to Arkansas -- just like Bobby Petrino. It all makes sense now why NFL owners should veer away from letting a college coach run the show, but chances are, like many of the players who go through these football factories, they haven't learned much.
That's all for now. Send your thoughts to
neatesager@yahoo.ca
.