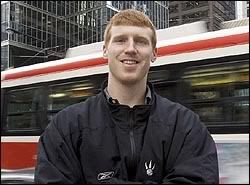 It keeps popping up here and there;
Hoops Addict
is the latest to report that former Raptors big man
Matt Bonner
is working on getting Canadian citizenship so he can play for our senior men's national team.
This very well could be for real.
" 'It's in the process,' Bonner told

Hoops Addict

. 'It's something that has to get done regardless because my wife is from Toronto and we're planning on living here. So I'm going to have to get Canadian status at some point.'

" .... the current coach of the national team, Leo Rautins, is ecstatic about adding a player with the abilities of Bonner to his roster.

" 'I think it's great for the program but Matt (Bonner) is the kind of guy that is great for the team because he's a blue collar guy,' Rautins told

Hoops Addict

while grinning from ear-to-ear. 'He's the kind of guy who is low maintenance and he just wants to play. Even with his wife expecting he's still said he'll be in camp and that's the kind of mentality you can't put a price on that because other guys see that.' "
Feel free to read into that Bonner is
not
Samuel Dalembert
. International basketball prizes a big man who can shoot and Bonner is
leading the NBA in three-point shooting
.
Canada is currently 19th in the FIBA rankings and will need a lot more than Bonner (who claims a Newfoundlander grandfather) to recapture something on the order of what it had in international hoops the '70s and '80s with the late, great Jack Donahue. , and briefly at the turn of this

Bonner has somewhat outgrown the awkward age he was when he played in Toronto. His streaky shooting masked flaws seemed obvious to everyone other than

Sam Mitchell

(

Scott Carefoot

had the immortal line for Bonner's Toronto tenure, saying basically that

Bryan Colangelo

had to trade him since it was the only way to keep Smitch from playing him so much). He has only got better playing with a top team such as the Spurs; he's even good enough to have an impact in fantasy leagues (sadly, though, there is no saving Team Säger Bombs in the Rockhard Fantasy League this season, consider your day made that you're being spared the gory details of what happens when you can't log in on draft night).

Bonner, though, become into a player. He'll still have times where someone dunks over him and there's not much he can do about it, but that is part of his humble, hardworking everyman appeal. Please keep in mind he is doing this since he married a woman from Toronto, but still, it's pretty cool being a Raptors fan and seeing a former player return the adulation. It trumps finding that another former Raptors forward, Popeye Jones, has two sons who are promising hockey players, although that was pretty cool, too.

Related:
Bonner plays to play for Canada (Ryan McNeill,

Hoops Addict

)

Previous:
Red Rocket wants to wear red and white (Nov. 24, 2008)