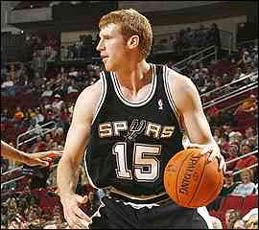 Former Raptors fan favourite
Matt Bonner
apparently wants to play on the Canadian national basketball team.
It was on
Dino Nation
late last week and
Eric Smith
mentioned it during yesterday's desultory Raptors loss to the Boston Celtics. The forward-centre, whose down-to-earth mien has helped him remain immensely popular in Toronto two-plus seasons after being traded to San Antonio (where, regrettably, he has to have his own wheels to get to the arena), wants to play for Canada -- and has a family tie that might help become eligible in time for the 2012 Olympic qualifying run.
As DN put it:
"He married a girl from Canada and the wedding was in the summer in Canada. He also has a Canadian grandfather. All of this is leading to the idea of Bonner playing for Canada internationally. In an interview last night he confirmed that this is something he wants to happen. So Canada may have a red rocket to play for them in the future. I would love to see it. Matt Bonner may not be a superstar and is just a role player. But he is a guy that just seemed to touch Raptor fans in a special way that few have."
Why not, eh? Bonner, as a reliable but ultimately limited role player, is nowhere near USA Basketball's radar screen. He's also a big who can shoot from outside, something that the Miami Heat's Joel Anthony doesn't have in his game.

Perish any reminder of that Simpsons episode where Bart and Milhouse are on the Canadian basketball team -- "Wow, that was close! You can be centre." This should, nay must, happen.