The 2009 World Baseball Classic began in the wee hours this morning. Many of us are eager for any kind of baseball after a long winter and readily remember the awesomeness of March 8, 2006, when Canada beat the U.S.. Here is a preview of Pool B: Australia, Cuba, Mexico, South Africa.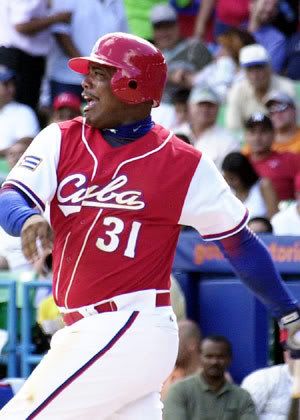 CUBA
Opener:

March 8 vs. South Africa, 2 p.m.

WBC 2006:

2-1 in the opening round, 2-1 in the second round, beat the Dominican Republic 3-1 in semi-final, lost 10-6 to Japan in final.

Players to watch:

3B Michel Enríquez, 2B Yulieski Gourriel, OF Alfredo Despaigne, OF Frederich Cepeda


Who's missing:

RHP Yadel Marti, OF Alexei Ramirez, SS Yuniesky Betancourt (one punished for trying to defect, the others have defected), OF Alexei Bell (injury)

Pitching:

Marti was the Cubans' ace in '06, so that mantle falls on the shoulders, uh, arm, of 35-year-old

Pedro Luis Lazo

, who throws mainly a fastball and forkball. Left-hander

Aroldis Chapman

, 21, and 24-year-old righty

Yunieski Maya

will probably be called upon. Lefty Yulieski González, who was a late cut from the Olympic roster, is apparently back in the good books.

Another greybeard, 37-year-old

Norge Vera

, who won starts at the Olympics where he was matched up against Japan's

Yu Darvish

and likely No. 1 overall draft choice

Stephen Strasburg

from Team USA, is back.


Hitting:

Cuba hit a collective .280/.360/.420 at the 2006 WBC, scoring 44 runs in eight games. Despaigne is leading the Serie Nacional, Cuba's top league, in home runs. Cepeda, an absolute bases-on-ball machine (curious to see how his strike zone judgment applies off the island), has usually proven very productive out of the leadoff spot. Throw in Gourriel and Enríquez and they have the potential to have a very good lineup.

Veteran 1B

Alexander Mayeta

provides some lefty power. Twenty-three-year-old outfielder

Yohenis Céspedes

offers some intriguing potential (he hit 26 homers last year in the Cuban league, which runs about 100 games).

Fielding:

Veteran SS Eduardo Paret, who if memory serves was very good during the '06 WBC, is back. The Cubans are flexible with who plays where. Gourriel is actually a third baseman who moved to second due to Enríquez; at the Olympics, that meant second baseman

Héctor Olivera Jr.

had to play first.

Ariel Pestano, a 35-year-old veteran, is regarded as one of the toughest catchers to run on, which could make for good game-within-the-game if Cuba ends up meeting stolen base-happy Japan later in the WBC. Cepeda's baseball-reference bio notes that he has had defensive problems.


Predicted Round 1 finish:

First

Tournament potential:

Semi-final

MEXICO
Opener:

March 8 vs. Australia, 9 p.m.
WBC 2006: Went 2-1 in Pool B and 1-2 in the second round, but had the satisfaction of eliminating Team USA

Players to watch:

San Diego Padres 1B

Adrian Gonzalez

(pictured)

, Marlins 3B

Jorge Cantú

, Mets LHP

Oliver Perez

, SS-OF

Jerry Hairston Jr.

, Blue Jays C

Rod Barajas

Pitching: Perez (10-7, 4.22 ERA with the Mets last season) is the ace of the Mexican staff, which gets a little thin beyond him and Royals closer Joakim Soria. One-time Ottawa Lynx Luis Ayala (please be accurate, he pitched for them six times) is available in the bullpen. Rodrigo López, who is 18 months removed from Tommy John surgery, is about the only Mexican pitcher you might have heard of.
Hitting: Mexico, as you probably heard, tagged the Arizona Diamondbacks for 19 runs in an exhibition game, Wednesday which is impressive considering they were facing Brandon Webb, who is famous for being good. Gonzalez, whose slugitude goes unappreciated in part because he plays in a Death Valley park in San Diego, Cantú and Erubiel Durazo, this decade's clubhouse leader in the Can I Try My Career Over sweepstakes, are slotted in as their 3-4-5 hitters. They're supported by a lot of part-time major leaguers, such as Hairston Jr. (124 park-adjusted OPS last season) and his brother, outfielder Scott Hairston (who OPS-plused 115 last season when he hit 17 homers in 362 plate appearances for San Diego). The mix of hitters Mexico has seems to have spurred a lot of talk that could end up going to the final.
Fielding: When your surest-handed infielder is the first baseman, that can be problematic. Mexico's double-play combo is Hairston Jr. at shortstop and

Freddy Sandoval

at second base, which is nice except none of them play those spots regularly. Cantú's iron glove is the reason he has been dumped twice in the past two years despite being a fairly productive hitter. In centrefielder, Alfredo Amezaga is a tremendous slouch.

Predicted Round 1 finish:

Second

Tournament potential:

Second round.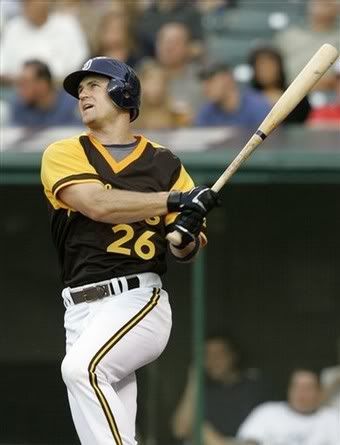 AUSTRALIA
Opener:

March 8 vs. Mexico, 9 p.m. (all times Eastern)

WBC 2006:

Went 0-3, outscored 18-4

Players to watch:

1B-OF

Justin Huber

(pictured)

, LHP

Travis Blackley

(Diamondbacks), LHP

Damian Moss

, SS

Brad Harman

(Phillies), OF

Mitch Dening

, UT

Daniel Berg

Who's missing:

RHP

Ryan Rowland-Smith

(Seattle Mariners), RP

Grant Balfour

(Tampa Bay Rays)

Pitching:

Australia has seven left-handers among the 14 pitchers on their roster (it must be some Southern Hemisphere-related phenomena). This includes Blackley and Moss, both of whom were going places before encountering arm and shoulder problems.

Veteran Craig Anderson, a former Can-Am Leaguer who was with Australia when it won the silver medal at the 2004 Olympics, has also returned. Drew Naylor, who averaged close to a strikeout per inning in the low minors, is another bright spot of Australia's staff.

Hitting:

Australia was shut out by Italy and Venezuela in the 2006 WBC and produced a whopping .113 batting average. Forty-five minutes' research, give or take a half-hour, doesn't disabuse one of wondering where the hell the runs will come from if they're going to get past the group stage.

The righty-hitting Huber, whose career was mishandled by the Kansas City Royals (shocker) before he ended up with San Diego, balances out a fairly left-handed lineup.

Long-time minor-league outfielder

Chris Snelling

(.305/.384/.460 in the affiliated minors) has a fairly good minor-league resume. Dening hit .321/.375/.471 in the short-season New York-Penn League (and oddly enough, he's a lefty-masher who actually hits left-handed).

Daniel Berg, who plays all four corner positions and can catch, adds depth.


Fielding:

Australia made six errors in an exhibition game vs. Japan. One game never proves anything, but ...


Predicted Round 1 finish:

Third

Tournament potential:

Won't go winless

SOUTH AFRICA
Opener:

March 8 vs. Cuba, 2 p.m.
WBC 2006: 0-3, outscored 38-12 (eight of those runs were vs. Canada), failed to qualify for second round

Players to watch:

RHPs

Alessio Angelucci

(San Diego Padres, Rookie League last season) and

Justin Erasmus

(Red Sox farm system), LHP Hein Robb, SS

Gift Ngeope

(Pirates) SS

Anthony Phillips

(Mariners farmhand),


Pitching:

No one on South Africa's pitching staff has thrown at any level about Single-A ball, so having former all-time saves leader Lee Smith as their pitching coach will only get them so far. Erasmus is Boston Red Sox property, which speaks well for his potential, but he just turned 19 in January. They could be in for some long games.


Hitting:

South Africa doesn't have a position player older than 27 and only two are in affiliated ball, both of whom are middle infielders.



Gift Ngeope

, who is in the Pittsburgh Pirates' minor-league camp along with an Alaskan and two Indian pitchers (16 losing seasons in a row will make a team look far and wide for anyone who might develop into a remotely competent ballplayer), offers some appeal.


Fielding:

This area, based on what we saw the last time from South Africa (which subsequently failed to qualify for the 2008 Olympics), could be even worse.


Predicted Round 1 finish:

Fourth


Tournament potential:

Lucky to win one game; maybe they can take Australia, which it is all but assured of facing on Monday.