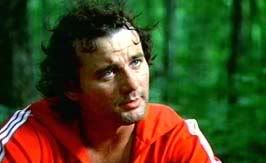 Remember, "It just doesn't matter! It just doesn't matter." ... items of a sporting interest you should not get bent out of shape over...
... the Senators possibly waiving
Martin Gerber
. It's not the goaltending. Sens GM
Bryan Murray
has reiterated the need for a "puck-moving defenceman" so often the hockey writers in Ottawa could get away with just typing PMD. The Sens will find a PMD right around the time
Bush
and
Cheney
find the WMDs.
... all-star shortstop
Michael Young
asking for a trade
at a time when his first organization, the Toronto Blue Jays, are in austerity mode.
... The Atlanta Thrashers
putting the "C"
on
Ilya Kovalchuk
. It's not like it stands for "checking."
... Vancouver
being up a creek
over paying for the 2010 Olympics. It will fit right in with their new tourist slogan: "Vancouver: Montreal with milder weather."
... college football not having a playoff. The NFL has it all wrong by taking the chance of ending up with the No. 4 and No. 6 seeds in a championship game. It's better to pick two teams at random and say "Screw you, Utah."
.
...

Tim Tebow

returning to Florida for his senior season. He probably won't play quarterback in the NFL and it's much more interesting to keep an eye on Ball State's

Nate Davis

.

... Dolphins quarterback

Chad Pennington

being named NFL Comeback Player of the Year for the second time in three seasons.

Chris Rock

hasn't had as many good comebacks.

... Liverpool tying Stoke 0-0 on the Premiership (yes, if forced to swear soccer loyalty, it's the Reds).

This post is worth nothing, but this is worth noting

The AHL's Rochester Americans want to host an outdoor game next season. Good luck to them, although a Rochester Americans-Lake Erie Monsters game would strain the definition of "Winter Classic."

That picture of our favourite funny bastard is not original, but no one ever said it was. That's the difference, WTVH Syracuse.