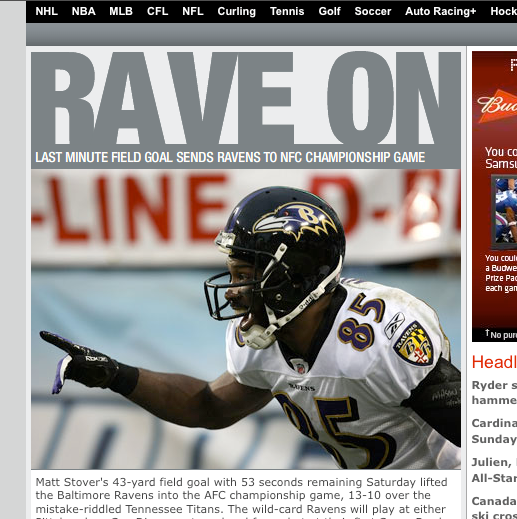 Please don't see that as a mistake. Sometimes errors reveal the larger truths.
Someone at
TSN.ca
was subtly commenting on the fear of a
nine-win team representing the NFC in the Super Bowl
. It even appeared almost 20 hours before the No. 1 seed in the NFC, the New York Giants, folded against the Philadephia Eagles in the early game today, which
Football Outsiders
correctly predicted
.
It is not a bad thing if teams that didn't reach double digits in victories during the regular season reach the Super Bowl. Mediocrity is rewarded every day in our society, so why people would not tolerate that in pro football is beyond comprehension. I know, you're looking for escapism, not reality thrown back in your face like a bad punt into the wind in Buffalo.
No doubt a lot of media chatter about the Giants will dwell on
Eli Manning
's mental toughness as reflected by his team's inability to finish drives. The inference left unsaid it that it's proof of some huge character flaw. It was actually a matter of simple mechanics. Some passers can handle Giants Stadium's notorious January winds. It was obvious that Manning could not from the first series of the game, when Elisha had
Steve Smith
open deep and the ball was blown off-course and fell incomplete.
On the next Giants possession, Manning tried a play-action pass to the same side of the field, the right sideline. The ball sailed out of the receiver's reach and Philly's

Asante Samuel

returned the gift interception to New York's two-yard line, setting up the first touchdown. Talk about foreshadowing.

The Giants, as you remember, won the Super Bowl last season by winning games in Tampa Bay, Dallas, Green Bay (it was cold, but not windy) and Arizona, when Manning could throw effectively without worrying about the wind. Manning is now 0-2 at home in the playoffs. The Giants haven't scored a touchdown in either game. Sometimes, it is that simple, although hey, there's a huge media maw to feed where pro athletes are either heroes or choking freaking dogs.

It is quite possible that Fox's

Troy Aikman

might have mentioned that 2005 shutout loss, but the mute button was on most of the afternoon as a prevent defence against

Joe Buck

. Of course, in broadcaster cliche-speak, that was a

different

Eli Manning, since he was only in his second season in '05. He might be more mature and more savvy, but no amount of age and wisdom is going to make up for what kind of ball he throws.

Anyway, laying objectivity aside, seeing the Eagles advance at the Giants' expense was sweet.

Drew Magary

at

Deadspin

beat everyone to this last week, but Eagles defensive co-ordinator

Jim Johnson

is a football geek's favourite football lifer. His unit has been the best one on the field in both of Philly's playoff wins.

Johnson is 67 years old, which means he will never get a chance at running his own team. He's not even the best known Jim Johnson in pro football. The Eagles' identity has always been quarterback

Donovan McNabb

, even though they've always been a balanced team.

A NFL owner would rather have someone who projects renewal and youthful enthusiasm.One of his former assistants,

John Harbaugh

, has Baltimore in the AFC title game; another, the Minnesota Vikings defensive coordinator

Leslie Frazier

, is a candidate to run his own team. The Giants' defensive boss,

Steve Spagnuolo

, is also in the running for one of several vacancies, so in other words, the coordinators from the teams the Eagles eliminated are in line to move up the football food chain.

There's the vicarious joy for Jim Johnson, plus the Giants embody loathsomeness. No one wants New York teams to win too often. The topper today was a boneheaded challenge in the fourth quarter by their crabass coach,

Tom Coughlin

, after

Derrick Ward

, was obviously short on a third-down running play. Coughlin actually made a bigger blunder earlier, by forcing the Giants to go into the wind in the first quarter.

It was milquetoast. It was fourth-and-inches and the Giants, down by nine points, only had two precious timeouts remaining. Risking a timeout for the sake of two feet in field position was pound-foolish. A team which led the league in rushing ought to be able to get two feet. Naturally, after the refs' spot was upheld, Manning got stuffed on a quarterback sneak. It was brilliant.

Anyway, not to overdo do the here's-what-happened-in-sports-and-here's-what-I-think, but here's a couple other random thoughts.



Crime, punishment and Joe Buck:

The Fox play-by-play man made a smug reference to

Plaxico Burress

"took himself out" of the picture, referring to how the Giants suspended him after his handgun charge.

Pro Football Talk

noted that in the second game today, San Diego's

Vincent Jackson

, who had a drunk-driving charge, scored the first touchdown of the game. The second TD of the game was scored by

Santonio Holmes

, who was charged with marijuana possession earlier this year. Neither player was benched by his team after being arrested.

Point being: The moral high ground is nice in the NFL. Winning is nicer. Don't count on hearing that from Joe Buck.



Best beauty use of the quick kick:

It was mentioned a couple weeks ago that the quick kick, where the quarterback punts from a standard scrimmage formation, is a great underused gambit.

Early on in the San Diego-Pittsburgh game, the Steelers had fourth-and-8 on the 34-yard line. A 51-yard field-goal try was out, since no one has ever made a kick that long at Heinz Field, known to have the worst playing surface in the NFL. The Steelers lined up like they were going for it, but QB

Ben Roethlisberger

, backpedalled a few steps, took the snap and left-footed a punt that rolled dead at the nine-yard line, pinning San Diego. Pittsburgh forced a punt, and Holmes returned it 68 yards for a touchdown. That might not have happened if the Chargers had started with better field position.



Hidebound coaching, Fisher is King:

There is a debate at Pro-football-reference over Tennessee Titans coach

Jeff Fisher

opting for a tying field goal on a fourth-and-inches situation with 4:00 left Saturday. It is always schadenfreulicious when a team has the safe call backfire, as it did when the Baltimore Ravens moved downfield for the winning points, eliminating Tennessee.

That doesn't mean it was the wrong call. Coaches play for the tie or for overtime all the time. No one remembers the times it worked and Tennessee's defence had played well enough to give Fisher confidence that his team would get a meaningful chance to score again.



Oz right now:

One subplot of the NFC title game between the Eagles (9-6-1) and Arizona Cardinals (9-7) is that it means a former Australian Rules Football player will play in the Super Bowl. How can you not be excited for the Aussies, choosing with punter to root for, Philly's

Sav Rocca

or 'Zona's

Ben Graham

?



He does do that:

Pacifist Viking had an odd observation about Joe Buck:

"Before a game on FOX, watch the intro with Joe Buck and Troy Aikman. While Aikman talks, Buck watches Aikman, but every few seconds he turns to look at the camera with an ultra-serious expression, as if he's checking to make sure we're paying attention. It is a very unnatural, robotic movement -- he seems compelled to artificially turn his head toward the camera every few seconds."





Fun factoid:

The NFC championship game will be the 114th meeting between the Cardinals and Eagles. The all-time series is tied at 54-54-5.