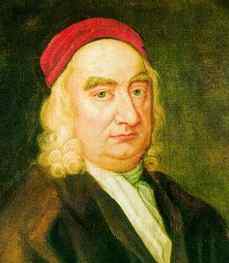 Jonathan Swift
ain't got nothing on
Out of Left Field
. Apparently some readers were unaware that my efforts yesterday were meant to be a satirical poke at Queen's decision to drop the golden from its name.
That's the nature of satire. Not everyone gets it. Which is also why it is an effective way to make your point. It would have been absurd for Queen's to force people not to use the word "Thigh" while singing the Oil Thigh. But, based on some of the school's recent decisions, it was just enough believable for some to take it upon themselves to contact the school and let officials there know just what they thought of the "decision."
Neate already issued the official apology so I won't repeat it here. It wouldn't be sincere anyway. I'm quite happy that the Queen's sports information department had to take a few uncomfortable calls yesterday (and I did label the post satire from the get-go, so...). They should have to answer questions about why they are insisting on being so damn controlling.


Control is what this whole mess (Goldengate??) is ultimately all all about--the modern marketers' pathological need to control every aspect of everything. God help them if they let people, sorry,

consumers

, think for themselves.

In case you are unaware of the history of the golden in the Golden Gaels, it originated in 1947 when the

Kingston Whig-Standard

sports reporter

Cliff Bowering

added the word to his description of the team after it started to wear those wonderfully ugly yellow jerseys that you still see occasionally today (although one wonders for how much longer. They aren't all that modern, after all). So, like many sports nicknames of the time it was of an organic origin.

Organic scares the hell out of suits that believe--I mean

really

believe--in the concept of branding.

The reaction to the decision has almost universally been negative. Some of that reaction is based on a feeling that it's just wrong to wipe away 50-years of tradition with one press release. But, some, I think, is also a reaction to the act of branding itself. As people we are getting a little tired of being treated like children that need everything to predictably safe all the time. We don't need to evoke our inner

Naomi Klein

to realize that we like to think for ourselves on occasion.

The bottom line is this: If Queen's wishes to officially drop the golden from its name, fine. It's a misguided decision, but it's theirs to make. However, don't tell me as a writer or a fan what to call the team. They have been golden all my life and they shall remain that way for as long as I am in a position to put pen to paper.

And, I'd put money on Queen's being golden again by Christmas.