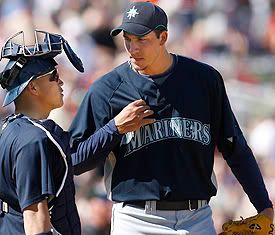 As you were trying to put off talking about the Jays (no need to ask who scored the 12 tonight in Cleveland) for as long as possible ...
First things first: Everyone has seen Phillippe Aumont's early-season stat line in the Midwest League, right? The right-hander from Gatineau has a 0.00 ERA in a 17 2/3 innings with 20 strikeouts and a .115 opponents' batting average. It's promising for a raw 19-year-old who's young for his league even before you consider that Canadian pitchers tend to be later-blooming than Americans.

Aumont is scheduled to pitch again on Tuesday.
Sam Holman might have been prescient when he sold a majority stake in the Original Maple Bat Corp. a while back. Jeff Passan's column at Yahoo! Sports about safety risks created by the maple bats -- a Pittsburgh Pirates coach took bat shrapnel in the face last month -- doesn't seem like great news for the maple bat makers (let's emphasis that this is speculative).
The Lehigh Valley IronPigs' matched their longest win streak, two games, by winning tonight to run their record to 7-30. A win tonight would finally get their winning percentage above the Mendoza line, which would make it OK to join a certain Facebook group without looking like a total meanie.

Former major-league centrefielder Doug Glanville's latest guest column in The N.Y. Times about learning to hit a curveball, it's like an allegory or something.



"There is a constant debate among baseball hitters who deal with the question, 'If you could know what pitch was coming, would you want to know?' Since there are all kinds of tricks to figuring that out, it is a very real possibility that you can, at times, know what is coming.

"... But do you still want to know?

"Many players don't. Because as the hitter, you might try to hit the ball to the moon from the excitement of knowing what's coming, and end up destroying your mechanically sound swing in the process. I guess some people would go to psychics to find out their fate; I'd rather let fate be just that — fate."

(Via Shysterball.)
Joe Posnanski got off on a pretty good rant about the intentional walk the other day.
RIGHT, THE JAYS
Captain Sarcastic would like to point out the recent events refute the constant refrain that the Blue Jays have no plan.

GM J.P. Ricciardi went out and signed Marco Scutaro in the winter since he obviously had an inkling that the Nos. 1 and 1-A shortstops would get hurt in the same game -- in successive innings to boot -- and go on the disabled list. He also picked up extra outfielders Brad Wilkerson and Kevin Mench just hours before Vernon Wells got hurt making a diving catch and was lost until the all-star break. That's the equivalent of not only correctly calling a home run on the next pitch, but predicting what row it landed in.
John Gibbons not having a reliever ready on Friday night in the bottom of the seventh inning -- when a tiring Roy Halladay let the first four Clevelands reach base in an eventual six-run inning -- ranked with some of Dusty Baker's greatest hits. That's not good.

(It's not for nothing that someone once put out a book of baseball anecdotes entitled When In Doubt, Fire The Manager.)
Travis Snider, the Jays' uber-prospect, did homer tonight for New Hampshire. (He's hitting .159/.321/.317 at Double-A, but it's bound to pick up.)
That's all for now. Send your thoughts to neatesager@yahoo.ca.