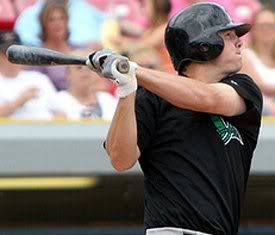 While you were counting your money while sitting at the table.
The Reds have called up super-phenom outfielder Jay Bruce, as you saw. That's two phenoms debuting in the space of a couple days, since the Dodgers brought up lefty pitcher Clayton Kershaw.

The Reds come to Toronto from June 24-26, putting us exactly four weeks away from the first JaysTalk phoned-in suggestion that the Jays could get Bruce and Joey Votto for Jesse Litsch and Scott Downs ("the Reds need a left-hander for the bullpen").

Tough life for the Tigers -- lose 1-0, in 12 innings, on a bases-loaded walk.
Cool Standings has the Rays as odds-on favourite to win the AL East. Perish the thought of where they would be if they still had Josh Hamilton, who's only threatening for the traditional Triple Crown (average, homers, RBI). It probably wasn't going to happen for Hamilton with the Rays.
Shaun Marcum threw seven-plus inning in a Jays win on Monday, but since he plunked three batters, he's been banned for life by the edict of National Post columnist Don Martin. Hitting three batters in one game? That's just amateurish. (Note the sarcasm.)
Those of you who've read Jeff Pearlman's book on the 1986 Mets, The Bad Guys Won, shouldn't be surprised at the war of words between Gary Carter and Keith Hernandez. In the book, Carter took a swipe at Hernandez being thrown out on the bases in Game 7 vs. Boston, which robbed Carter of credit for hit: "If Keith Hernandez was watching what's going on, I end up hitting over .300. But he gets thrown out, and that hurts my numbers."

Hernandez's response: "That's typical Carter. And he would have got the (World Series) MVP too, right?"

Fire Joe Morgan makes sport of the opponents of putting in video review. If it happens, it happens. A gut feeling is that a sport which took decades to sign off on the designated hitter and interleague play will drag its feet, but reliable sources do say otherwise.

Tyler King made a good point on his radio show (now in podcast form!). Other sports that are even more hidebound and married to tradition (cricket, rugby, tennis, hockey) have video review. Baseball doesn't. The CFL and junior hockey have video review.

We all have that little soft spot for anarchronisms -- like Wimbledon matches being called on account of darkness -- but it shouldn't rule anyone's judgment.