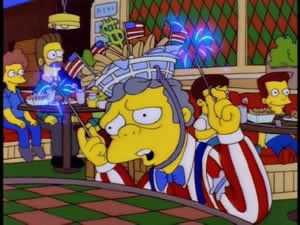 This little site began with a Warren Zevon reference two years ago, so piggybacking on his art is appropriate for marking Out of Left Field's birthday.
(Move ahead to the 3:45 mark and listen to man play.)
There is not much to be said that hasn't made it into one of the 2,406 posts that have appeared here across the past 732 days. There have been countless late, lonely nights, endless empty threats to retire, death by a thousand typos and of course, shenanigans.

Someone even got sued that one time. C'est la vie.
Please know that there is no end to the gratitude toward everyone who has contributed to two years that have never been dull, except maybe during the dog days of the baseball season and that period in the dead of Canadian winter when the sun is just a rumour. There are too many folks to mention by name, but it takes in readers, commenters, every other blog who's linked here, colleagues who have gone from not knowing what a blog is to understand what makes someone write one, plus the family and friends who have been very encouraging.
Truth be known, it's too hard to get through this without thanking some people specifically. It seems best to keep it to the family (Mom, Dad, Trina, Shawn and Amer) and friends who have been supportive sincebefore this site launched -- a group including but not limited to Neil Acharya, Jim Burnett, Keith Borkowsky, Samantha Craggs, Jeff Dertinger, John Gillis, Dan Hirschorn, Greg Hughes, Tiffany Mayer, Dan Pearce, Peter Roney, Dan Rowe, Darryl G. Smart, Trevor Stewart. and of course, Christopher J. Thomas, the world's oldest teenager.
Then there are the people who've become trusted associates through the blog, such as Jean-Pierre Allard, John Bower, John Brattain, Andrew Bucholtz, John Cosway, Andy Grabia, Carl Kiiffner, Tyler King, Greg Layson, Mark Masters, James Mirtle, Erin Nicks, Dennis Prouse, Pete Toms and Mark Wacyk. Everyone should be so lucky to have a commenter such as Dennis. Dan Pawliw of the Queen's Football Club gets a special thanks.

The Tao of Stieb deserves a special thanks; so do Deadspin, Boatmen Blog and the motley crew over at Epic Carnival. Last but not least are all the readers, who might prefer having staying anonymous. Every e-mail, supportive or critical, has done the trick.
Like Warren said, some will sink, but we will float.