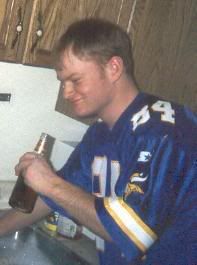 As you were stocking up on flood pants...
Justice delayed is justice denied and as any long-time Minnesota Vikings fan knows, there is no justice.

Five years after that non-call on Nathan Poole's non-legal catch did the Vikings out of a NFC North title that was rightfully theirs (not that they hadn't done quite a bit to let it slip away), the NFL might eliminate the type of call that allowed that fluke touchdown on the final play of the 2003 season to stand.

That's how it should be. Never mind that the NFL would have changed the rule right away if one of the TV networks' pet teams, like say the Brett Favre-led Green Bay Packers who ended going to the playoffs instead of the Vikes, had been the ones who got hosed by such a horseflop call. (Way back when, the NFL didn't waste any time after the Raiders, evil incarnate, won the Holy Roller game.)

Saying that is bitter and petty and besides the point. It's for the best it's taken this long (and who knows, maybe the rule gets left alone). To quote Little Miss Sunshine, think about all the suffering that would have been missed out on if the refs had ruled no touchdown -- or if the Vikings had found a way to put away a 3-12 team in the first 59 minutes of that game. They probably would have gone on to lose to Seattle the next week anyways.
And just where are people going to park when the CFL returns to Ottawa? A costly study to determine the most awkward solution is required.
Did The Best Damn Sports Show really do a list of 50 most amazing catches without including Devon White's grab up against the centrefield fence in Game 3 of the 1992 World Series? Yes, yes it did.
Mirtle has a link up to Gabe Desjardins' numbers on which players in the NHL are the best at drawing penalties. It's a good indication of what teams play with jam and have some good sandpaper guys. It takes a while before you encounter a Senators player (Mike Fisher is about 90th).
The Leafs are officially done. It's good to get that out of the way.
It's 3-5 weeks for Jays third baseman Scott Rolen. C'est la vie. Buck Coats is ready for his closeup.
Fantasy baseball is way too philosophical.