Ottawa is big enough to take this lying down.
It's rich to
read
that spending five months in a world capital with a population of close to a million people amounted to being in "exile." That was the word the the Allentown, Pa., paper used on Friday to describe the experience the Lynx-cum-Lehigh Valley IronPigs players had last season.
"The players, especially those who suffered through the year's ''exile'' to Ottawa after the Phillies cut their ties with Scranton/Wilkes-Barre, are eager to experience the environment they've been told to expect at Coca-Cola Park, where they anticipate playing before nightly crowds of 7,000 or 8,000 rather than 700 or 800.

" 'Try seven or eight,' quipped catcher Jason Jaramillo when talking about the size of last year's crowds in Ottawa." -- Allentown Morning Call
Exile
. Exile?! Back in the day, if an out-of-town daily talked about your city this way,
whoosh
, off came the gloves and it would be raining right hands, like
Scotty Thornton
and
Chris Neil
in the Bruins-Sens game today. Vengeance was expected, even at the risk of looking like Hicksville, not unlike when the Ottawa media who were in Anaheim for the Stanley Cup final last season went to Disneyland so they could -- call Ripley's! -- report back that many people in Southern California don't care much for hockey. (Thing is, some people in SoCal do like hockey, which probably would have made for a better read.)
That was then. You can split hairs over wording --
stay
,
stint
,
sojourn
,
whistle-stop
-- but it ends there. Reading "exile" and the quotes from the players rubs a bit of salt in the wound for the baseball diehards, but not much. It's Allentown's moment, let 'em have it, they were good sports about that
Billy Joel
using their pain for his art
once upon a time.
We can take heart in knowing that we have another team now, the Ottawa Rapids. It's for real come May 22, 2008,
which can't quite be said yet about CFL Team Version 3.0
. There's a chance for everyone who was culpable in the Lynx's long goodbye -- the city, the corporate crowd and the fair-weathers who should realize that no one past age 20 should ever sign an e-mail, "Go Sens Go" -- to make it right with minor-league baseball the second time around.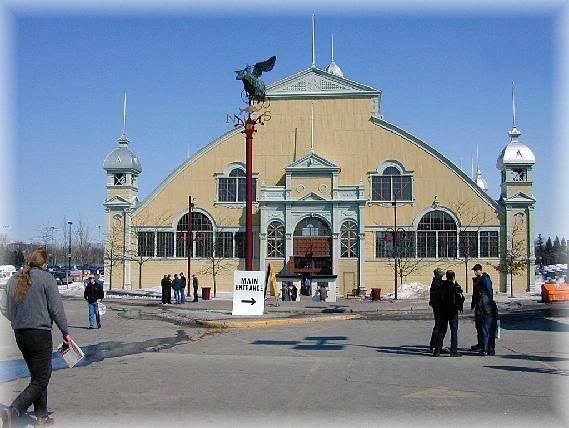 There's too much going on in this city, like the Senators starting the Stanley Cup playoffs and the Tulip Festival being just weeks away. It's neither here nor there that the Tulip Festival has a better chance of being kick-ass this spring, while the NHL team will be doing the wilting. (Bruins 4, Sens 0, today, everyone see?)
In other words, nice try, Allentown. You have a baseball team, but paraphrasing the great
Earl McRae
, Ottawa will always have the cattle castle at Lansdowne Park.
Literally.
(There are plenty of familiar names on that Lehigh Valley roster, and all the best to them in the IL Northeast Division.)
Related:
'Pigs are packing to head home
(
Jeff Schuler
, Allentown
Morning Call
)