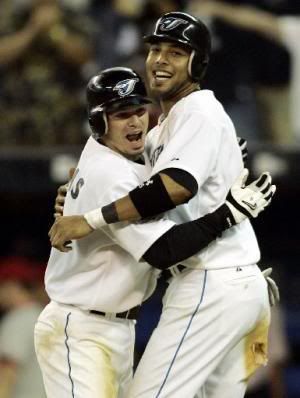 It's baseball season, that mystical, wonderful time of year where you commit to a team for six months, knowing full well they won't win. Here's a starting nine for the Toronto Blue Jays.
Compensation that has nothing to do with losing free agents: The Jays' flaw is not having a flaw, if that makes any sense. The dollar-store psychology explanation is that GM J.P. Ricciardi is so thin-skinned he subconsciously tries to make sure his team is average to above-average at all the major spots so the cynics can't actually say much more than the typical weak, "The Jays suck."

A team can do a lot worse than John McDonald or David Eckstein being its worst regular. The '92 Jays did do worse than that -- remember Kelly Gruber and his park-adjusted OPS+ of 72 at third base. The next year they were able to get Tony Fernandez back at shortstop and won again; get the drift?

Point being, the Jays have a glass ceiling; all that's debatable is how much of this owes to being in an unfair game that puts them in a division with the Red Sox and Yankees and how much of it is pouting on the sidelines that causes them to be less than the sum of their parts. There's no big holes to fill and no real way to fill one since the farm system is barren and Ted Rogers will only spend enough to maintain a pretense of wanting to win. The Yankees, Red Sox and Tigers are breaking the bank to bring in top amateur talent; the Jays aren't likely to do so any time soon.

Still, it's a wonderful six months ahead before the Leafs resume sucking.
Two wild and crazy guys: Known it-getters Mike Wilner and Ken Davidoff of Newsday have each tabbed the Jays to win the American League wild card. Never say never.
Roy vs. A.J.: For what it's worth, The Baseball Prospectus 2008 projects A.J. Burnett to have a lower ERA and WHIP than Roy Halladay. Dustin McGowan is solid No. 3 starter on almost any team. there's reason to be wary about Shaun Marcum, who was a little lucky last season.

Casey Janssen's season-ending surgery slid off like water off a duck's back. He was likely to take a step back, anyway, and now Brandon League has returned.
Someone, please, get a freaking hit: It's reasonable to ask if too many Jays got sucked into negative learning last season and that's part of why they went backwards, from seventh to 10th in runs scored. This team seemed to lead the world in warning-track flyballs with two out and runners on.
McGlovin' it: Hardball Times rated the Jays as the best-fielding team in the bigs last season. The big lynchpin was Aaron Hill, whom all the statgeek cognoscenti said was the best-fielding second baseman around, so naturally all the talk focused on McDonald on the other side of the infield.
Radio Free Wilner: Last season's breakout star wasn't a pitcher or a hitter, it was Mike (Awesome) Wilner of The FAN 590, a true mensch and oasis of intellect in an acrid desert of asinineness about all things baseball. Wilner shepherded the weak through a valley of "fruscination" last season with the way he used wit, logic and charm to knock off the endless parade of puckheads who call in to the post-game show to spew their hockey hullabuloo about grit and heart and ask why the Jays don't bunt or steal bases or go for other low-percentage offensive gambles.

(Oh, and the whining about Reed Johnson getting released so the Jays could go with Shannon Stewart, who can actually hit a right-hander if one laid down in road in front of him? So sad.)
Thanks for the visual: Reading that 40-year-old bald guy Matt Stairs has the arthritis conjures up the unshakable image of him and ex-Jay David Wells sitting in a steam room comparing various maladies like a couple of much older men. It's best not to go into this.
Need-to-know: You know where I stand on John Gibbons; not a fan of how he handles starting pitchers or his fetish for leaving playing hunches with second-line relievers and leaving his better ones in the bupplen (case in point: Brian Wolfe). This is a make-or-break year for him, you know it already. The Jays will need a new manager for 2010 or 2011 when they've rebuilt around Hill, Rios and Travis Snider.
All is well: Those who read the Deadspin preview have already received the words to live by, "They'll probably finish third again, but I won't lose any hair over it I wasn't set to lose already."

The Jays will probably straighten up and fly right about the time that yours truly grows up, finds the right girl and settles down. Neither is happening between now and 2017. What did we do to deserve this -- oh, right:


That's all for now. Send your thoughts to neatesager@yahoo.ca.