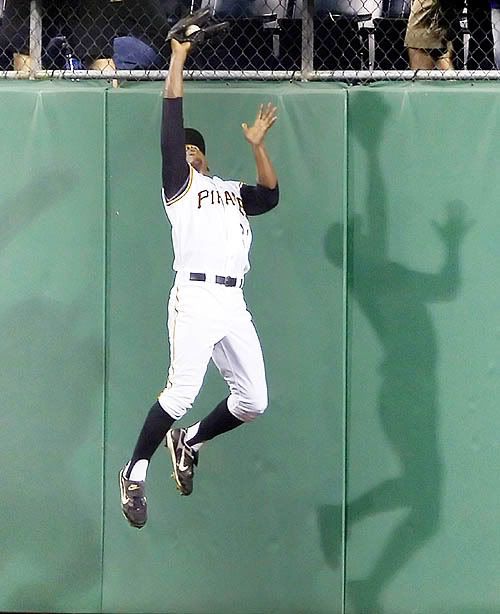 It's staying light longer, the Leafs are all-but-eliminated ... that can mean only one thing: We'll soon see the first halter dress of the season! OK, two things: It's time for baseball, the timeless game that involves committing to a team for six months after reading all winter about why they won't win jack squat. Here's a "starting nine" for the Pittsburgh Pirates.
It won't take long to keep it short: The Pirates are a mortal lock to tie the all-time record with their 16th consecutive losing season, so dollars to donuts says this will be the shortest preview.
Bounceback Bay: The pride of Trail, B.C., Jason Bay, Pittsburgh's only star, crashed last season (.327 on-base, .418 slugging) while playing on wonky knees. The smart thinking is that it was an aberration, although he probably won't reach his 2005-06 numbers.
You can't make this up: The guy who becames sort-of-famous for creating Jump The Shark, Jon Hein, is a Pirates fan. Too bad the Pirates jumped the shark on Oct. 15, 1992.
Fantasy woes: Second baseman Freddy Sanchez, who won the batting title in 2006, could be out for a while with a shoulder injury.
Get the message: The sophisticated sports fan (see the A's preview) looks for messages everywhere and guys to "identify" with. For instance, Pirates closer Matt Capps struggled with shyness as a youth; who can't relate to that? At the same time, playing for a team that loses 90-plus games and draws less than 25,000 fans a game is a pretty sweet deal for a natural introvert.
When the going gets weird, the weird turn pro: The Pirates can't win, so they should at least aim to be colourful. In that vein, it's disappointing to read that plain ol' Nate McLouth is likely to be the starting centrefielder rather than Nyjer Morgan (pictured), who steals a lot of bases, makes crazy catches and used to play hockey.
Why not turn the entire rotation over to the lefties? It's rare these days to see a team with two left-handers in the starting rotation. The Pirates, go figure, have three -- Zach Duke, Paul Maholm and Tom Gorzelanny.
The second cleanup hitter: Talk about your double-edged swords -- The Bill James Gold Mine 2008 points out that the Pirates' No. 8 hitters, namely shortstop Jack Wilson, produced a not-too-shabby .800 on-base-plus-slugging (OPS). Trouble was, that figure was higher than the first seven spots in the lineup.
Need-to-know: The '08 Pirates aren't going to lose 100 games, but their manager, John Russell, was in Ottawa with the Lynx last season, so checking for the scores will be mandatory this summer. The club is under new management with GM Neal Huntington and CEO Frank Coonelly, but the rebuilding is going to take years.
That's all for now. Send your thoughts to
neatesager@yahoo.ca
.