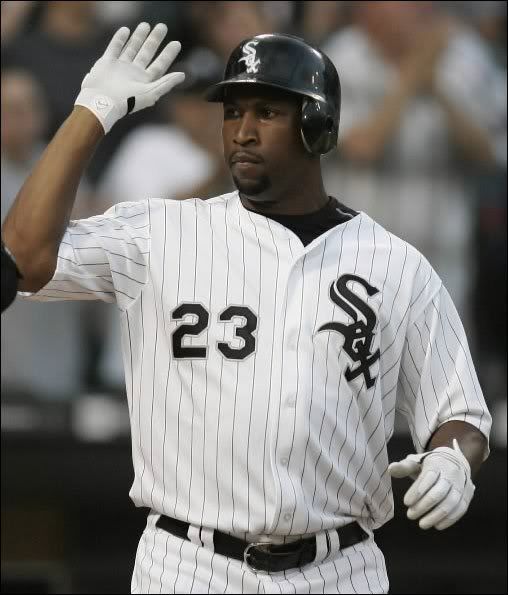 It's staying light longer, the Leafs are all-but-eliminated ... that can mean only one thing: We'll soon see the first halter top of the season. OK, two things: It's almost baseball season, that mystical, wonderful time of year where you commit to a team for six months, knowing full well they won't win. Here's a starting nine for the Chicago White Sox.
It's not unusual: It used to be really something when a team went from World Series champions to last place in five years or less. Then the Florida Marlins did it in a year. Those Marlins were bad breaker uppers; the White Sox's problem is they don't know it's over.

The White Sox's best hitters, save for centrefielder Nick Swisher, are in inexorable decline. There's not much coming up in the farm system. The Kansas City Royals won't be terrible forever.

In other words, the Chisox are finding their own level -- which usually involves a 77-85 record.
Bring a glove to the game: The White Sox have five players capable of each hitting 25 homers and their five starting pitchers might average 25 gopher balls a man.
Expos-ed in Chicago: Right-hander Javier Vasquez and shortstop Orlando Cabrera have been reunited in Chicago.
Losing out to Crede beats rocking out to Creed: The White Sox have two third basemen who can play. The younger one, Josh Fields, is headed to Triple-A. It might help his cause that the Tigers likely need Brandon Inge as a utilityman, meaning Joe Crede will be the only third baseman likely to get traded.
The experts speak: "There might actually be a better chance of a dry spring in Seattle than of Jim Thome playing in 140 games." -- Fire Joe Morgan
He's aptly named: Keep an eye on catcher Cole Armstrong of Surrey, B.C.; he's old for a player in Double-A (turning 25 this summer), but he might throw and handle pitchers well enough to stick in the majors someday.
He had no range: The Chisox will unveil a bronze statue of former slugger Harold Baines this season. It's guaranteed to get to about as many fly balls as the actual Harold Baines did before he became a designated hitter.
Hey, better to get that first out outta the way: Twenty-seven-year-old Jerry Owens, who's fourth-outfielder material at best, is pencilled in as the Chisox leadoff hitter. That should be a hoot. He has no power, doesn't walk, but he's white and he's always hustling. With that combination, if he played in Toronto, the know-nothings would want to raise a bronze statue of him.
Need-to-know: The White Sox have a decent front end to their starting rotation and Bobby Jenks is a nice closer, but this team isn't winning any prizes any time soon.
That's all for now. Send your thoughts to neatesager@yahoo.ca.