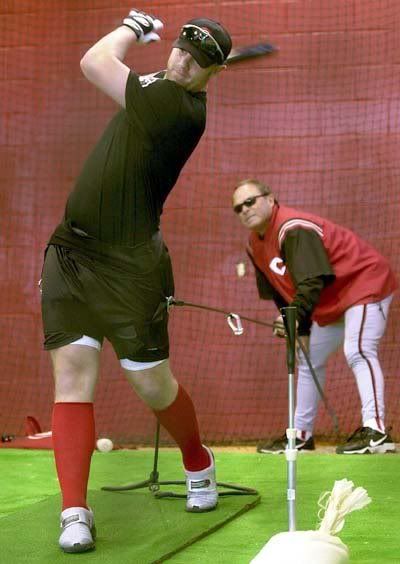 It's staying light longer, the Leafs are all-but-eliminated ... that can mean only one thing: We'll soon see the first halter dress of the season! OK, two things: It's time for baseball, the timeless game that involves committing to a team for six months after reading all winter about why they won't win jack squat. Here's a "starting nine" for the Cincinnati Reds.
The NL Central is dangerous for those upper lower-middle class teams: The Cubs improved by 19 wins last season and won the division, so who could fault anyone for believing it's plausible the Reds might do the same? They won a whopping 72 games last season, so they wouldn't even have to improve as much. It's doable if their bullpen improves and their lineup shows it can do more than home runs.
Damn it: It's too bad that lefty reliever Jonathan Coutlangus was sent to Triple-A. He and righty Todd Coffey potentially make the best-named bullpen combo ever. You know, Coutlangus followed by Coffey.
Free Votto: New skipper Dusty Baker, who's angling to become the worst manager to ever take three teams to the post-season, has set back more young players than addiction to Guitar Hero. Just ask former Cubs bright hope Hee Seop Choi, wherever he is.*

What does that mean for lefty slugger Joey Votto, the 24-year-old Torontonian (nice of Citytv to interview the hometown kid during that Reds-Jays game three weeks ago -- wait a second, they didn't)? Votto should be starting at first base ahead of aging Scott Hatteberg, whose numbers get juiced by Great American Ball Park.

As you know, Baker just loves his veterans, believing that a player's best years come between the age of 32 to 36 "and beyond."
Case in point: Under the heading of "Dear God, why?" the Reds just picked up centrefielder Corey Patterson, who's been a league-average hitter exactly once in six seasons -- back in 2003, when he manager was, wait for it, Dusty Baker. (That summer, Patterson suffered a season-ending injury in July before he could regress in the second half.)

That's the rub with the Reds. They could be half-decent enough to win a truly terrible division. Instead, they mess around with a guy whom fans pay good money to be snarky about: "Corey oozes with so much talent that he makes the game look easy. He doesn't like to slide back into first on pickoff attempts because they are an insult to him. He never fully extends on his dives in the outfield because he simply does not have to."
Missed by a mile prediction from last season: "The Reds figure to be fourth in the NL Central again, but '08 and '09 should be more exciting when the likes of Bailey and Votto are ready for prime time." Wrong! They lost seven of their last eight to let Houston snatch fourth place on the penultimate day of the season. Pitching propsect Homer Bailey, well, he's another story.

The aforementioned righty could be fast becoming this generation's Todd Van Poppel.
Way to oversimplify: Venerable Ohio baseball writer Hal McCoy typed that all the Red Sox's principled stand to make sure their coaches got the same stipend the players were getting for their Japanese trip was "put a spotlight on the fact that these young millionaires are being paid an extra $40,000 to go do their jobs. Forty grand? Many, many fans don't make that much money in a year."

So what you're saying is it's Kevin Youkilis' fault that the U.S. economy is in the dumper?
Hate to Harang them about this: Crashburn Alley went out on a limb and took Reds righty Aaron Harang to win the NL Cy Young Award. Would you believe the Reds, for all their success in the '60s and '70s, have never had a Cy Young winner? They haven't even had a pitcher get a first-place vote since Jose Rijo got one in 1991.

The Reds rotation is bound to be better. Their bullpen would need a trickle-down effect from Francisco Cordero coming in to be the closer. Whether that actually happens is another story.
Party like it's 1999: The Reds are a bit of a throwback to the late '90s. They outslug some teams. Pitching and fielding aren't always high priority. Hey, look, there's Ken Griffey Jr. in a starring role! The Reds will be peaks-and-valleys when it comes to scoring runs.
Need-to-know: The Reds aren't totally last season's Colorado Rockies, the sleeper which plays in a hitter-friendly park. Colorado has a better farm system and their team is built to last. That qualification will seem petty if they end up in a playoff race. After all, Ken Griffey Jr. is 38 years old now and the cheerleaders in the media would really like to see him finally make it to a World Series after 20 seasons. It will take 21, at least.
(* South Korea.)
That's all for now. Send your thoughts to
neatesager@yahoo.ca
.