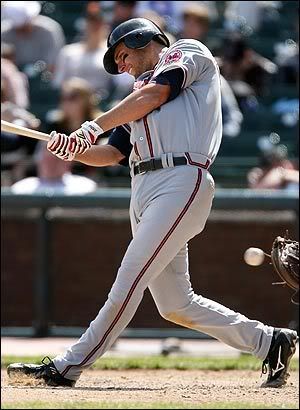 It's staying light longer, the Leafs are all-but-eliminated ... that can mean only one thing: We'll soon see the first halter top of the season. OK, two things: It's almost baseball season, that mystical, wonderful time of year where you commit to a team for six months, knowing full well they won't win. Here's a starting nine for the
Atlanta Braves.
They're back, kind of but not really: The Braves shape up as the team who's got wicked hitters and everyone will wonder how they don't win by 10 games.

They could do it. Mark Teixeira, Chipper Jones, Brian McCann, you know about them. No one talks about lefty-hitting second baseman Kelly Johnson, who put up a .375 on-base percentage with a solid .457 slugging last season despite a September fade. He's a solid table-setter and gets it done at a position that he learned to play at the major-league level.
The boys are thirsty in Atlanta, and there's beer in Teix-arkana: Teixeira is in his contract season and a switch-hitting, slugging first baseman with his numbers can write his own ticket.
Thor, he goes: Canadian backup first baseman Scott Thorman is likely to be traded before Opening Day.
Franco is very much alive: Rightfielder Jeff Francoeur cracked the mythical 40-walk barrier last season, which shows he has matured as a hitter. He can flat-out rake and be what Vernon Wells was to the Jays when he had Carlos Delgado batting after him.
Next thing y'know, MLB and the NBA will put a team in Canada, or maybe Toronto! Two Atlanta scribes, Furman Bisher and Terence Moore, both got really bent out of shape over the regular season officially starting with the Red Sox and A's playing two games in Japan. Not sure why. Fire Joe Morgan did a takedown on Bisher, but Moore's prattling about tradition was tough to take. Way back when, he was with-it enough to say, "If you don't like Deion Sanders, you're legally dead."

Bisher has his cool side -- he's already suggested that the Braves' relocated Triple-A team should be called the Gwinnett Crackers.
The $121-million underdog: At this point, it seems only natural to root for Mike Hampton to throw 200 innings, put up an ERA in the low threes, go something like 15-5 and end all the sniping about his ridiculous contract, now in its final year. It's an extremely remote possibility, but it gets tiresome reading about someone else's mistake. Some storylines just need to die already.
All Michael Tuckered out: The Braves preview at Deadspin introduced a new sports phrase that should be committed to memory -- "playoff fatigue." Fifteen straight playoff appearances just wore out the Braves fanbase.
So... John Smoltz, Hall of Fame? The Bill James Gold Mine 2008 gives the 41-year-old righty an 80% likelihood of being elected to Cooperstown. What's not to like? A Cy Young Award, pitched in five World Series, close to 3,000 strikeouts and more than 200 wins despite spending a quarter of his career as a reliever.
Need-to-know: It's nice to imagine that the superannuated southpaw Tom Glavine comes back and the Braves make a run at the NL East title. The upshot is that the three decent teams in the division each lack starting pitching and none will be the subect of a best-selling book that gets studied at Harvard Business School any time soon. It's wide-open for the Braves to make a run.
That's all for now. Send your thoughts to neatesager@yahoo.ca.