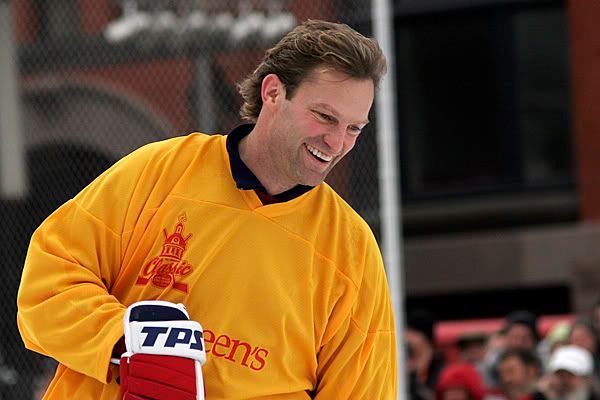 One development to hope for if you have Kingston and hockey in your blood is that the Montreal Canadiens go completely in the tank.
In this dream scenario, the Habs would miss the Stanley Cup playoffs, which leads to some shakeup in the coaching staff. Boom, suddenly, hometown hero
Kirk Muller
(pictured)
, currently an assistant coach in Montreal, would find himself in need of a new gig -- like heading up a group that buys the Frontenacs from owner
Doug Springer
, who when it comes to running an OHL team, doesn't know his assets from an elbow pad.
Does that convey how desperate it is in the Limestone City? It actually seems logical to wish a firing upon Muller, one of the city's favourite sons, since he seems to be our only hope. Him or
Doug Gilmour
. Anyone but that other Doug.
Over his decade-long reign of error and spoiled-rich-kid egotism, Springer has taken a modestly successful Frontenacs club with good fan support (despite some lean years and an aging arena) and turned it into a complete gong show. Make that a taxpayer-supported gong show, since the City of Kingston has built a new downtown arena which is set to open late next month.
The last-place Frontenacs hit absolute rock bottom on Sunday when they completed a winless weekend by going
an entire period without a shot on goal
in an 8-2 loss against the Niagara IceDogs. GM-for-life
Larry Mavety,
God love him, actually told the
Kingston Whig-Standard
: "It wasn't that we didn't have shots
at
the net, we didn't have shots that
hit
the net." That's just sterling. The Fronts have been outshot 133-48 over their last eight periods (and outscored 19-3). How much would that improve if you credited them for shots
at
the net?
The public perception of Springer seems to have cemented. He can't win in Kingston. The only way out of this mess is a change in ownership.
Springer is a rich man and the Springer Group of Companies owns a lot of things, but Frontenacs fans looking at this excuse for a team and can only conclude winning is an afterthought for him,
if that
. Along with the passionate pleas for Springer to sell the Frontenacs on
Fronts Talk
and the
OHL Open Forum
, you can find season-ticket holders vowing not to renew for next season.
Through all the losing, the disastrous drafts and early playoff exits, Springer and Mavety just carry on -- move along, nothing to see here.
Move along, nothing to see here
sums up the general attitude of Kingston proper toward Springer's team (it's not "our team" in any way, shape or form) and that's what frightening. The diehards' withdrawal in disgust will inevitably spread to casual fans. Meantime, the Frontenacs have lost an entire generation of fans. You know how you usually pick a team to follow when you're about eight or nine years old? Well, kids who were eight in 1998, the last time the Fronts won a playoff round, are graduating from high school this year. Most of them will go out into the world with barely a thought about their hometown team.
C'est la vie
.
It's heartbreaking to see this as someone who grew up going to games on Friday nights at the Memorial Centre and knows about Kingston's place in hockey history. Springer's negligence of the hockey side might be signalling the death knell of the OHL in Kingston.
It's simple math. The city and Mayor
Harvey Rosen
are counting on a cut from ticket sales to help pay for the arena so property taxes won't have to be unduly increased. Meantime, the Frontenacs have been playing to crowds of barely 1,500 people this season and they're set to increase ticket prices at the new arena. (For some people, it would almost be worth the extra gas money to drive to nearby Belleville and watch the Bulls, who actually win.)
What's going to happen if people continue to stay away as an editorial comment on Springer's ownership, or if the city increases the surcharge on each ticket? What if it becomes difficu8lt to turn a profit in Kingston? Yes, this is speculative, but we could be seeing the death knell of the OHL in a historic hockey city if something isn't done soon.
One theory is that it will take a hockey guy with serious puck cred to undo the damage Springer and Mavety have done to the team's reputation with fans and in hockey circles. Having former NHLers with ties to the area own and operate the team has worked in London (
Mark
and
Dale Hunter
), Quebec City (
Patrick Roy
), Red Deer (
Brent Sutter
), not to mention Windsor (
Bob Boughner
).
Nothing is going to change in Kingston with Springer. It
could
change with new management. A former player turned owner is the only hope. So pretty please with sugar on top, Doug Springer, sell the team to someone who will, in your words, "do whatever it takes" to give Kingston a winner. It's the least you can do -- and when it comes to hockey, you're good at doing very little.
That's all for now. Send your thoughts to
neatesager@yahoo.ca
.