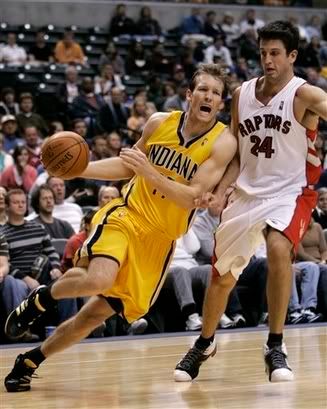 As a Raptors fan who has to deal with the typical Toronto attitude, it's a curse to have a memory.
It means having to suffer the casual fans who were nowhere to be found when the team was 27-55 two seasons ago intone, in that smarmy way that people who don't know how to care about some silly team do, "Oh look, the Raptors lost to the Celtics again." Part of it is that the media in Canada tend to indulge the haters. This is the Age of Narcissism, the Era of Predictable Disillusionment (thank you,
Chuck Klosterman
). The TV producers have all the market research to justify that kind of framing job.
Honesty
gets left out of the equation. The Raptors were brutal. They are in awe of Boston right now. It's still one game out of 82 in the middle of December. Stuff your pap about needing to beat Boston on Dec. 16 where the sun doesn't shine.* The NBA does not give double credit for beating any team, let alone those who are 20-2.
James Posey
is a killer as the C's glue guy, by the way. That was a big fear in the summer.
As for the Raps, as a group they had to empty their tank in Friday's comeback win over Indiana, which was the kind of game they used to give away. Today was their fifth game in eight days and a letdown could have been expected. Those aren't excuses; that's the reality of playing 82 games over 5 1/2 months. MLSE has millions, but it doesn't make a team of flesh and blood into a machine.
(Full disclosure:
Jason Kapono
's 29 points on 9-of-14 shooting, plus 5-of-5 at the free-throw line vs. the Pacers helped someone win in the
Rockhard Fantasy League
this week, hence the quickness to call BS.)
Thankfully, some of us have enough memory
to recall the bad times
. Some remember that
Bryan Colangelo
said
Andrea Bargnani
would take 3-5 years to find his form in the NBA. Some realize the team has a huge run of home games in the New Year. See, having a memory isn't a curse. They stank like a gym locker today, but it's done and over with.
Related:
Celtics rip Raptors again
(Associated Press)