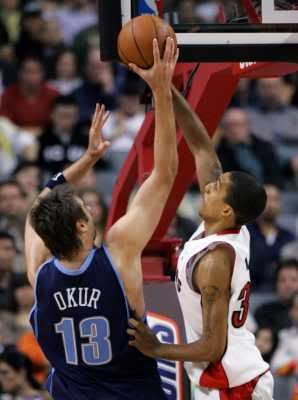 Gut reaction to the Raptors'
106-100 loss
to the Golden State Warriors:
New rule: Try not to obsess too much about the day-to-day. There is a vision and competent management. The Raptors might slip back to 42-40 this season, but as has been said since the summer, their window for making the NBA Finals is a lot longer than most teams.
The question is whether the Raptors would rather be young, athletic and developing a collective basketball brain, or going with lesser talent that has more court smarts. Call it the Jamario Moon vs. Jorge Garbajosa corollary. Moon (pictured) made some hasty decisions with the ball down the stretch during a forgettable fourth quarter when the Raptors settled for jumpers, didn't make them and lost an eight-point lead at home, but he's learning the NBA game.

This game was probably a little too athletic for Garbajosa, who was confined to the bench (or as they called it back in the day in Kingston high school basketball, "Sagered"). He's got the court savvy, and maybe he would have helped the Raps slug the ball inside more and get more free throws, but in the long run, Moon has more upside.

The feeling/plaintive hoop is Bryan Colangelo and Maurizio Gherardini are strong enough to maybe retool a bit and build up to take a shot in '08-09 or '09-10. They're not going to react to the braying hyenas out there in public.
Speaking of not slugging the ball inside and losing grip of the game ... the above is justification after venting about the coaching and T.J. Ford morphing into Me-Jay for much of the game. (Dave Feschuk notes in The Star that this was a learning experience.)
Jessica Alba was at the game. What's she doing in town?
Ford (29 points, nine assists) going to have learn from this too. Those numbers look good, but it was against Baron Davis, who looks like he's takin' it easy on defence to avoid injuries. Twenty-nine and nine vs. Baron Davis is like playing Madden on easy level.
On Italian Day at the ACC, Blue Jays GM J.P. Ricciardi traded for utilityman Marco Scutaro.
That's all for now. Send your thoughts to neatesager@yahoo.ca.