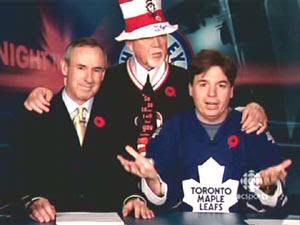 Mike Myers'
The Love Guru
premieres in theatres today. You really should go to see it. Either he's enough of a tortured genius to make this work -- just to add to his torment, let it be said that John Candy is still the funniest SOB to ever come out of Scarborough -- or the movie's going to be such a trainwreck that you have to see it with your own eyes. Besides, it's the only way you'll ever see the Leafs win the Stanley Cup. From Aug. 24, 2007, here's
Out of Left Field
's take.
Talk about a synergy of low, low standards -- Hollywood and Toronto Maple Leafs fans.
Comedian (and Leafs fan) Mike Myers will start shooting next month on a comedy called The Love Guru where he plays a character called Pitka, "an American who was left at the gates of an ashram in India as a child and raised by gurus.... (he) moves back to the U.S. to seek fame and fortune in the world of self-help and spirituality."

The plot -- apparently Mike Myers movies have those now -- revolves around Pitka's efforts to help a Leafs superstar (played by Romany Malco; remember, it's fiction) fix his marriage so he can get out of a huge slump and rally to help bury the "Bullard Curse" that has prevented the Leafs from winning a Cup for the past 40 years. The bad guy is played by Justin Timberlake, who portrays a star player for a rival team who steals the hockey hero's wife and causes his game into a nosedive.

(Here's hoping Al Iafrate gets a nice big fat cheque for letting the producers of the movie borrow from his life story.*)

Timberlake's character -- thank god for the new rules, because he'd never have lasted in pre-lockout hockey with his build -- stars for the Los Angeles Kings. That is just in case anyone in Canada has forgotten that everything is supposed to stop out of respect when anyone brings up the 1993 Kings-Leafs conference final, like it was Vimy Ridge on skates. (Thank god we didn't have Dave Ellett on our side in 1917 or this might have been written in German.) Jessica Alba apparently plays Bullard, the Leafs owner who's stood in the way of the team winning. (Talk about subtle.)

Verne (Mini-Me) Troyer is also in the cast, not as a fictionalized version of Gary Bettman (now that would be verisimilitude!), but as the Leafs coach.

So 40 years of our collective misery is going to be fodder for the guy who gave us The Cat in the Hat and Wayne's World 2. Initially, it angered up the blue-and-white blood to learn two generations of puck pathos will be played for cheap laughs. On second thought, it is a major motion picture with hockey in it that will probably sprinkle in a couple Canada references, so it's going to to a bigger licence to print money in this country than the Maple Leaf Sports and Entertaintment Ltd. ever imagined in their most fevered dreams. Like it (probably) says on MLSEL company letterhead, "Resistance Is Useless."


(Interlude from the present day: Of course, then-Leafs GM John Ferguson Jr. got to present Mike Myers with a Leafs sweater last fall, only to end up out of work by the time the movie came out. That's par for the course with the Leafs.)

Remember how the Red Sox-obsessed Farrelly brothers left time to make changes with the 2005 U.S. remake of Fever Pitch to accommodate real-life events from Boston's World Series run? Myers is too much of a Leafs fan for that kind of pie-eyed optimism: FirstShowing.net is reporting the movie would premiere June 20, 2008. That's right about when Leafs Nation is at its most vulnerable after watching some other city celebrate a Stanley Cup triumph and is going around demanding, "Where's our parade?"

Myers is safe in knowing that will be the case again with the Leafs next spring. That shows he's with us. Knowing enough to know we'll never win, and somehow being OK with it is the true blue definition of being a Leafs fan. That, and a near total lack of self-awareness is what gives us our trademark jaunty, eff-you confidence to get through each season, no matter whom John Ferguson Jr. signs.

(* Supposedly that's an urban legend about Iafrate's ex and Gary Leeman, but why is it on his hockeydraftcentral page?)