U.S. federal prosecutors on Friday decided not to challenge a ruling that tossed out evidence in their case against baseball's home run king

Barry Bonds

. Between the World Cup, NHL draft and Arizona Diamondbacks pitcher

Edwin Jackson

throwing a "lame no-hitter," it probably didn't get much coverage. It seems like the case that was supposed to go to trial 15 months ago is flagging. From Nov. 16, 2007, here's a post from when Bonds was first indicted: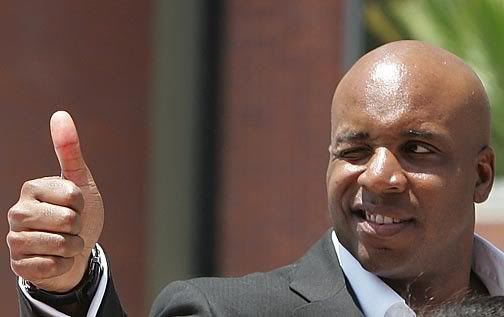 Dave Zirin
of the
Edge of Sports
sums up the lunacy and self-serving hypocrisy of the U.S. Department of Justice (or as he calls it, "Just-Us") vis-a-vis
Barry Bonds
:
"The actual indictment parses in language that would shame a Clinton. It reads, 'During the criminal investigation, evidence was obtained including positive tests for the presence of anabolic steroids and other performance enhancing substances for Bonds and other athletes.'

"This is idiocy raised to the level of law. It makes me wonder what they're teaching at Jesus-land Legal Academy these days. Did Bonds actually test positive for steroids or were pharmaceuticals only found in these mysterious un-indicted 'other athletes'? And what is a 'performance enhancer'? That's not even a legal or medical term; it's sports radio shorthand. The cortisone shot into Curt Schilling's ankle in the 2004 playoffs was a performance enhancer. The Viagra coursing through Bob Dole's veins is a performance enhancer. Whatever keeps that smile glued to Laura Bush's face is a performance enhancer. It's a colloquial phrase that tells us nothing. It only raises the question whether the indictment was written by Mike or the Mad Dog."
To a serious person, the Bonds indictment is more laughable than anything else. He's a huge jerk, and no baseball fan outside the Bay Area will miss him.
However, there are no white-hat types here; if anything, Bonds' hat is a lighter shade of gray than that of the people trying to put him in jail. (Thirty years? He won't serve a day.) The same U.S. Department of Justice that's trying to take down Barry Bonds is the same one that authorized torture not too long ago. It's the same legal system that, as Zirin notes, drags its feet on hate crimes against African-Americans.
Consider this the denouement, the final unravelling, of Bush-Cheney America. Like
Chuck Klosterman
wrote
shortly before Bonds surpassed Babe Ruth 18 months ago:
"... it's been a half-decade where many long-standing fears about how America worked (and what America represented) were gradually -- and then suddenly -- hammered into the collective consciousness of just about everyone, including all the people who weren't paying attention to begin with.

"Here was a man" -- Bonds -- "accomplishing unbelievable things ... but we did not really believe or disbelieve; we just sort of watched it happen, and then we watched it get out of control, and then we expressed shock without feeling a grain of surprise, and then we tried to figure out how we were supposed to reconcile an alien reality we unconsciously understood all along."

Now the U.S. establishment is going to make up for it on the back of Barry Bonds. Anything's possible, considering all this has already done something seemingly impossible -- make Barry Bonds seem like one of the good guys by comparison. Last word to Dave Zirin:
"The idea that they (the U.S. Department of Justice) have no time for Megan Williams, but invest years in the prosecution of Barry Bonds should make any good person of conscience utterly enraged."
Related:
It was never about Barry, and of course it always was
(
Deadspin
)
That's all for now. Send your thoughts to
neatesager@yahoo.ca
.