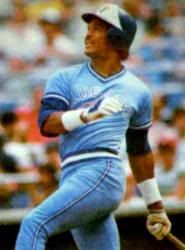 Home Run Derby
has a note today the Blue Jays and Kansas City Royals are bringing back some variation of their '70s and '80s-vintage powder blue uniforms for 2008 season.
Bob McCown
was in mock high dudgeon last week on the FAN 590 show saying he hadn't been invited to a Jays uniform unveiling, even though some Rogers flunky was apparently in the studio handing out invites to any schmo he could find. So if it was going to happen, it's might happen very soon.
The Jays sold the powder-blue throwbacks at the ballpark last season and based on anecdotal, circumstantial, completely non-empirical evidence, they appeared to be a hit .. they were completely sold out at one souvenir stand when friend of the blog
Darryl G. Smart
stopped to buy one after a Sunday game in early August (someone had to go to the other side of the park to retrieve one). Yours truly passed for reasons of (a) not wanting to be a copycat (b) being cheap, and proud of it and (c) buying and then wearing a jersey that's a 55/45 cotton-poly blend on a day when it the humidex was close to 40 Celsius seemed like a bad idea.
The Tao of Stieb
, of course, picked up up on this way back in September. Too bad this retro kick can't be extended to the Jays putting together a 96-win team in the AL East with a payroll that works out to just under $21 million in 2007 dollars, as they did back in 1987.
Oh, and a
trade
between the Rays and Twins that takes power-hitting outfielder
Delmon Young
out of the AL East, that's nice too.