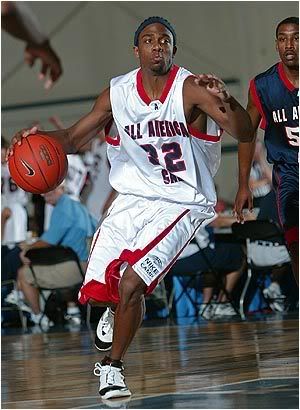 Reading that the University of Illinois is still
trying to work out how to accommodate
Michael Jordan
when he wants to watch his son
Jeff
(pictured)
play basketball, well, it works on so many levels.
For starters, Illinois, even with a 16,000-seat arena and hasn't hashed out a way that
père
Jordan can watch his son with a modicum of anonymity and privacy and not be a distraction. So it seems odd now that many of us who follow hoops in Canada honestly wondered if Jordan was going to make an appearance when Illinois made its pre-season tour here over the Labour Day weekend, playing in CIS gyms that hold 8-10 times fewer spectators. (Granted, McGill has private boxes; the Illinois arena, a 1960s-era campus building, might not.)
The second part is that the NCAA has strict rules for what constitutes overly cushy treatment of players' parents, and those apply to Michael Jordan the same way they do to everyone else. As if Jordan needs to be comped with free tickets.
Anyway, back in early September here in Ottawa, the feeling was like the MJ we kind-of know would want nothing more than to be there for his son's first college games. What father wouldn't try to be there, if he had the means? When he didn't, it only made sense that he would wait for another time and a less intimate setting.
It was only human to wonder. It's not like we were rubes and gawkers about it. Everyone loves a brush with celebrity, or even with celebrities-by-association, and I'm probably the worst offender by a factor of two. When the benevolent employer put yours truly on the Jordan Watch during the Illinois-Ottawa game on Sept. 2, I jumped about three inches out of my seat any time a guy with the barest resemblance to Jordan in height and pigmentation walked through the door of the gym.
It's not embarrassing to admit that when a tallish black man appeared in the third-floor window that overlooks the U of O court for a few minutes during the first half of that game, off I went to see if it might be him.
It wasn't. There goes any shot at being in the Prime Minister's security detail, not that I was applying.
(For interest's sake, Illinois plays a tournament in Maui later this month... they have golf in Maui, and apparently Michael Jordan quite enjoys that activity.)