That sound you just heard was of Kingston's terminal do-gooders getting their knickers in a knot (they should really get the pre-knotted kind):
According to the broadcast people, (Marty) McSorley was in the building as he was doing his radio show there. He wanted to come talk to his old buddy Mav. Wasn't he on the short list when (Bruce) Cassidy got hired? -- Fronts Talk
It's worth putting out there since it's not that far-fetched that Kingston Frontenacs GM-for-life
Larry Mavety
would entertain the notion of McSorley, the former NHL tough guy who comes bearing all that
Brashear-incident baggage
, taking over as Frontenacs coach. Forget the optics, the possible outcry over the message implied by hiring someone with McSorley's reputation at a time when the Frontenacs are about to move into an arena paid for by taxpayers. Someone will say it sends the message that it is OK for goonism should be government-sponsored.
Remember, when they built the old school, they tore down Mavety's school. Hockey guys of his vintage put loyalty above everything else. There's a kinship with McSorley, who as a tough guy who could play a bit, helped give the Mavety-helmed Belleville Bulls credibility when it joined the OHL in the early 1980s. He also let McSorley skate with the Frontenacs in 2001 when he was trying to make an ultimately short-lived comeback.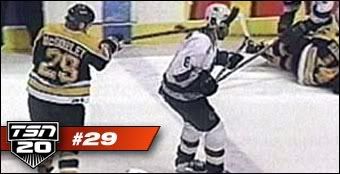 The Frontenacs need some buzz as they move into the new downtown arena. Hiring McSorley would be an attention-getter, perhaps both good and bad. It would bring a lot of widespread notice, which from this viewpoint might not be such a bad thing since it would shine some light on the Frontenacs' decrepit hockey operation. It could be Mavety biting off more than he can chew.
From a hockey standpoint, the idea of hiring Marty McSorley only makes sense if you know the Kingston Frontenacs. One of the alleged reasons Bruce Cassidy was axed was that he couldn't adjust to coaching teenagers. So you would go and hire another coach who has no experience coaching a junior team, and even less of a track record in the minors?
There's really no opposition on moral grounds. To a person, McSorley is considered one of hockey's all-time great guys. (Something that's impressive about the man is that after the 2002 Olympics, he went out and
started a fundraising golf tournament
to help the players on national women's team top up their incomes. Considering most male hockey players scarcely think of the women, that's quite something.) He could probably do a selling job. Not that all of that wouldn't be lost on the knickers-in-a-knot crowd.
Meantime, just in case anyone needed a reminder that Mavety the coach is no match for Mavety the GM, the Frontenacs
lost 3-2
in London on Sunday. Who had a goal and an assist to give the Knights their winning margin?
Justin Taylor
, who part of Kingston's
infamous 2005 draft
that produced exactly one regular on this season's team.
Taylor, who never reported, was flipped to London at the deadline last season.
In Saturday's
4-2 road victory
over the Sarnia Sting, let it be said the Frontenacs did do a good job of
putting a Band-aid on a brain tumor
patching up the third line when the GM-for-life flipped a roll of tape (a ninth-round draft choice) to Brampton a while ago for grinder
Kevin Christmas
. The 6-foot-3, 212-pounder, scored the tying and winning goals, the latter with 1:16 to go, in . Rockland native
Stephane Chabot
scored his first goal with the Fronts, by the way.
If this keeps up, Mavety really will have a lifetime contract. Jesus.