Those of you who are interested in how baseball is really played should give
Ben McGrath
's profile of super-agent
Scott Boras
in the latest
New Yorker
a read.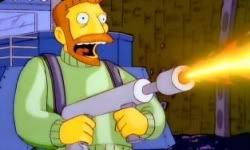 It's lengthy as magazine treatments go, but it goes beyond the usual media portrayal of Boras as the "avenging agent" or as some real-life version of Homer Simpson's friendly-but-also-supervillainous boss Hank Scorpio taking a flamethrower to all the old-time baseball traditionalists hold near and dear. At the same time, it doesn't beatify the man or what he does, and there's a window into what's going to happen with
Alex Rodriguez
and his Yankees contract.
How do you feel about Boras? He's helped grow major-league baseball into a $6-billion industry, but some of us who are Blue Jays fans were a lot happier when it was a $1-billion industry and the team actually stood more than an outside chance of playing October baseball.
Hopefully reading this demonstrates why diehard Jays fans bristle when the Toronto media always reduce everything to the team not having made the playoffs in 1993. It's clear that Boras' influence has practically given rise to an entirely different sport within the past two decades.
A couple of ex-Jays from the 1980s, reliever
Bill Caudill
and lefty pitcher
Jeff Musselman
, are now in Boras' employ. What they do is probably pretty fascinating in itself.
Much obliged to
Greg Hughes
for the tip.