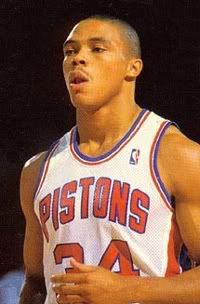 Yes, it's a welcome sign the Jays went out and
got
Gary Denbo
out of the Yankees organization as a hitting instructor. After taking a moment to clue in and realize it wasn't
Fennis Dembo
-- who totally kicked ass on the '88-89 Pistons in the Tandy version of the
Lakers vs. Celtics and the NBA Playoffs
computer game -- it was pretty exciting.
Denbo even ays he believes he can make
John McDonald
and his .612 on-base-plus-slugging one of the "elite guys." So clearly, he is kind of crazy, which is good, since kind of crazy and good pitching is all the Jays have playing in a division with the Evil Empires.
It should mean an end to tidy two-hour, 35-minute games. Jays hitters are going to be taught novel concepts like "laying off bad pitches" and "working counts" instead of
Mickey Brantley
's "if it feels good, do it" approach.
It was kind of defeatist to be arrogant toward the Yankees for their deliberate draggassery. They made an art form of making the eight minutes of actual action stretch out to close to four hours, but they were at least in the playoffs, too.