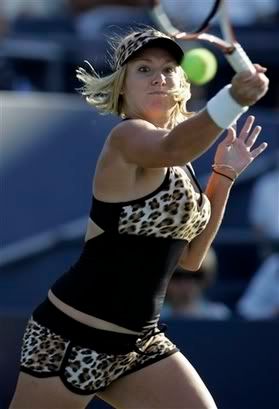 Your get up and go just got up and went...
Short synopsis of the look at the NFL that the big brains from Football Outsiders have up at Slate: Watch out for Washington... and get ready for the Chicago Bears to have a fall worse than Ron Burgundy's in the middle part of Anchorman.
Oh, and punting the ball is for wusses who are really bad at math, although most NFL coaches would need the same contract the pope has before they went for it on 4-on-2 inside their own 30.
If doubles player Bethanie Mattek (pictured) can wear that in public, no one should knock her for it.
Reviled Orioles owner Peter Angelos isn't Mr. Limousine Liberal when it comes to how he treats the working poor "scraping the crud off his stadium."
To think one of these teams will be seven wins away from being in the World Series title in four weeks... here's the winning percentages the three teams in the running for the National League Central title have outside the division:

Cubs: .500
Brewers: .493
Cardinals: .440

No one's mentioned this yet but doesn't the epic -- since Appalachian State is the Mountaineers, a mountain climbing terms seems to fit -- that Michigan had last weekend really make an argument for a playoff system in NCAA football? Not that would ever happen, but imagine what a story it would be if the Wolverines regrouped, won the Big Ten and then an eight-team tournament.
Hometown breakdown: Kingston's Jayna Hefford had three assists for in a 4-1 win over Sweden at the Canadian women's hockey team's fall festival in P.G. last night.
That's all for now. Send your thoughts to neatesager@yahoo.ca.