It's finally here... presenting: the Laval Rouge et Or.
In '06:
11-1, defeated Saskatchewan 13-8 in Vanier Cup
Players to watch:
QB Benoît Groulx, DB Samuel Lajoie, DL Roody Jean, SB Laurent Lavigne-Masse, LB Éric Maranda, CB Olivier Turcotte-Létourneau
Head coach:
Glen Constantin (7th season)
Co-ordinators:
Justin Éthier (offensive), Marc Fortier (defensive), Francesco Pepe Esposito (special teams)
Last time it
didn't
win league title:
2002
Big ones:
Oct. 13 vs. Saint Mary's, Oct. 27 at Concordia (and odds are, Nov. 23 in Toronto)
On the web:
rougeetor.laval.ca
Strengths:
The Rouge et Or win with shutdown defence and trying not give pesky upstarts an inch with turnovers and short fields. They make relatively few mistakes on either side of the ball and seem able to wait for an opportunity to score a touchdown. The receivers and DBs have a great relationship -- both groups are deep and practise against each other every day.
Mountains to climb, rivers to cross...
Damn, that's a tough one. There's always complacency. The Rouge et Or did lose familiar faces from last season's national championship team -- D-lineman
Michel Jean-Louis
, defensive back
Alexandre Vendette
and receivers
Nic Bisaillon
and
Samuel Grégoire-Champagne
-- but in one of the game's great clichés they don't rebuild, the reload.
OFFENCE
Like Manitoba, Laval returns the bulk of its, well, bulk up front.
Luc Brodeur-Jourdain
, who's 6-foot-3, 315 lbs., is one of the brighter lights of a group which allowed Groulx to be sacked only six times in 2006, no small feat considering the quickness of the defensive players at Concordia and Montréal.
Groulx also had only six interceptions in 250 attempts, one of the lowest rates in the CIS. That's all in keeping with Laval's risk-free offence. The Rouge et Or trust their talent to take over and Groulx is the ideal QB for the offence -- he's an accurate medium-range passer (68% completion percentage) who can pull the ball down and run when it's required. Leblanc, Lavigne-Masse and fifth-year senior
Duane John
give him a trio of receivers who should complement each other very well.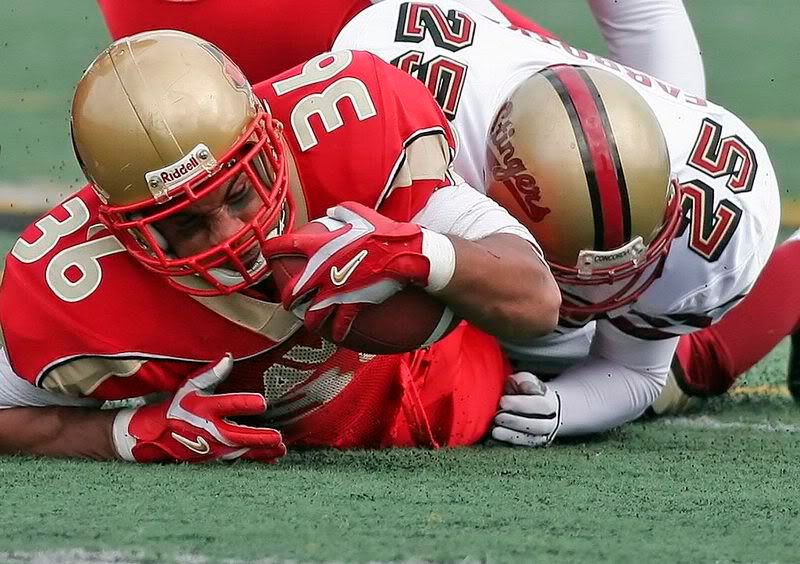 Guillaume Allard-Caméus
(pictured)
was the runner whom Rouge et Or fans were talking up toward the end of the season, but veteran
Pierre-Luc Yao
does remain. He scored the only touchdown Laval needed to beat Saskatchewan in the Vanier Cup. Both he and 226-lb.
Samuel Fournier
are a load to tackle, which is good for a ball-control team.
DEFENCE

Maranda and Parent give the Rouge et Or the luxury of having two veteran linebackers. There's not much that gets past them. Laval is typically a well-prepared group defensively and they run very well. It might not be a group that racks up sacks and interceptions, since opposing quarterbacks tend to get the ball out early against them, but it doesn't break easily. This might be more of a comment on the nature of QUFL offences, but Laval allowed only four TD passes last season.
Roody Jean and
Jean-Phillippe Gilbert
are the brightest lights on the D-line. Laval has been known to get burned on the play-action pass, but so has every other defence that's ever taken the field.
SPECIAL TEAMS
Cameron Takacs
spoiled a pretty good running joke among Rouge et Or fans that the team was writing the book on winning football games without a kicking game. He was written up by the national media (and eventually, even his hometown Brantford
Expositor
) for being an Anglophone from Ontario at Laval and for solidifying a position which had been a black hole. He was 19-for-21 on field goals, although his season long was only 37 yards. Rookie
Christopher Milo
figures to take over the punting; it's not often that a CIS team dresses two players to do nothing but kick, so it does look an interesting position battle is shaping up.
Bisaillon, now graduated, was Laval's best punt returner last season but there should be plenty of candidates to replace him.
NEED-TO-KNOW
Laval is the model program for CIS football and no one should begrudge them for what they've accomplished. It would be better for all concerned if more schools in the eastern half of the country could implement Laval's model.
In the meantime, some disaster, or maybe the Concordia Stingers playing far above their heads, would have to be lurking for the Rouge et Or and their faithful not to travel west to Toronto for the Vanier Cup on Nov. 23, where the program won its first two titles in 1999 and 2003. Is it cliché to say, well, they still have to play the games? Yes, yes it is.
(Much thanks to Jay Ouellet for contributing a photo of Guillaume Allard-Caméus.)

That's all for now. Send your thoughts to
neatesager@yahoo.ca
.