Wednesday -- Jays 13, Twins 1:
So it goes with backup infielders. The Jays ended up with that gift double play Monday thanks in part to having
Matt Stairs
at first base. Today,
Jeff Cirillo
couldn't make a smooth pivot to second to start a 3-6-3 double play with Stairs running in the sixth. The next batter,
Aaron Hill
, reached base when
Luis Rodríguez
flubbed a grounder. Suddenly, with two extra outs courtesy of the Twins' B-team infield, the Jays channeled the 1950 Red Sox for about the next 10 minutes.
Opie Litsch
was good enough and as noted, just six of the Jays' next 25 games are against teams who are above .500. Really, they could easily be 10 games above .500 by mid-August, but that would probably still not be enough when they inevitable cooling off occurs, since Cleveland or Detroit would be 20 games over by then.
By the way, it only took three games but now it's obvious why the Twins persist in running
Nick Punto
out there every day. It's a reminder to any fan of the Metrodome's other tenants that the Minnesota Vikings will have
punt
a lot this fall since they have no
O
. Thanks, don't forget to tip your server.
Tuesday -- Jays 7, Twins 0:
This is the part where we get drunk and totally overconfident.
Dustin McGowan
with a second straight quality start?
Vernon Wells
homering, doubling and driving in four runs? Effin' A.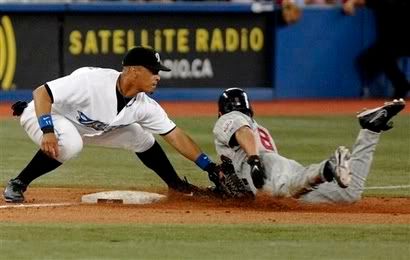 Monday -- Jays 6, Twins 4:
Seeing
Curtis Thigpen
take part in a rare 3-2-5-6 double play in his first major-league start at catcher is kind of what keeps one watching through another "lost" season.
First, it took a minor goofup to set it up.
Royce Clayton,
breaking toward second on the hit-and-run, had No. 9 hitter Nick Punto's grounder roll under his glove to put runners on the corners with none out. Secondly, there were the other factors that worked against the more routine 3-6-3 DP, first to second base and back to first.
Luis Castillo
hit a ball to Stairs at first base which would surely would have been an easy double play (but the run scores) for
Lyle Overbay
, since it's a smoother throw to second for a left-handed first baseman instead of a righty.*
Instead, with Castillo motoring down the line, Stairs threw to Thigpen at home. That completed the chain of events that got the Jays a double play and got
Shaun Marcum
out of the inning without a run. Again, if Clayton had done his job on the previous play, if Overbay hadn't been sat out against
Johan Santana
, it doesn't happen.
It was a rarely seen play with a combo of factors that was impossible to predict, so it was more fun to see than beating Santana. It was a wicked burn that it happened against the Twins with Punto on the basepaths.
See, when the Jays play Minnesota and TSN airs the game,
Rod Black
,
bless him, always goes into this shtick about how the Twins are so smart and have guys such as Nick Punto who manufacture runs and spark the offence. For Black, whose strength is that he can commentate almost anything for TSN, it's also like he compartmentalizes his thinking in such a way that he can't get off one capsule characterization of a particular athlete or team.
It's still comes off as inferring the Jays would surely make the playoffs if they stopped dicking around with guys such as
Troy Glaus
and turned over a starting job at a corner spot to a guy with a .285
slugging
average. Of course, as
Drunk Jays Fans
would attest, among some of the paying customers at a Jays game this makes perfect sense.
Speaking of guys named Black,
Conrad
's trial hadn't even gone to jury deliberations on June 15, the last time the Jays threw out a would-be basestealer before Thigpen nailed Punto in the third inning.
(* With the exception of a left-handed first baseman, initials N.S., who played in the South Lennox midget fastball league in the mid-'90s.)
That's all for now. Send your thoughts to
neatesager@yahoo.ca
.