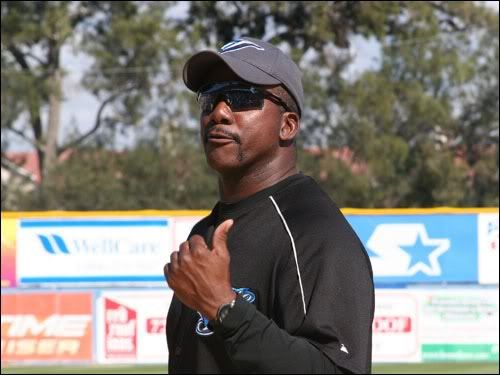 Thursday -- Jays 3, Yankees 2:
Isn't that always the way — the Jays come together after the parade has passed.
(In the words of
Jimy Williams
, Detroit, October 1987: "We played well. We just didn't hit.")
Finally, a little cunning —
Vernon Wells
tagged up and went first-to-second on a deep fly ball in the decisive seventh inning, denying
Frank Thomas
the chance to hit into a rally-killing double play. Then, of course,
Aaron Hill
hit the triple that turned the game around.
Oh, and this was a shutout for
Dustin McGowan
and pals. Both Yankees runs were put on base by full-count walks, courtesy home plate ump
Laz Diaz
(yeah, him again).
Wednesday -- Yankees 6, Jays 1:
Morning,
Mickey Brantley
. Tahoma is a great font for resumes if you happen to be stopping by Kinko's to update yours before heading to Yankee Stadium before today's game.
Going by the numbers, the Jays hitting coach looks the most inept middle manager this side of Michael Scott. The "offensive co-ordinator" has seen his unit go from fifth-best in the American League in 2005 to seventh to
10th
this summer (and the Kansas City Royals -- Kansas City!! -- are closing fast).
That's happened on Brantley's watch during a span when
J.P. Ricciardi
has brought in more reputable meat-of-the-order hitters and
Alex Rios
has developed some man-muscles. It's supposed to all even out in baseball -- eventually, a team will start scoring runs just getting off the bus. Well, ninety-four games down and it hasn't happened.
On the bright side: Our man
Pete Toms
of
A Baseball Geek
was almost spot-on (he was probably hoping otherwise) with his
prediction
of a 2-6 road trip and
Roger Clemens
couldn't stay in the game long enough to earn credit for a win. It's fitting a guy who shares his name with the star of the
Austin Powers
movies got the win instead since the Jays' hitting is a farce.
Tuesday -- Yankees 3, Jays 2 (10 innings):
This seems to be the loss that launched a thousand
I've-had-it
temper tantrums from otherwise well-adjusted adults.
The Jays decided to take the high road and not bean
Alex Rodriguez
in retaliation for the "Mine!" incident. He ended up scoring the winning run after getting plunked with a breaking ball by
Casey Janssen
that wouldn't have put a dent in his mystery blonde's surgically enchanced hooters.
The irony is well, kinda lost on Jays fans. That uncontested stolen base/balk the tying run in/wild
pitch
tableau that put A-Rod at second tableau that led to Jays-killer
Robinson Cano
stroking the game-winning hit was a little tough to take.
This is a test of faith to see who's hanging in with this ballclub, who's really paying attention and who will deserve to wear the biggest shit-eating grin the most when we (yes, we) finally do knock off the Evil Empires or at least sneak in and take the wild card one of these years.
Don't give in to the cynics, the sultans of smugs on
Sportscentre
. Smile at the Yankees needing to be so clutch just to be three games above .500 with a $200 million payroll. The Jays are just frustrating in the way a gifted child who can't be bothered to do her or his homework can be frustrating, but one of these days, they'll grow up and do something great. Or they'll end up doing the baseball equivalent of being 38 years old and managing a Barnes & Noble (or Chapters in Canada). Either way. Just love them a little more.
(By the way, this is what's great about The FAN's post-game show host,
Mike Wilner
: He described the Jays hitting as "completely craptacular." Coming into today's games the Jays were ninth in a 14-team league in runs scored even though the Rogers Centre is a hitter's park.
Ninth.
)
Seriously, squeeze that rage into a bitter little ball and release it an appropriate time -- like when the Yankees return to Toronto in three weeks.
Monday -- Yankees 6, Jays 4:
Yes, it was ridiculous that
John Gibbons
didn't have
Scott Downs
ready to pitch to
Robinson Cano
with two out in the the decisive sixth inning, meaning a gassed
Josh Towers
had to stay in and gave up to game-winning two-run single.
(
UPDATE, Tuesday:
Gibby at least made a good move by giving Downs the whole eighth inning and ended up having him strike out Cano in a tight spot. He just didn't have him again two innings later.
C'est la vie
.)
Also ridiculous: The number of times -- seven or eight at least -- on this road trip that
Alex Rios
or
Vernon Wells
has come thisclose, inches short, of making a catch. When it happens that often it raises questions about scouting, preparation and coaching. It's also nuts that a team scores all four of their runs off the long ball -- and leaves 12 runners on base.
That's all for now. Send your thoughts to
neatesager@yahoo.ca
. Here's the
mainpage
.