There's a lot of reasons Americans generally don't get hockey.
One that doesn't get talked about enough is that having someone or something to hate and resent -- some strawmen for Everything Wrong With Sports -- is the lifeblood of being a fan. For a newcomer to hockey, it's hard to figure out who you're supposed to despise the way you do with, say,
Kobe Bryant
.
The media is to blame. Having seen the odd NHL broadcast originating from the States, it always seems like they oversell the game's boy-next-doorness instead of playing up the jerkass angle (although this is due to the fact NBC and the NHL have a revenue-sharing agreement instead of a real TV contract).
Hockey has jerks -- how could a contact sport engaged in primarily by white males not have any? It's just that the jerks aren't as obvious. Sometimes it can be a coach, a general manager, an entire organization, an entire city, an entire fanbase and above all else, the commissioner of the NHL,
Gary Bettman
. (The last part can't be stressed enough.)
There are teams out there who make you want to ralph, especially if they go deep into the playoffs and you're subjected to them night after night between now and June. Basically, every team can be placed on a 1-10 scale called the Degree of Discomfort. Here goes nothing:
SHARKS vs. PREDATORSSan Jose's degree of discomfort: 4.

The Sharks deserve scorn for inspiring hundreds of terrible logos and eye-straining sweaters. Funny thing about that: The surfeit of teams with bad uniforms and terrible non-hockey colours means San Jose's teal look now looks normal, so that can be ignored. Besides, star player
Joe Thornton
and the Sharks are due to shed their choker label. Hey, if
Peyton Manning
can do it, all bets are off.
Nashville's degree of discomfort: 11.
Sometimes, you're at 10 and need to go one higher. The Predators' logo looks like something from a crappy 1980s Saturday-morning cartoon show. The local sports authority recently changed the name of the team's home arena to
The
Nashville Arena, explaining the new name has "more cachet and panache." In other words, the former Gaylord Entertainment Center is now known as the TNA -- talk about overcompensating!
Has it been mentioned they're from Nashville?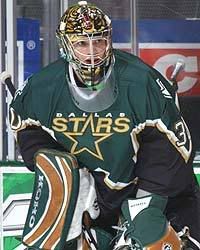 STARS vs. CANUCKS.
Dallas' degree of discomfort: 3.
Former Stars owner
Norm Green
might have moved his team to the Sun Belt for a fast buck, but from their arrival in Dallas in 1993, the Stars have been big on putting down roots by helping build rinks in Texas. They also figured out something the rest of the NHL has never caught on to -- Americans, more than Canadians, get into sports they were exposed to them through their high schools and colleges. There's now a thriving high school league in North Texas.
This makes the Stars a legit team who don't devalue hockey by their very existence, even if their style of play is as boring as all get out. Along with the Cowboys, Mavericks, high school football and random shootings, the Stars have more than done their part to make the Dallas-Fort Worth Metroplex a true five-sport city.
Vancouver's degree of discomfort: 8.

It's not you, Vancouver, it's us.
British Columbia has everything a person could want -- believe us, we've heard quite enough about it from anyone who's ever visited Van, including those whose stay consisted of nothing more than a 30-minute layover at the airport. The rest of Canada has one fallback, and one fallback alone in the face of all those ocean views, mountain backdrops, women with alabaster skin and easily accessible killer weed. The Canucks have never won the Stanley Cup.
There's more. The last non-NHL Cup winner hailed not from Vancouver, but nearby rival city Victoria (the Cougars, in 1925). People from Victoria probably still bring that up, and if they don't, they should.
Todd Bertuzzi
and
Brian Burke
are no longer part of the Canucks, which helps somewhat, but the Canucks have given that back by embracing a style of play that local columnist
Ed Willes
says has made their series against the Stars "wildly anticipated, by insomniacs anyway." At least people are used to that with Dallas, but the Canucks once had
Pavel Bure
.
WILD vs. DUCKS
Minnesota's degree of discomfort: 1.

It's better to be despised than ignored, but the Wild clearly beg to differ.
Yawn.
Anaheim's degree of discomfort: 3.
Face it: You
want
the Ducks to win the Cup. You
need
the Ducks to win, for reasons you don't like to talk about at parties. For one, like we said in
pre-season
, one can only look forward to the day
Chris Pronger
"will wake up with a Stanley Cup ring. And he will feel terrible, because there will be a big diamond-encrusted duck in the middle of it. Then he will be reminded how he bailed on Edmonton, then never tried to explain why and got all pissy when people started to speculate."
Secondly, there's Anaheim's insufferable general manager, Brian Burke. Don't you just want to see what might happen to guy with Brian Burke's ego if he becomes a Stanley Cup winner? He might spontaneously combust on live TV during the dressing room celebration.
We just don't know.
FLAMES vs. RED WINGS
Calgary's degree of discomfort: 3.
Like Vancouver, Calgary needs a Stanley Cup victory like
Scarlett Johansson
needs a breast augmentation -- it would just be a little too wonderful for everyone and might blow their circuits. God didn't throw dice during the creation of Scarlett Johansson, and apparently did not when the refs missed the apparent Stanley Cup-winning goal against the Lightning in Game 6 of the 2004 final.
Calgary proper has never needed to call itself the City of Champions like its friends up in Edmonton. Greater minds have noted that Calgarians consider themselves a city of
winners
, and know the difference.
The difference between Calgary and Vancouver is the Flames actually did win in 1989 -- but tellingly gagged in several subsequent post-seasons; one Cup was enough. Another Flames championship holds no terror for the rest of Canada.
Detroit's degree of discomfort: 9.
Two words: Todd Bertuzzi. They also have an average age of approximately 63, which drops to 55 when
Chris Chelios
is out of the lineup.
EASTERN CONFERENCE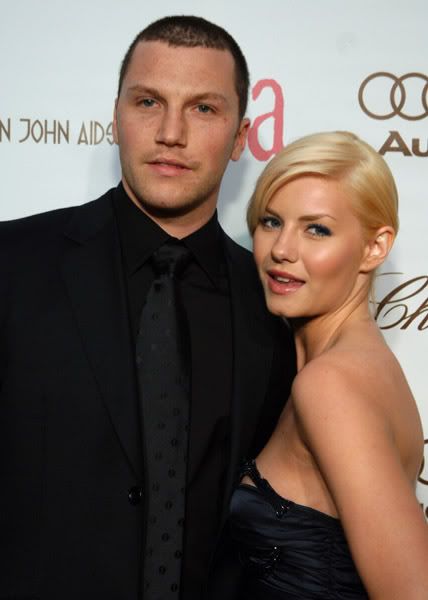 RANGERS vs. THRASHERS
New York Rangers' degree of discomfort: 8

The guy on the left is
Sean Avery
, Rangers resident meathead. The woman in the photo is Canuck actress
Elisha Cuthbert
, who's a fair step up from the puckbunnies who hung out at the Kingston Memorial Centre when Avery played junior hockey for the Frontenacs. The fact Avery and Cuthbert are together makes many a guy take back every moment ever dedicated to book-learning in hope of becoming the one smart, sensitive guy who could actually steer Elisha-types away from alpha males such as Sean Avery. Man, we hate any team that has Sean Avery.
Atlanta's degree of discomfort: 6

Even that modest rating seems a bit forced -- just disliking a team based on its regional handicap isn't enough. Yes, the Atlanta Thrashers' existence is a travesty, and if the NHL had any integrity, it wouldn't put teams in cities where no cares about the game. It's all water under the bridge, though -- we'd almost like to see if a team whose best players are Eastern European guys with a sneering disdain for playing defence (
Ilya Kovalchuk
and
Marian Hossa
) can win the Stanley Cup.*
(* Short answer: No.)
PENGUINS vs. SENATORS
Pittsburgh's degree of discomfort: 4.

It's early yet, but this is going to rise in future seasons with every commerical
Sidney Crosby
does. The Penguins have been around for 40 years, they had
Mario Lemieux
and they play the game the way it's meant to be played -- a full-tilt open style. To be honest, almost all of their four points is due to the
Coming Crosby Backlash
.
Ottawa's degree of discomfort: 1/2.

No one, but no one has suffered as a people the way Senators fans have. Please ignore that 14 seasons is only one-sixth as long as the Boston Red Sox fanbase went without a World Series title, or barely one-30th as long as the people of India lived under British colonial rule. We can't have that sort of thing -- what's it called,
perspective?
-- here. Ottawa has the Bestest Hockey Team Ever, until they lose two in a row -- or don't win convincingly enough. Then they have the Worstest Team Ever and it's time to see if "we" can see if there's a team in the Finnish Elite League who would be willing to take
Jason Spezza
for a used bag of pucks and an extra set of goalie equipment.
Worst of all, the forelock-tugging, Leaf-lambasting,
we're-good-too, please-notice-us
routine has become tiresome. It's the same old gag. The Sens rip through the regular season, do their annual spring revue of
The Dying Swan In Padded Shorts
, and everyone who kept insisting it all along wouldn't happen
again
says, "I knew it all along." Sure you did, pal. Good luck on getting a refund on that replica sweater you had customized to say "LEAF SUX SINCE 67" where the name and number usually go.
The irony is many Sens fans are blinkered when it comes to realizing the rest of Canada would like to be in their corner if they weren't such a bunch of wankoffs. Besides, you can never get tired of hearing
Lyndon Slewidge
perform
O Canada
deep into spring.
ISLANDERS vs. SABRES
New York Islanders' degree of discomfort: 4.
Islanders coach
Ted Nolan
deserves some kind of medal for delivering a playoff berth with a team that went with third-string goalie
Wade Dubielewicz
down the stretch and also has
Alexei Yashin
, the poster child for Russian paycheque players. That's about all that can be said about the Islanders.
Buffalo's degree of discomfort : 3.
What to like: Buffalo fans are the
small-town kooks
of the hockey world and the Sabres the kind of team everyone has a soft spot for since they're usually entertaining, but not good enough to be seen as a threat. Another point in their favour: If it wasn't for the affordable ticket prices in Buffalo, many Leafs fans would never get to see their favourite team play in person.
Now the drawbacks: The Buffaslug logo and what lies ahead for the Sabres fan base. With co-captains
Daniel Briere
(pictured)
and
Chris Drury
headed for free agency, this will be Buffalo's best chance for a while to win the Cup -- and for their owners to gouge the fans with higher ticket prices next year. This is the time for the flowering and deflowering of Western New York (insert your own joke about Buffalo not having the best-looking women).
(
Tom Benjamin
's post at
CanucksCorner.com
about how he's making his picks based on Gary Bettman's desired outcomes for the first round is relevant here.)
LIGHTNING vs. DEVILS
Tampa Bay's degree of discomfort: 5.
In '04, the Lightning became the first team from Florida to win the Cup and hell did not freeze over. Like San Jose, the Lightning have a couple recognizable Canadian stars (
Vincent Lecavalier
and
Martin St-Louis
) and have grudgingly gained acceptance. To paraphrase the movie
Chinatown
, politicians, whores, ugly buildings and hockey teams from Florida all gain respectability eventually if they hang around longo enough.
New Jersey's degree of discomfort: 10 1/2.
New Jersey might be the most powerful organization in
The Wonderful World of Gary Bettman
, which is kind of like the Kansas City Royals having the most pull in major-league baseball. Thanks to their general manager,
Lou Lamoriello
, the Devils have taken hockey's popularity and dragged it deep into a Jersey swamp, neutral zone-trapping teams to death and boring fans to tears while winning three of the past 11 Stanley Cups.
The day after full-scale nuclear war breaks out, the Devils will win 2-0. The sooner they're out of the playoffs, the better.
That's all for now. Send your thoughts to
neatesager@yahoo.ca
.