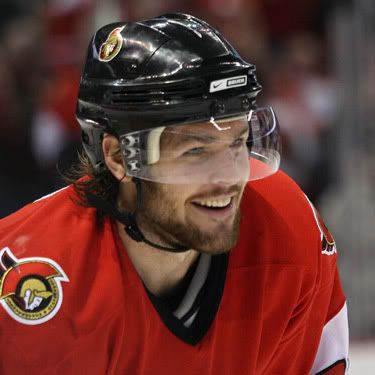 Mike Fisher
is to Canada in 2010 as
Ron Paul
was to American politics in 2008. A few people really, really like him. Most people don't know who he is, let alone his qualifications.
Like a kid who swigged down a large Coke before a long car trip, it's impossible to hold this in any longer. The Fisher-for-Canada campaign has bordered on being a maple syrup-drenched Canadiana porn. The weak argument, which has had the most sway in Ottawa, won't die despite being stuck in Hockey Clichés 101 (Senators winger
Chris Neil
on The FAN 590 today:
"Every game, he shows up, he plays hard. He does it at both ends of the ice. He'd be on my team."
). It almost makes you wonder where we are as a sporting nation when people gleefully go along with such shallow jockism.
Fisher is a solid two-way player on an Ottawa Senators club which is getting on decentlypost-

Dany Heatley

(as prognosticated last June). He is the nice down-to-earth hockey player, truer to his roots than his VBF is on her visits to the salon. Even guys with an unblemished record of staunch heterosexuality will note he is totally man-pretty.

With all that, it is understandable why some fans want to see Fisher in Vancouver.

What harm could he do as the 13th forward?

It is understandable why some members of the hockey writers' tribe and CBC Sports clown

Don Cherry

, have played to the crowd, treating Fisher the way a public relations person treats a client.

This is not quite on a shame-on-them. You have seen Cherry's suits. You know he has no shame.

It's more of a comment on the divide between the Fish mongerers and those who would like to see sports debate in Canada -- i.e., hockey debate -- dragged out of some bygone era. It's just amusing when you have Fisher getting serious consideration in some circles, while other outside-of-Ottawa sources such as

Tim Wharnsby

at CBC Sports, Puck Daddy, the Kurtenblog guys don't even take the idea of Fisher seriously.

Three of five

Globe & Mail

writers had Fisher on their team. Two of four Hockey Night in Canada personalities, Cherry and

Glenn Healy

, also picked the Senator last Saturday. Oddly enough, in a Canwest News Service poll where editors, columnists and reporters made their picks anonymously, only 7% selected Fisher.

That is as it should be, since there are probably 18-20 Canadian forwards who are more eminently qualified. A cursory scan of Behind The Net shows Fisher has not exactly dominated opponents. He's benefited from playing with strong wingers,

Nick Foligno

,

Alex Kovalev

(yes, really) and the aforementioned Neil. He has averaged only 50 points per season in the post-lockout NHL. He doesn't offer much as a faceoff man, unlike other bubble players such as the Boston Bruins'

Patrice Bergeron

and the Chicago Blackhawks'

Jonathan Toews

.

Fisher being in the mix just attests to the paralysis by analysis that has gripped Canada every four years since the NHL began shutting down for the Olympics in 1998. People believe Canada needs a few role players -- cue Chris Neil, he does it at both ends of the ice! -- to play on the fourth line. Talk about a march to folly, where smart people pursue an end contrary to their self-interest (assist:

Barbara Tuchman

). Canada believes it can't match the offensive creativity and firepower of Russia, so its solution is to take fewer players with some serious snipe. As

William Houston

notes with the 2010 squad:
"Canada? An excellent team led by Sidney Crosby, but, like virtually every Canadian entry in an elite international competition, it will struggle to put the puck in the net. That's why Canadian general manager Steve Yzerman should be putting a priority on offensive talent rather than checkers. You have to assume the scorers will care enough to back check and pay attention in their own end. If it's a choice between Martin St. Louis and Mike Richards, you go with St. Louis."
That hints at why Canada's only men's hockey medal since 1998 was aided by an all-time fluke goal, thanks again,

Tommy Salo

.

Who knows. Perhaps Team Canada GM

Steve Yzerman

will nail this and avoid the same pitfalls his predecessors did in '98 and 2006. Meantime, God only knows what is says when smart people wish to believe the No. 2 centre on a mid-pack Senators team should be one of Team Canada's 13 forwards. Ron Paul was a more legit candidate.

Enjoy the selection show on Wednesday at noon ET, presuming you can figure out which of 13 channels to watch it on.

In the interest of trying to be constructive, here is a potential 23-man roster:

Forwards:

Sidney Crosby, Jarome Iginla, Vincent Lecavalier, Joe Thornton, Patrick Marleau, Dany Heatley, Ryan Getzlaf, Corey Perry, Rick Nash, Jonathan Toews, Eric Staal, Brenden Morrow, Martin St-Louis.

(Or Brad Richards, or Mike Richards, or Patrice Bergeron, or Shane Doan, or Patrick Sharp ... well, you get the point.)



Defencemen:

Dan Boyle, Jay Bouwmeester, Duncan Keith, Scott Niedermayer, Chris Pronger, Brent Seabrook, Shea Weber. (Niedermayer and/or Pronger should be left off in favour of

Drew Doughty

, but this is Canada. It won't happen. Whatever happened to

Mike Green

?)



Goaltenders:

Martin Brodeur, Roberto Luongo, Marc-André Fleury

Honestly, writing this called to mind the old

This Hour Has 22 Minutes

bit, "The Right Answer."

Rick Mercer

(funny in small doses) and

Greg Thomey

(the actually funny one) played two wingnut talking heads who would start off arguing but were really in agreement. They would shake hands and says, "And that's the right answer."

So, if Steve Yzerman actually selected Mike Fisher, and if Canada did not win gold, and if you take smug glee in that like you did when Canada with

Todd Bertuzzi

lost in Turin in 2006, what would that make me? An asshole. And that's the right answer.