How many 18-year-olds could you get a picture of drinking? Many of them. Yet
Soo Today
, for reasons that have to be pretty goddamn original since there's nothing in our journalistic experience that would possibly justify this, chose to run a picture of newly minted Kingston Frontenacs forward
Michael Fine
getting his drink on next to a story about the trade between the Sault Ste. Marie Greyhounds and Fronts.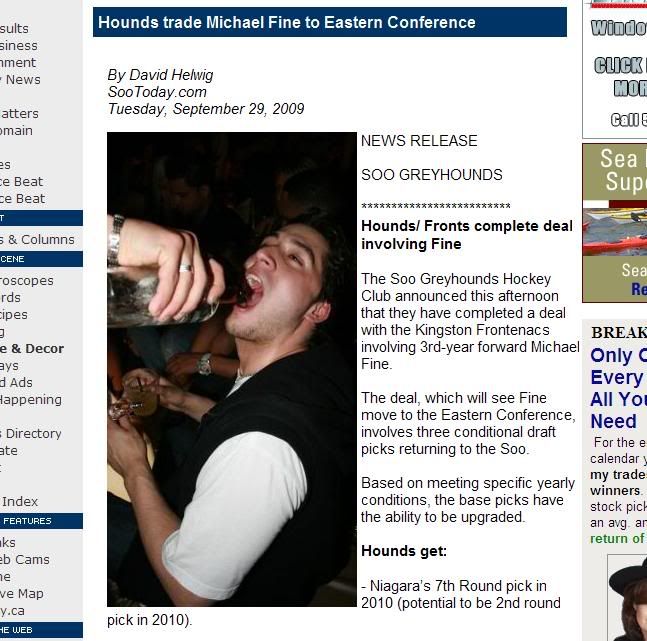 "Despicable" is the word which comes to mind. Fine had been sent home by the Greyhounds for disciplinary reasons and told to wait for a trade. However, context is everything in the media. The
article
offers nothing to explain why there's a picture of a minor getting booze poured down his throat. There is no photo credit to explain how the picture was obtained.
Anyone's issues with alcohol are private and personal so long as he/she is not driving drunk. How do you know, unless you're inside the velvet rope in junior hockey, whether someone has a serious problem or simply the normal teenage issues with alcohol? Lots of people drink before achieving the age of majority (a lot don't, too) and their picture does not end up on a legitimate media outlet's website, so-called.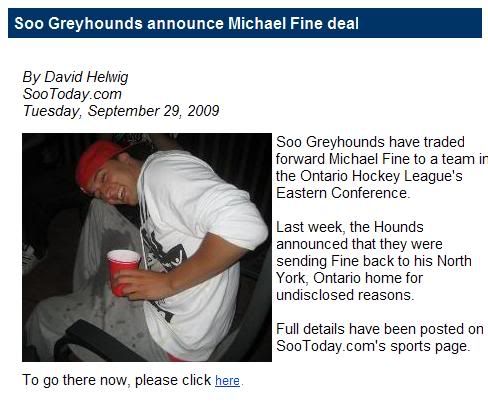 It is understood that there probably is a lot of gossip going around over why Fine was kicked off the Sault Ste. Marie Greyhounds (whose general manager, Dave Torrie, has made a public objection to the picture being published), so such a picture might have seemed like a smoking gun.

Your guess is as to

Soo Today

's motivations as as good as any. Blame the TMZing of the media, blame small-town ignorance and insecurities ("Fine didn't realize how lucky he was that in Canada, we force someone to move 500 miles from home to pursue a career in pro hockey! We'll show him!").

Speaking from rather hard-won personal experience, it says here Fine, whose former team's home arena was the Steelback Centre for a time, should explore a lawsuit. The case law with libel and defamation in Canada is that the media has less leeway in smaller population centres. The Soo is not a very big place. Fine and the Frontenacs play a game in the Soo in about five weeks. Knowing the fringe element you get in junior hockey barns, someone is going to take that picture and blow it up to 24" by 48" size and hold it up on a stick.

Honestly, the reaction on this end would be the same even if Fine was not playing for my hometown team, the Kingston Frontenacs. No reasonable person is saying, "Great, we traded for a party boy." It's more live and let live, teenagers will be teenagers. The Frontenacs potentially gave up quite a bit (conditional draft choices which could become second-, third- and fifth-rounders across the next four years) if Fine plays to potential. Let's get real, though, this it is not the first time a hockey team traded for a player who had trouble sticking to the straight and narrow in his former city. It will not be the last, either. It's funny how this turns up about a junior hockey player most casual sports fans have never heard of, while no one knows why

Dany Heatley

ended finding his way to San Jose (just saying).

This is being written without knowing anything about Fine beyond stats and scouting reports, maybe it even looks good on him. No one presumes junior hockey players are saints, no one is going to be shocked by a Facebook-ish picture of a drunk teenager, so why do that? There's something to be said for showing some couth. Shame on

Soo Today

.