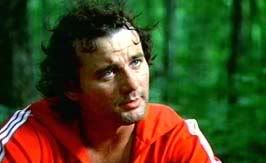 It just doesn't matter! It just doesn't matter! ...
Forget the "Milkerson" jokes,

Brad Wilkerson

, who retired Sunday, was a pretty fine ballplayer. He will always be the only Expo to have a 30-homer, 100-run, 100-walk season. You could look it up.

You know the drill: "It just doesn't matter! It just doesn't matter..."
... that NBC can dictate NHL broadcast policy even though it
paid the same rights fee as your next-door neighbour
(zero).
... that hockey announcers, please, have got to stop saying a goaltender who played a great game "stood tall." Technically, everyone stands tall to some extent, except for the goalies who play the butterfly style. They crouch.
... that the woman who got conked on the head by
Bill Murray
's tee shot missed a golden opportunity by settling for him signing a copy of
Caddyshack
. She should have made him reveal what he said to
Scarlett Johanson
at the end of
Lost in Translation
.
... that the New York

Post

thought it was it funny to have a headline, "Madonna bucked by horse." Everyone thought it, sure, but it still has not been funny since 1994.

... that drivel from

Bleacher Report

which is begging to get FJM'd comes up in Google News searches. Making fun of sabermetricians still has not been funny since 2004.
"

'Dear Diary, today I went to the baseball arena and watched a muscle-bound barbarian molest the ball with extreme ferocity. It was truly horrendous. He had three hits in four trips to the plate, but on his fourth attempt he swung at a pitch that was very near the outside corner of the strike zone and was ruled out by the official standing behind home plate. He did not draw a walk today, nor is he slow enough on the base paths to truly garner my respect. Well, that's all for now. Time to treat myself to footage of Steve Balboni getting on base.'



"Look sabermetricians, you can peddle your numbers all you want behind closed doors, or in the company of general managers and team executives. Just keep your math away from those of us who actually enjoy baseball.

"Oh, and curb the attitude as well. There's a reason you got picked last in high school, and the fact of the matter is no one likes you any better now than they did back then."
That's pretty original, playing the geek card. Noting

Steve Balboni

was not a great on-base guy (.293 career OBP), probably proves his point, so why did you go and look it up?

... what people say about the Leafs, including stretching one long Leaf joke what was apparently supposed to be a newspaper editorial. Making fun of the Leafs is as Canadian as maple syrup, cold beer and going to a cottage in May. There's nothing anyone can say to Leafs fans they don't talk about among themselves.

This post is worth nothing, but this is worth noting:

The three Kingston Frontenacs playing in the world under-18 championship,

Erik Gudbranson

,

Ethan Werek

and

Taylor Doherty

, were denied a medal at the world under-18 hockey championship. Canada lost 5-4 to Finland in a shootout in the bronze-medal game.

A tip of the cap is due to the Ottawa Senators intermediates, who won Provincial Women's Hockey League title by beating the Toronto Aeros 5-3 in the championship game on Sunday.

Bryanna Farris

, who's off to New Hampshire next season, had three points in the championship game for the Sennies.

(It's a shame their NHL namesakes aren't still playing so the feat could be acknowledged.)